Happy Birthday Mr. Darwin!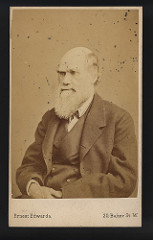 Charles Darwin
Originally uploaded by
Smithsonian Libraries
"The cultivation of natural science cannot be efficiently carried on without reference to an extensive library." (1)
– Charles Darwin, et al (1847)
Today, February 12, 2008, we celebrate the 199th anniversary of the birth of Charles Darwin. Last year we honored the 300th anniversary of the birth of Carl Linné and next year will be the double celebrations for Darwin's bicentenary and the sesquicentennial (mark your calenders now for November 24th!) of the publication of On the Origin of Species. 2008 is thus a good year for those of us involved with the Biodiversity Heritage Library (BHL) to pause for a moment between these landmark anniversary years of 2007 and 2009.
Those working in systematics and taxonomy are heavily dependent on the historic literature – to a greater extent than perhaps most of the sciences. This importance of the literature, as well as the ongoing importance of publication (and library deposit) to validate taxonomic concepts, contribute to the mission and continue to inform the day to day development of the BHL.
Darwin himself acknowledged the importance of library materials to the study of natural history in the passage quoted above (in a document signed by Darwin and over 30 other notables including Charles Lyell, W.J. Hooker, and Richard Owen) which was part of an appeal for support of natural history research at the British Museum.
Portrait of Charles Darwin by Ernest Edwards
From Scientific Identity: Portraits from the Dibner Library of the History of Science and Technology. Smithsonian Institution Libraries
(1) Darwin, C. R. et al. 1847. Copy of Memorial to the First Lord of the Treasury [Lord John Russell], respecting the Management of the British Museum. Parliamentary Papers, Accounts and Papers 1847, paper number (268), volume XXXIV.253 (13 April): 1-3. [Complete Works of Charles Darwin Online]