19th Century Butterflies: Reconstructing a Collection's History with BHL
The Naturalis Biodiversity Center, a recent BHL Affiliate, is home to one of the largest natural history collections in the world, consisting of over 37 million specimens. Additionally, Naturalis has contributed nearly 200,000 pages to the BHL collection since 2016.
Over 900,000 of the museum's 37+ million specimens are butterflies, some dating back to the 18th century. Approximately 18,000 drawers are required to store this vast Lepidoptera collection.
The Naturalis butterfly collection is not only vast, it is also rich in type specimens, which are indexed through type catalogs combining historical and taxonomical research. Recently, researchers set about compiling such a catalog for the museum's South East Asian Adoliadini (Lepidoptera, Nymphalidae) type specimens.
In order to create this catalog, which was published last year (Gassó Miracle, M.E. & T. Yokochi, 2016, Lepidoptera Science 67(2)), the authors needed to access and compare all existing taxonomic descriptions for the specimens, identify synonyms, contrast plates and photographs, and verify geographic distribution.
"For all of this, specialized literature is essential," asserts Eulàlia Gassó Miracle, Curator of Butterflies at the Naturalis Biodiversity Center and co-author of the Adoliadini type catalog.
In order to sort out confusion regarding the origin, labeling, and taxonomy for the specimens, Eulàlia and her co-authors consulted more than 80 journals and books. More than half of them were available through the Biodiversity Heritage Library.
"BHL helped us to revise the taxonomy and the history of the specimens," explains Eulàlia.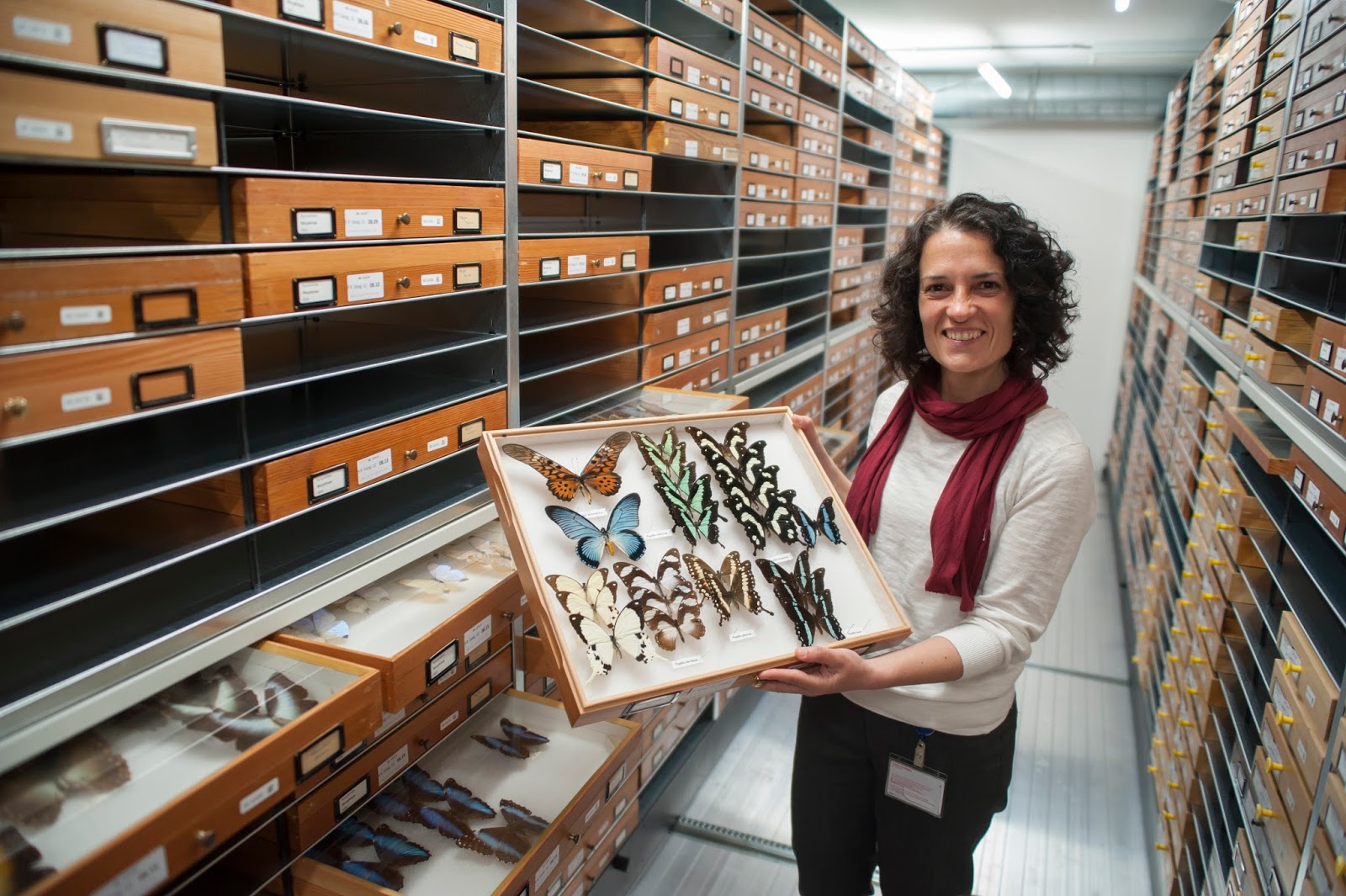 Eulàlia Gassó at the Naturalis butterfly collection. Photo by Henk Caspers.
BHL has been one of Eulàlia's "most valued research tools" for the past decade.
"Although I have the privilege of access to most of the literature I need, either at the library of the Naturalis Biodiversity Center or the Leiden University Library, the BHL collection allows me to work in a flow from…well, anywhere," explains Eulàlia. "BHL has also made available rare and unique publications from the 18th and 19th century, much needed for my research, that I cannot find in The Netherlands."
Eulàlia first discovered BHL while looking for works by C.J. Temminck, zoologist and first director of the Rijksmuseum van Natuurlijke Historie (RMNH, now Naturalis Biodiversity Center). Since then, she has used it to support her work as collections manager in various departments at the museum as well as her research on the history of 19th century natural history.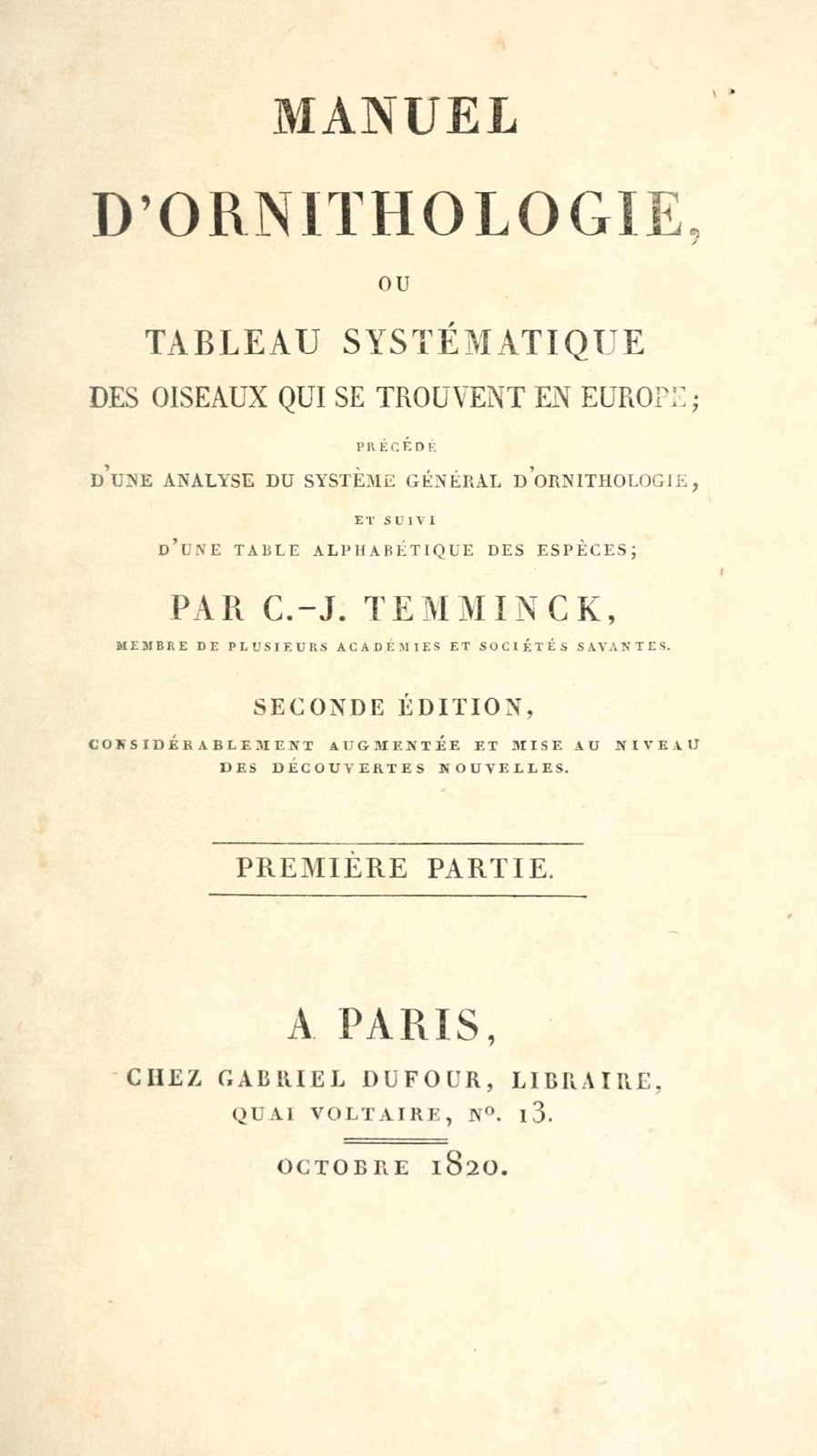 Title page of Manuel d'ornithologie, ou Tableau systématique des oiseaux qui se trouvent en Europe (Vol. 1, 2nd ed., 1820), by C.J. Temminck. Digitized by University Library, University of Illinois Urbana Champaign. http://biodiversitylibrary.org/page/33457859.
"As the curator of a natural history collection that is centuries old, I am also terribly curious about its former curators and curatorial practices," says Eulàlia. "For this, again, BHL is a constant source of information and images. I share some of my findings and musings in my personal blog, the Museum Chronicles. For my historical research on the life and work of Temminck, accessing online his works and those of his peers has uncluttered my desk, helped organize my thoughts, given me access to new works – and with them, new insights – In a word, BHL helps me progress."
Eulàlia uses BHL daily, either reading titles online or taking advantage of the custom PDF generation feature to download content. BHL's high resolution image download feature, which Eulàlia discovered thanks to an @BioDivLibrary tweet, helps her compare illustrations with specimens. To further facilitate her research, Eulàlia is anxious to see full text search added to the BHL website. Happily, this is a feature that is currently in development.
BHL's collections not only serve as a daily resource for Eulàlia's research, but they also help her start each day with a little piece of natural history beauty.
"Recently, one of my favorite items is the article of Snellen van Vollenhoven on Adolias butterflies, one that I have read and examined repeatedly while validating the status of his type specimens," says Eulàlia. "Plate 12 is so beautiful, it is the first thing I see when starting my computer."
Indeed, we're firm believers that every day is better with a little bit of #SciArt. So, whether you need to brighten your day with a little natural history eye candy or reconstruct the history of a type collection, BHL has you covered.
______________________________________
This post may contain the personal opinions of BHL users or affiliated staff and does not necessarily represent the official Biodiversity Heritage Library (BHL) position on these matters.