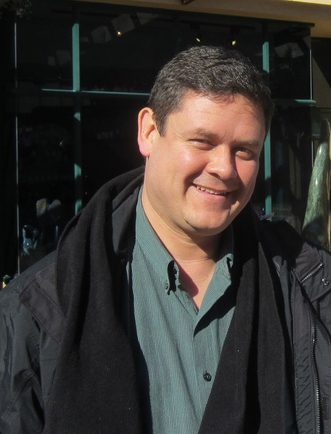 William Ulate, BHL's new Technical Director
On August 23, 2012, the BHL Steering Committee unanimously voted to appoint William Ulate as the new BHL Technical Director, replacing Chris Freeland, BHL's founding technical director, who has accepted a new position as Senior Director of University Academic Computing at Washington University in St. Louis, MO. Ulate currently serves as BHL's Global Coordinator, a capacity he will maintain alongside his new duties as Technical Director.
Chris Freeland announced his official departure as BHL's technical director in late July, 2012. Freeland was a key BHL founder. In a Chicago hotel lobby, after hours at the  WebWise 2004: Sharing Digital Content meeting, Freeland,  Martin Kalfatovic (BHL Program Director), Doug Holland (Missouri Botanical Garden), and Suzanne Pilsk (Smithsonian Libraries), outlined some of the key goals and technical objectives of BHL on the proverbial napkin and cemented the key role of the Missouri Botanical Garden in the technical development of the future BHL.
This meeting was sandwiched between a 2003 meeting in Telluride, Colorado, that outlined the ideas for the Encyclopedia of Life, attended by future BHL Program Director Tom Garnett and Internet Archive founder Brewster Kahle, and the 2005 London meeting, "Library and Laboratory: The Marriage of Research, Data, and Taxonomic Literature" where many of the future BHL leaders — including Garnett, Holland, Kalfatovic, Graham Higley (Natural History Museum London), Cathy Norton (Marine Biological Laboratory/Woods Hole Oceanographic Institute), Constance Rinaldo (Museum of Comparative Zoology, Harvard University), and Tom Moritz (American Museum of Natural History) first met as a group.
Though no longer serving as BHL's technical director, Freeland will remain involved with BHL in a consulting capacity, attending meetings and providing valuable input gleaned from his seven years of experience with the project. Though sorry to say goodbye to Chris as our technical director, we are confident that he will find success in his new endeavors and are thrilled that his departure is not a final farewell.
William brings his experience from the worlds of biodiversity and technology into his new role as Technical Director.  Costa Rican born and raised, Ulate graduated with a degree in Computer Science and Informatics in 1991. Working in software development for seven years, his love for nature and the protected areas in his natal Costa Rica ultimately compelled him to make a vital career change, following a path that combined his passions for both nature and computer science: Biodiversity Informatics.
From 1997-2011, William consulted and worked for research and conservation NGOs and private companies, performing activities related to specimens, species, genes and ecosystems. He developed, managed, trained and built capacity in biodiversity information systems, databases and geospatial data development in Costa Rica, Central America, Mesoamerica, the Caribbean Region and Latin America with national and international interdisciplinary colleagues.
In 2011, William joined BHL as the program's Global Coordinator, a position which required him to coordinate activities among colleagues in six continents. Though stationed at the Center for Biodiversity Informatics at the Missouri Botanical Garden in St. Louis, Ulate's position requires frequent travel, a fact which has allowed him to develop relationships with colleagues around the globe. His international effectiveness is strengthened by his mastery of both English and Spanish – a quality which has proven extremely useful when reaching out to BHL's Spanish-speaking community.
In his new role, Ulate will be supported by the newly created BHL Technical Advisory Group. The Group, comprised of developers and systems librarians at BHL member institutions, will advise on technical and development issues. Martin Kalfatovic (BHL Program Director) will serve as an ex officio member of this group, with the BHL Steering Committee nominating additional members.
Please join us in welcoming William Ulate as BHL's new Technical Director!