Challenge Focus: Lester F. Ward
Our Fossil Stories citizen science challenge – a challenge to fully transcribe three paleontologists' field books from the Smithsonian collection – is complete! Volunteers have successfully transcribed and reviewed 252 pages from 9 field books in just 3.5 days! Thanks to all of our awesome volunteers for their monumental efforts! As a reward, we'll be hosting a behind-the-scenes tour of Smithsonian fossil collections with Dr. Nicholas Pyenson, Curator of Fossil Marine Mammals at the Smithsonian's National Museum of Natural History, on the BHL Periscope Account on October 26. Stay tuned on Twitter and Facebook to learn more. Follow #FossilStories all week to learn more about the paleontologists featured in the challenge and to get highlights from our #FossilFossick Challenge.
Or just read below to learn more about Lester F. Ward!
One of the field books in the challenge is from Lester Frank Ward. Ward (1841-1913) is probably best known as the "Father of American Sociology," publishing pioneering works in the field. But before he was a sociologist, he was a geologist and paleontologist with the United States Geological Survey (USGS) from 1882 to 1905. Some of his field notes now reside at the Smithsonian Institution Archives as part of the Field Notebooks, 1881-1915 and undated collection (SIA Acc. 07-041).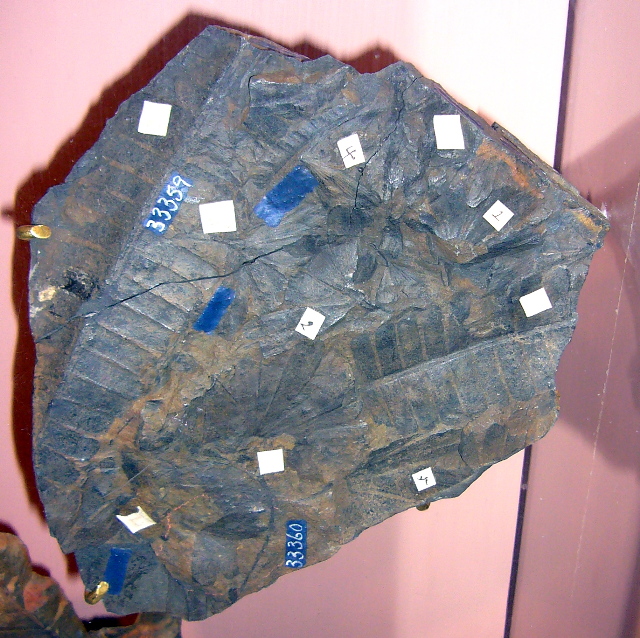 Pterophyllum and Ginkgo (USNM 33359 and 33360) on same slab, from Douglas county, Oregon. Collected by Lester Ward and James Storrs, in 1899. Courtesy of Department of Paleobiology, National Museum of Natural History.
While working for the USGS, he collected living and fossilized examples of plants in the vicinity of the District of Columbia, even publishing a guide to the area's flora. Examples of his botanical and paleobiological collecting can be seen on Smithsonian's Collections Search Center. His field books tend to offer wonderfully detailed information about his time in the field. This is especially true in his DC field books, in which he describes conversations with individuals offering specimens as well as locality information that specifies street intersections or neighborhoods.
If you would like to know more about Lester F. Ward, we encourage you to check out his other field books on Collections Search Center, his publications and field book on BHL, and his personal papers at George Washington University.
Be sure to follow #FossilStories on Twitter and Facebook all week for more great fossil fun and more highlights from our #FossilFossick Challenge!