Eight years ago I attended my first Biodiversity Heritage Library staff meeting at the Missouri Botanical Garden, and it was there I was asked to report at the meeting on what I thought the philosophy behind a project to build a global freely accessible online biodiversity library was. My thoughts at that time hovered somewhere around deeply idealistic and altruistic ideas having to do with like-minded libraries collaborating to make the foundation of legacy scientific literature, then accessible only to few, accessible to all. These ideas also related to the growing open access movement. When funding for BHL became available, this type of idealism helped fuel the development of the long-term dynamic form and function of the BHL.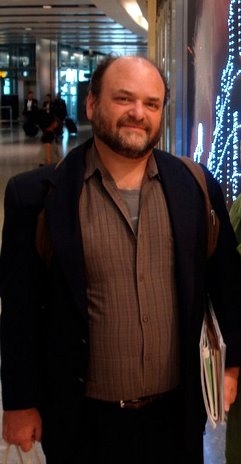 Matthew Person, MBLWHOI Library. Author of this blog post.
I recently thought back to that 2007 BHL meeting in St. Louis as I prepared to attend the BHL Staff Meeting held at the Smithsonian Institution in Washington DC, on November 12-13 2015. After years of working as a BHL staff member (we originally called ourselves worker bees!), at this staff meeting I needed to find compelling reasons for us to continue the unfinished work of developing and increasing the sustainability of our freely accessible library of legacy biodiversity content. It was a privilege to be at the Smithsonian to once again meet up with colleagues from sister institutions like Chicago's Field Museum, Harvard University's Museum of Comparative Zoology and Botany Department, the Royal Botanic Gardens at Kew, the Bibliotheca Alexandrina, and the distinguished Natural History Museums in New York City, Washington DC, and London…just to name some of the natural history institutions represented at this meeting.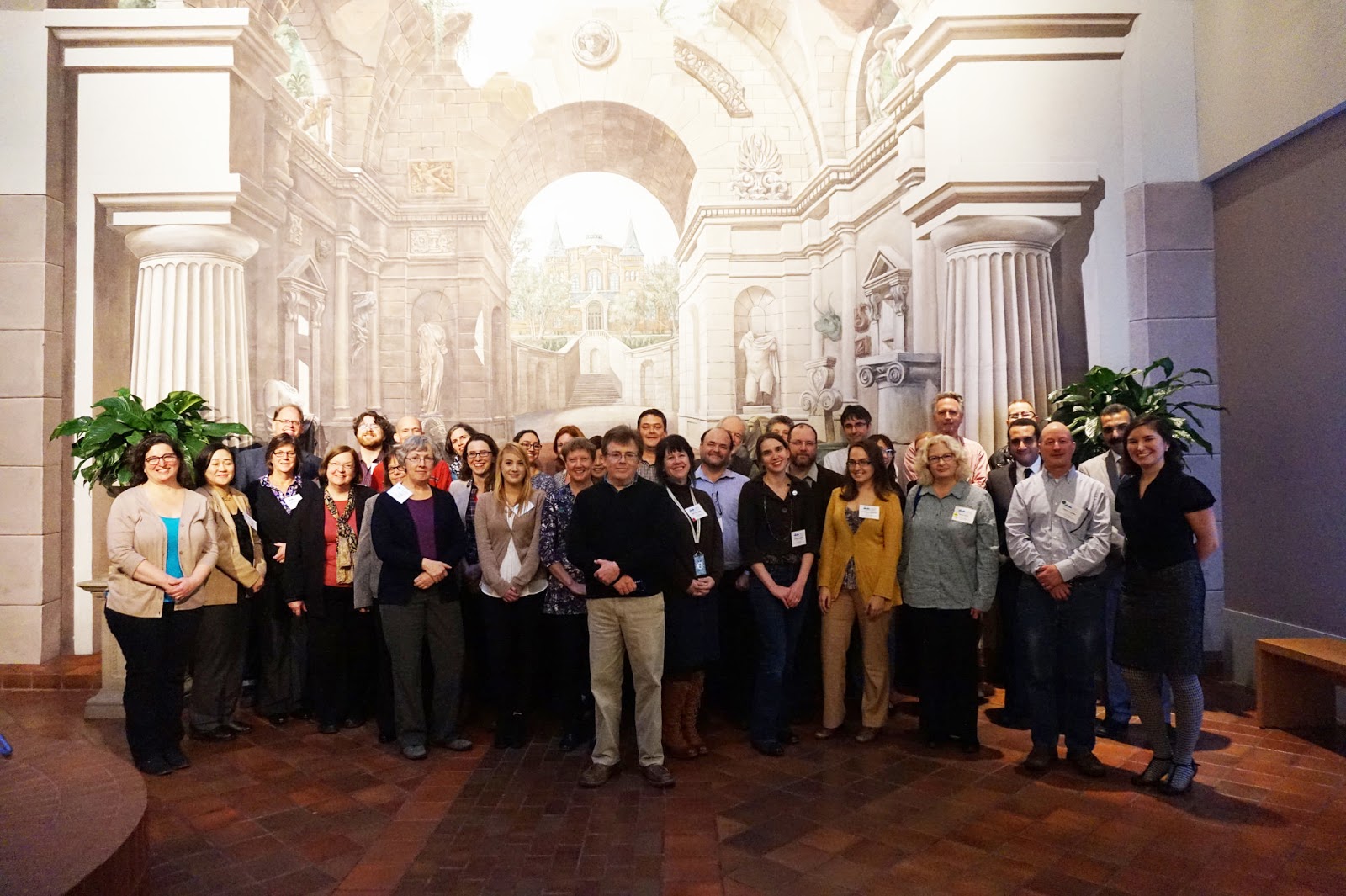 BHL Staff at the 2015 BHL Staff Meeting at the Smithsonian Institution in Washington, D.C. Photo: Martin Kalfatovic.
The hands-on portion for the staff of this project began in 2007 when we first physically explored and analyzed the volumes filling the library stacks of our institutions, selecting materials, preparing those materials for scanning, having them scanned, and transferring the files first to our scanning partner the Internet Archive and then on to the newly developed BHL web portal. This entire process has been improved through successive generations of technological developments, transparent project administration, commitments across the board from the administrations of the BHL Partners and Affiliates, as well as the generous support of many funding agencies and foundations.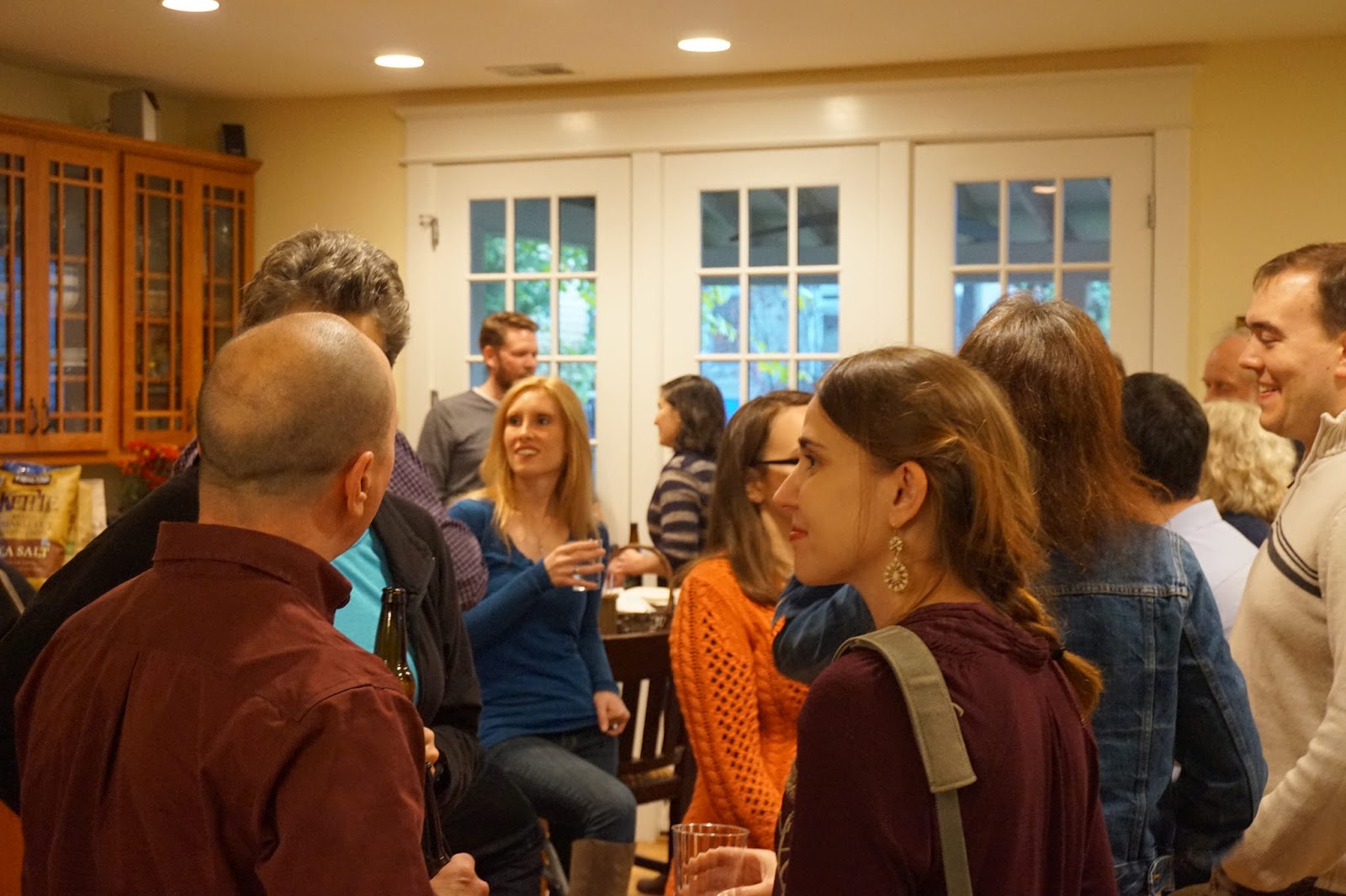 Gathered for a pre-meeting dinner at Smithsonian Libraries' Metadata Librarian Suzanne Pilsk's house. Photo: Martin Kalfatovic.
As our staff meeting at the Smithsonian progressed, I looked for and found many compelling reasons for our project to move ahead. Foremost of these reasons and the cornerstone of any organization of course, is its staff. Our BHL Library Staff is a cooperative, intelligent, and forward thinking group of librarians and technical development experts. Seeing my BHL colleagues is like meeting up with old friends and dear coworkers who have the highest respect for each other, because we have worked so successfully as a team for nearly an entire decade.
The BHL Staff is no longer at the foot of a mountain at the beginning of an epic hike to the peak, as we were in 2007. It could be said we have scaled the mountain and have discovered that our plan has been sound. The BHL vision statement, "Inspiring discovery through free access to biodiversity knowledge," has created a global horizon for us. Our online library holds over 170,000 scanned volumes – linked to digital tools which give legacy biodiversity literature as much power as newly published electronic content. The scientific literature content of our library is being given even more power by our technical team, who makes sure our metadata "knows" how to speak with databases and tools outside of the BHL, whereby more scholars and other library users will encounter more links to the literature in our library in more places.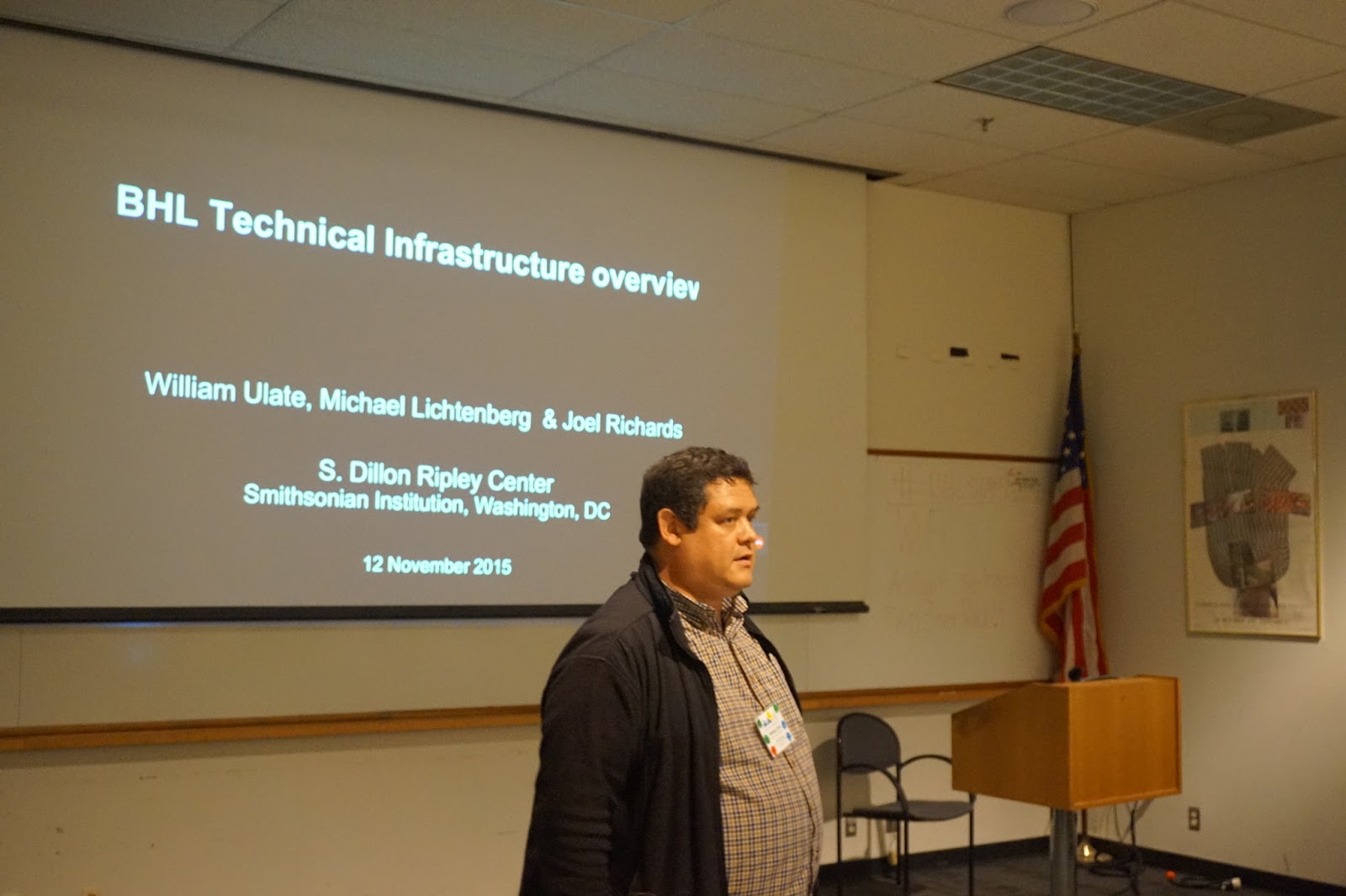 William Ulate, BHL Technical Director. Photo: Martin Kalfatovic.
During the meeting we listened to a review of the last 10 years of the BHL by Program Director Martin Kalfatovic and a technical overview of the architecture of BHL by Technical Director William Ulate. We completed an enumeration and analysis of all the tasks performed by BHL staff members, directed by Martin Kalfatovic, Smithsonian Librarian Keri Thompson, and BHL Secretariat Staff members Grace Costantino, Carolyn Sheffield, and Bianca Crowley, during which we gave ourselves a report card on how well we have done and brainstormed on how to better meet the needs of our Biodiversity Heritage Library users now and in the future. We also shared a number of delicious meals and many conversations over the course of a couple of days.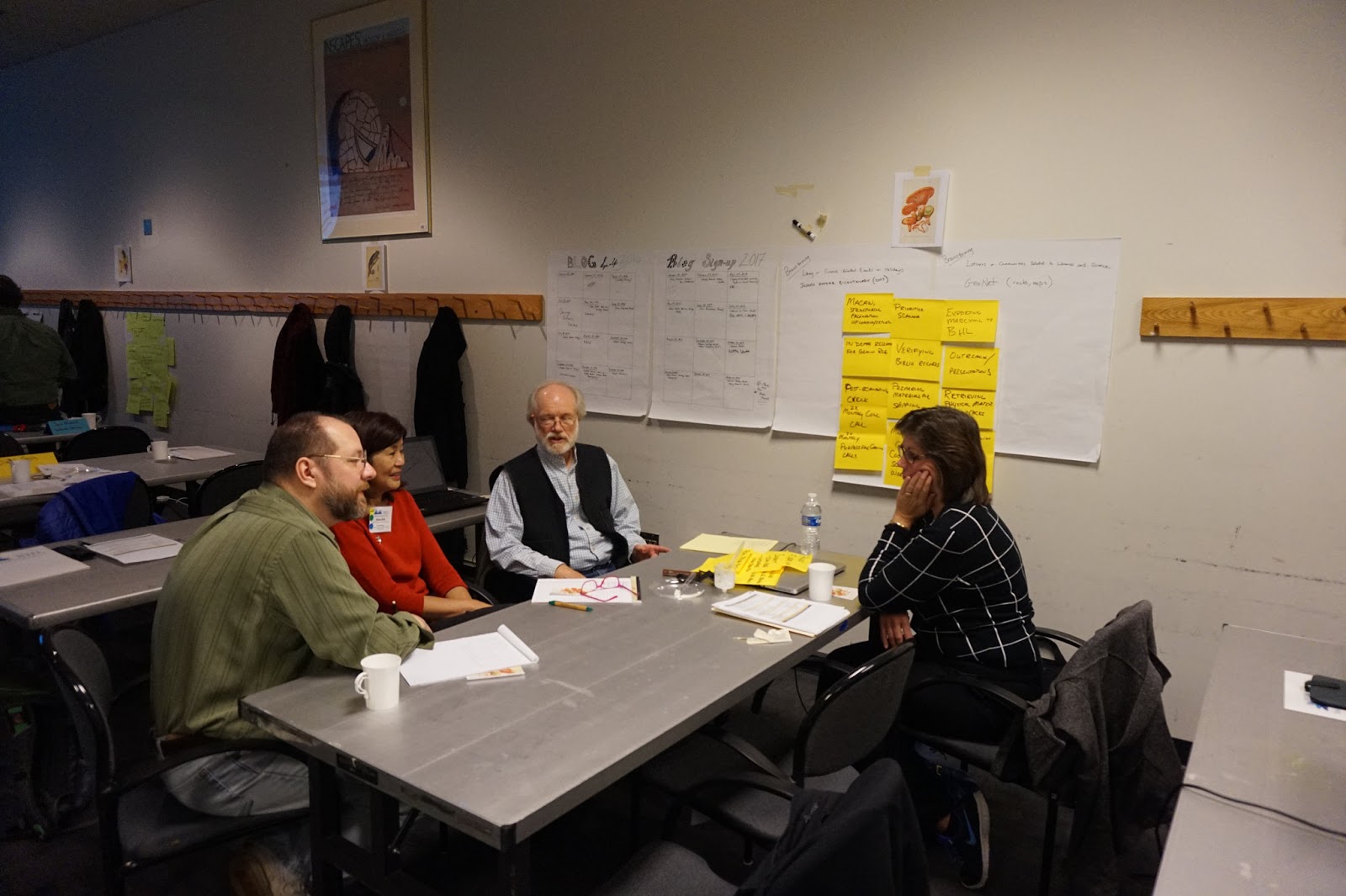 Small group brainstorming for analysis of tasks performed for BHL. Left to Right: Randy Smith (Missouri Botanical Garden, Peter H. Raven Library), Diana Shih (American Museum of Natural History Library); Marty Schlabach (Cornell University Library); Cathy Buckwalter (Academy of Natural Sciences of Drexel University, Library and Archives). Photo: Martin Kalfatovic.
Much like the first BHL meeting I attended, when the group adjourned we left with agreed upon follow-up tasks, comfortably knowing within a short period of time we'd be back in touch again via our regularly-held conference call meetings. The philosophy behind the concept of the BHL remains the same for me as it was almost a decade ago: we're a global collaboration, working to ensure that the world's legacy and select current biodiversity literature is accessible, usable, and sustainable. You can't get any more compelling than that!