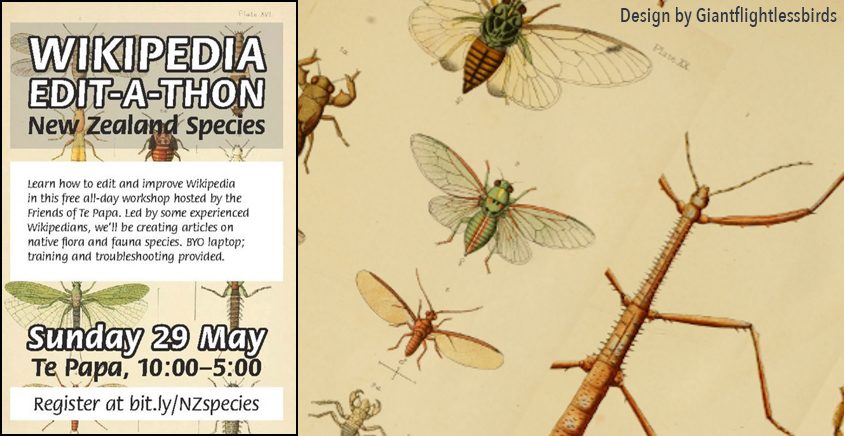 Help improve Wikipedia articles about New Zealand species!
On Sunday, 29 May 2016, the Friends of Te Papa will be hosting a Wikipedia edit-a-thon focused on adding New Zealand plant and animal species to Wikipedia. The edit-a-thon will occur from 10:00-17:00 NZST at the Museum of New Zealand Te Papa Tongarewa in Wellington, New Zealand. You can sign up here to attend in person. You can find more information about the event here.
Participants from all over the world are also encouraged to join in remotely! Follow #NZspecies on Twitter to get updates from the event as it happens as well as to ask questions while you edit Wikipedia pages. Just be sure to add the hashtag #NZspecies to the edit summary for any content you create in Wikipedia prior to saving so that your contributions can be recorded. If you'd like to participate remotely, you can add your Wikipedia username to the "Attending remotely" section at the bottom of the Wikipedia Edit-a-thon page.
BHL has lots of great resources that you can use to do research on New Zealand species and enhance Wikipedia pages. These include:
One of the edit-a-thon organizers, Siobhan Leachman (whom we've interviewed on our blog before in relation to her extensive citizen science activities) also recommends the following resources in BHL:
We're excited to see how this event helps improve access to information about New Zealand species and how BHL's free resources can contribute to that process and knowledge. We'd like to extend a huge shout-out to the organizers, Siobhan Leachman and Mike Dickison, for putting together this wonderful opportunity, and we hope you'll join the fun during the
New Zealand species edit-a-thon
!