This post originally published on the Smithsonian Libraries blog Unbound. 
Important entomological work. The Bahá'í faith. Secret tunnels under Washington, DC. What do all of these elements have in common? Curiously, Smithsonian scientist Harrison Gray Dyar, Jr..
Dyar, Honorary Custodian of Lepidoptera at the United States National Museum (now, National Museum of Natural History) for over 30 years, was a prolific entomologist – studying sawflies, moths, butterflies and mosquitos and publishing his findings. He described hundreds of species and genera and brought new ones to light. "Dyar's Law", a standard rule used to measure premature insects, is named in his honor.
Yet, the work of this successful entomologist is often overshadowed by his fascinating personal life. Dyar was a bigamist and consequently dismissed from the USDA for conduct unbecoming of a federal employee. He practiced the Bahá'í faith, a movement that seeks to reconcile science with religion. And perhaps most newsworthy: he dug a series of mysterious tunnels beneath his home in Northwest DC. Tunnels that many believed were the work of spies until Dyar finally fessed up.
Starting today, you can be a part of the scientific legacy of this interesting figure in Smithsonian science. The Smithsonian Institution Archives has uploaded five volumes of Dyar's "blue books" (notebooks in which he jotted down scientific observations) to the Smithsonian Transcription Center. Volunteers are encouraged to dive into the books and help us transcribe Dyar's work for future study.
From now until May 20th, we'll be encouraging everyone to #DigIntoDyar with a series of blog posts about Dyar's work as well as a live Google Hangout on May 17th (2:30, EDT). Both will feature National Museum of Natural History research associate and Dyar biographer, Marc Epstein. Marc, who recently published Moths, Myths and Mosquitos: The Eccentric Life of Harrison G. Dyar, Jr., will help us understand Dyar's work, his sordid personal life, and his legacy.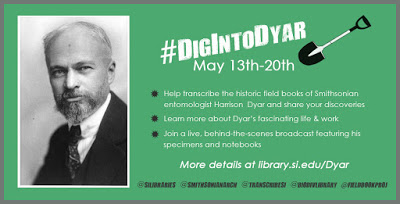 Along the way, we'll be sharing other tidbits and images via social media. We hope you'll tune in as we #DigIntoDyar and learn more about this fascinating part of Smithsonian history.
You can browse Dyar's field notebooks in BHL, digitized by Smithsonian Institution Archives as part of the Field Book Project. Below are the BHL links to the field notes that are part of this challenge, as well as the links to those projects in the Smithsonian Transcription Center to help you get started transcribing right away!
Happy Digging!
H. G. Dyar – Bluebook 401- 414, 1893-1894 | https://transcription.si.edu/project/8144
H. G. Dyar – Bluebook 415-435, 1893-1894 | https://transcription.si.edu/project/8145
H. G. Dyar – Bluebook 436-450, 1893-1894 | https://transcription.si.edu/project/8146
H. G. Dyar – Bluebook 451-473, 1894 | https://transcription.si.edu/project/8147
H. G. Dyar, Bluebook 474-491, 1894-1897 | https://transcription.si.edu/project/8148