April was a busy month for all of us residents! We attended and presented at two conferences in two different cities: first, at the 4th annual DPLAFest in Chicago and then the NDSR Symposium in Washington D.C. the following week. Our presentations at these two conferences challenged us to think in new ways and demonstrated the support that the cohort and mentor model is designed to provide. In between preparing for and presenting at conferences, we have also been progressing on our projects and at our host institutions.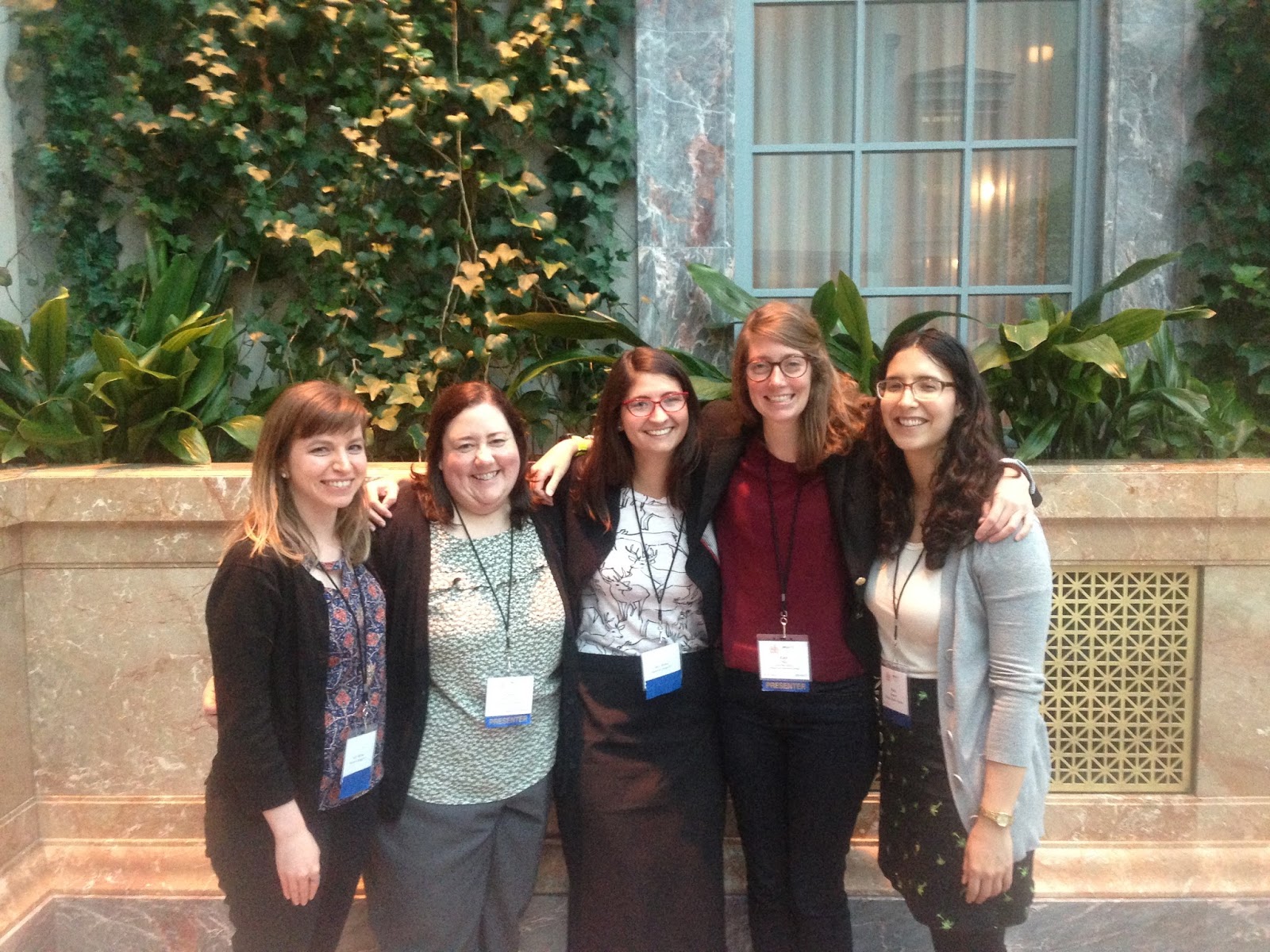 L to R Ariadne, Pam, Marissa, Katie and Alicia
The NDSR Symposium was a great complement to DPLAFest, which was more of a large-scale snapshot of projects and practices in managing digital libraries. The Symposium, by contrast, felt very meta – this was past, present, and future residents, mentors, and hosts as well as IMLS staff and other individuals involved in creating and supporting the NDSR program looking inwards on what has been done and what we want the program to become in the near future. Despite the inward-focus, wider themes and issues were obviously discussed, especially by the keynote speakers, who stressed the importance of human-information interaction, community-building, and participatory leadership. We left the Symposium feeling empowered to advocate for not only the NDSR Program but also the IMLS and data preservation communities as a whole. Check out our DPLAfest and NDSR Symposium reflection blog post to learn more about our experiences and our presentations.
Ariadne's project focuses on access to illustrations in BHL's corpus of biodiversity literature. In her latest update, she shares lessons from conversations with Research Department staff at the Missouri Botanical Garden and with BHL stakeholders and a fundamental look into BHL's current illustration crowdsourcing efforts on Flickr and Science Gossip. Crowdsourcing, user experience, and data curation will all play important roles in her next steps: speaking with BHL's crowdsourcing volunteers, preparing the metadata for improved access, and hopefully, anticipating future possibilities for metadata creation.
Katie is also investigating crowdsourcing methods to transcribe manuscript items in BHL. Translating images of handwritten content into machine readable data that can be searched, sorted, and otherwise manipulated had not received much attention until crowdsourcing, citizen science, and other types of community collaboration models and platforms were constructed. Defining transcription activities is useful for understanding some of the competing elements when considering whether and how to transcribe digitized items.
Transcription helps bridge the gap between digitization and use by enhancing access through full text search, enriching metadata collection, and opening collections to digital textual analysis. Digitized natural history manuscript items are largely hidden due to the lack of item level description for most archival collections. While minimal processing is certainly the better option compared to maintaining an extensive backlog of unprocessed material, digitized handwritten documents are not discoverable based on their unique content without a machine readable facsimile. Indexing transcriptions facilitates discovery of historical records and improves catalog search results. By offering full text transcriptions, the digital collections are opened up to new types of searching, sorting, categorizing, and pattern finding. Research derived from these new data sets can illustrate changes over time across much larger magnitudes of collections and types of information resources.
Alicia got the chance to learn more about the management at a botanic garden by visiting the Living Plant Documentation department at the Chicago Botanic Garden. The CBG maintains records much like museums do, however, the collection items at CBG happen to be living (and thus can die, move, create new items, etc.). Each plant that enters the collection is given an accession number and deemed to be a member of the permanent collection or given "seasonal" status as a part of a temporary collection (like the orchids that were on view in the orchid show that closed at the end of March). This data is all managed through an internal database and used to populate the garden's app, GardenGuide, and the web applications, What's in Bloom and Plant Finder.
Marissa has been working on getting article metadata added to the journal Contributions in Science, a publication of the Natural History Museum of Los Angeles County. The entire run of the journal from 1957 to present has been digitized and added to BHL, but without metadata describing each individual article, the journal isn't searchable. The process of making it searchable has involved using Python code, EndNote, and getting lots of help from BHL staff and volunteers, so stay tuned for an upcoming blog post about this work in progress!
Pam has been getting to know the BHL users and will be sharing a post on the NDSR at BHL blog soon about the different types of users working with BHL. There are three distinct groups of users – those affiliated with the BHL consortium, those who use BHL at the system level, and then individual researchers. Pam is developing surveys and will possibly use other methods as well to solicit feedback from each of these user groups. She will also be taking a close look at all user submitted feedback through the BHL website as well as Google Analytics for the BHL website. Be on the lookout for an upcoming blog post about this work!