————————————-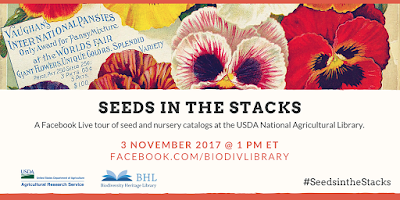 Join us for Seeds in the Stacks, a Facebook Live tour at the USDA National Agricultural Library! We'll go behind-the-scenes to explore selections from the Library's collection of over 200,000 seed and nursery catalogs.
WHERE?
WHEN?
3 November 2017 @ 1pm ET
The USDA National Agricultural Library is the newest BHL Member. Since joining the consortium as an Affiliate in 2014, NAL has contributed over 2 million pages to the BHL collection, including a significant portion of its Henry G. Gilbert Nursery and Seed Trade Catalog Collection. To date, NAL has contributed over 33,000 catalogs from this collection to BHL. The catalogs can be viewed in BHL as part of the Seed & Nursery Catalogs collection.