24th meeting of the Global Biodiversity Information Facility (GBIF) Governing Board
The 24th meeting of the Global Biodiversity Information Facility (GBIF) Governing Board and associated events were held in Helsinki, Finland, 24-29 September. The Biodiversity Heritage Library (BHL) was represented at both the 14th GBIF Nodes Meeting (24-25 September 2017, by BHL Program Director, Martin R. Kalfatovic) and the Governing Board Meeting (26-27 September 2017, by BHL Chair, Constance Rinaldo).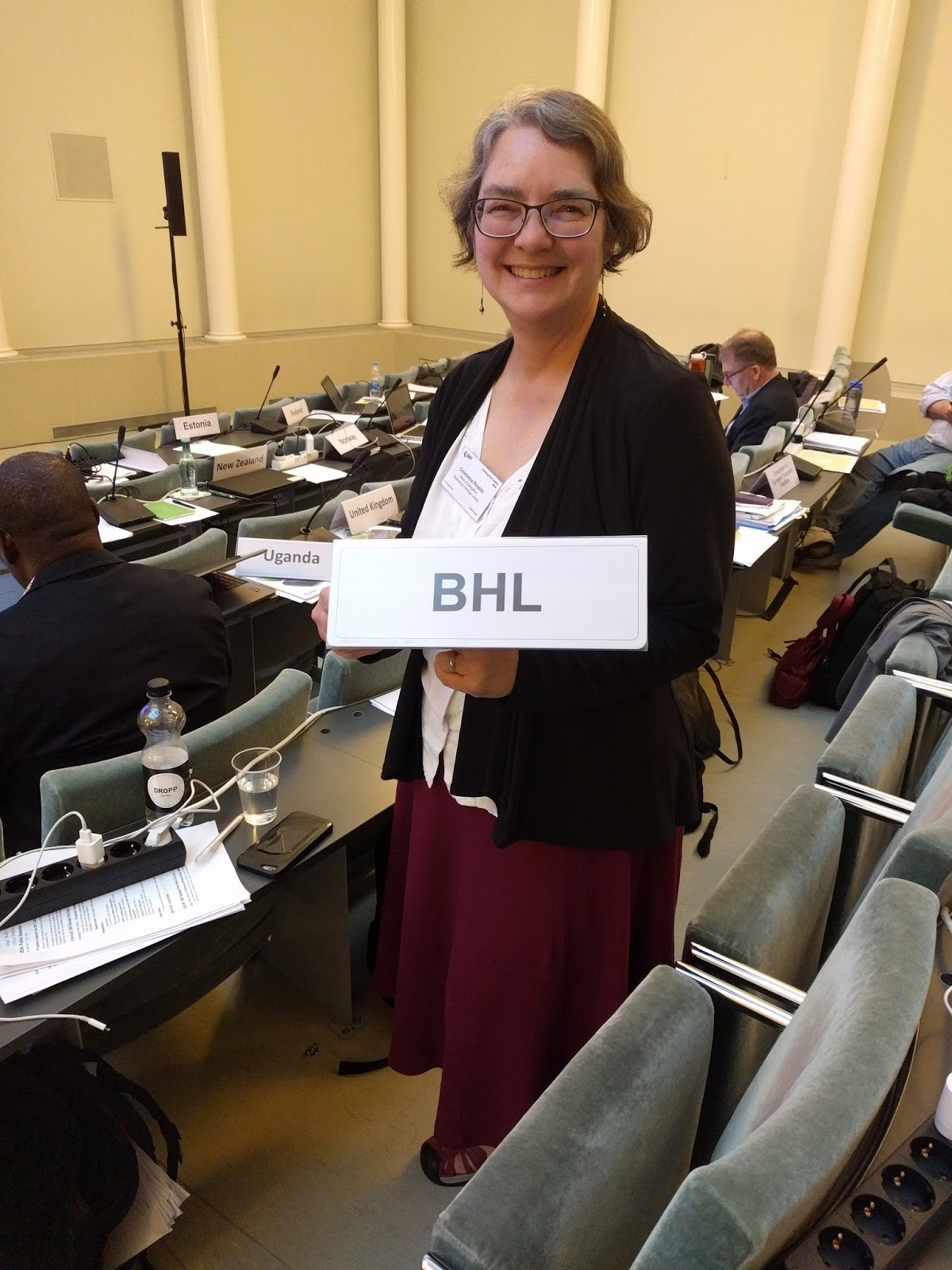 BHL Head of Delegation, Constance Rinaldo
14th Global Nodes Meeting
At the Nodes meeting, the delegates were welcomed by Finnish GBIF Nodes Manager, Tapani Lahti. Following this, André Heughebaert, Chair, Nodes Committee, provided an introduction to the structure of the meeting and outlined the key goals:
Share information on progress in the nodes
Establish new collaboration models
Set priorities for the next 2 years
Heughebaert also outlined some elements of the GBIF 2018 Work Programme and noted that there are plans to include regional meetings as in the past. The GBIF Secretariat provide an overview of their activities, led by Tim Hirsch (Deputy Director, GBIF Secretariat). Hirsch's talk, "GBIF International landscape & New regions" was an overview of the GBIF international landscape, including participation by area and how different metrics can be used to measure participation and/or coverage of biodiversity data in GBIF. Some key things that GBIF is addressing are:
Address major geospacial gaps
Mobilize sampling-event data
Digitize natural history collections
Areas being focused on include the Caribbean (formation of an Atlas of Living Caribbean) and Pacific Islands (creating new participant options, including a meeting in Samoa).
Hirsch also noted that GBIF is the key reporting structure for Aichi Target 19  of the Convention on Biological Diversity. He also discussed GBIF's relation to the Intergovernmental Science-Policy Platform on Biodiversity and Ecosystem Services (IPBES) and how GBIF can engage in filling gaps in knowledge through data mobilization priorities.
Other Secretariat updates included:
Capacity Enhancement Support Programme (CESP) / Aisha Lolila Jensen (Program Officer for Participation and Engagement, GBIF Secretariat)
Biodiversity Information for Development (BID) / Laura Russell (Program Officer for Participation and Engagement, GBIF Secretariat)
Biodiversity Fund for Asia (BIFA) / Maofang Luo (Visiting Scientist from the Chinese Academy of Sciences, GBIF Secretariat)
IPT GBIF API and other tools / Laura Russell  (Program Officer for Participation and Engagement, GBIF Secretariat)
Presentation of the new GBIF Portal / Morten Høfft & Thomas S. Jeppesen (Web Developers, GBIF Secretariat)
The second session included short talks by members of the GBIF node community and included:
Description of the Antarctic Thematic GBIF Node, Strength & Weaknesses / Anton Van de Putte, Node manager, Scientific Committee on Antarctic Research (SCAR)
SiB Colombia role as a referent in the Latino American initiatives through GBIF (e.g. workshops, projects, mentoring) / Leonardo Buitrago, Node manager, Colombia
Data management: Stable identifiers for collection specimens: What could the Nodes do to spread the use of this practice? / Walter Berendsohn & Anton Güntsch, Node manager, Germany
Olaf Banki on the @catalogueoflife CoL+ which provides extended taxonomic catalogue & other goals with other partners incl @NLBIF @GBIF @Naturalis_Sci Species2000 ITIS
GBIF Norway: Software tools for online citizen science volunteer digitization of museum herbaria collections (https://data.gbif.no/dugnad) By Christian Svindseth, Node staff, Norway
GBIF Norway: Terms selection tool for data publishers (https://data.gbif.no/dwcexcel) By Christian Svindseth, Node staff, Norway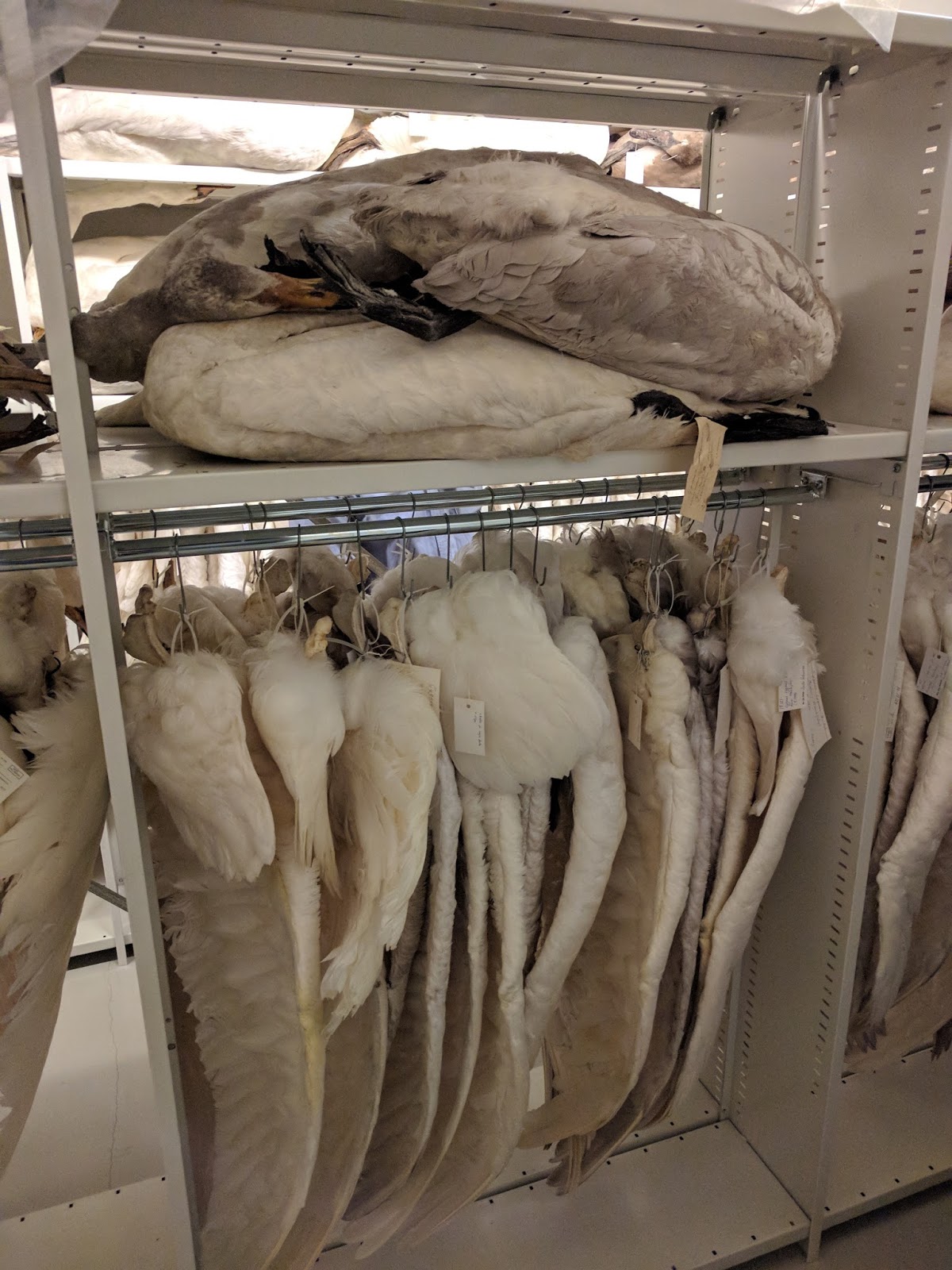 Swan wings
A tour of the Finnish Museum of Natural History's herbarium scanning project was also provided at the lunch break. The day concluded with a reception at the Finnish Museum of Natural History. Delegates were also privileged to get a behind-the-scenes tour of the museum's collections areas.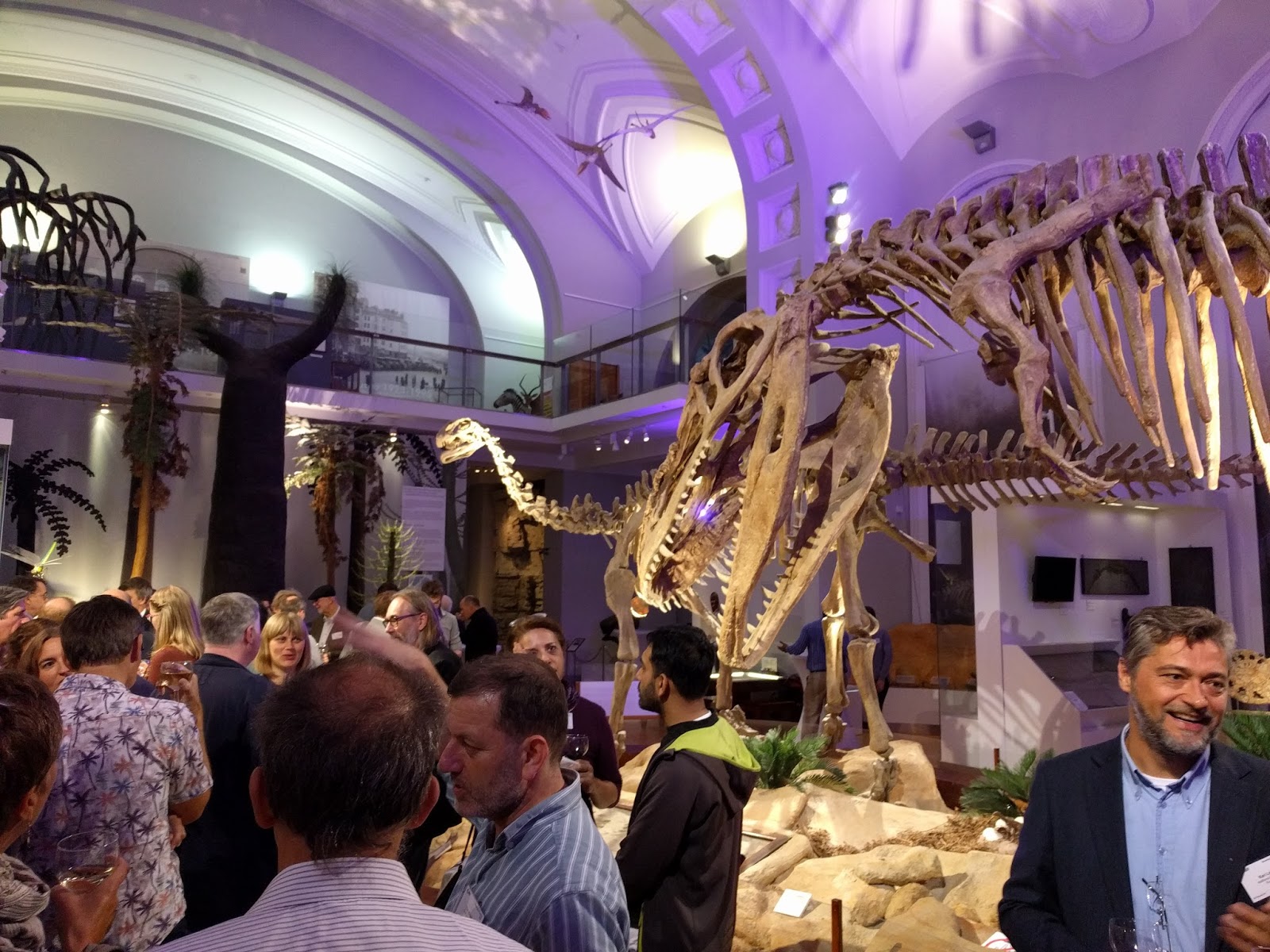 Reception with dinosaurs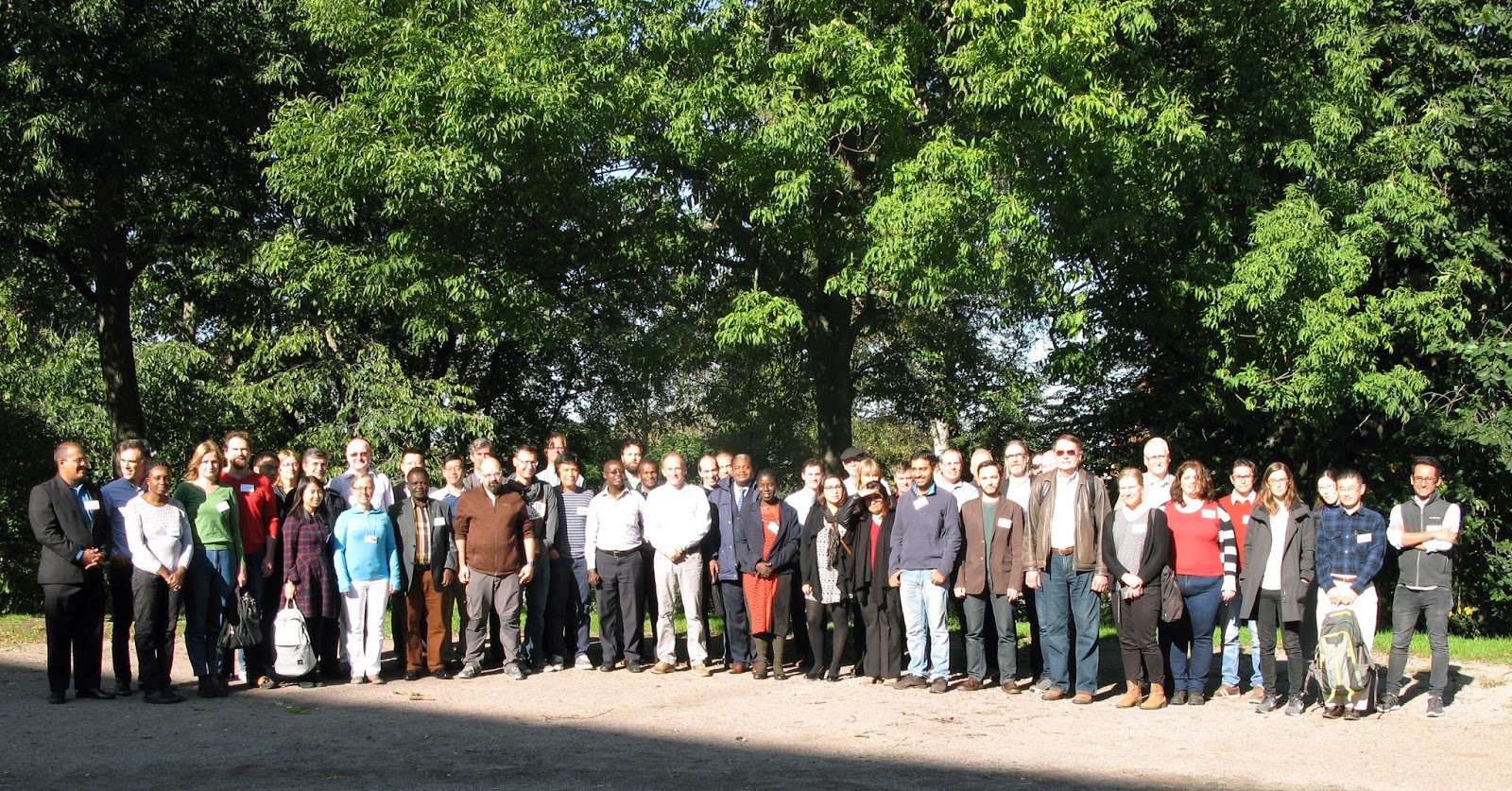 Global Nodes meeting group photo
(Photo by Anne Mette Nielsen, CC BY-NC 4.0)
* * * * *
24th GBIF Governing Board Meeting
GBIF Governing Board Chair Peter Schalk (Naturalis Biodiversity Center, Leiden) and Donald Hobern (GBIF Executive Secretary) led the meeting and provided an overview of the past year. There was also a discussion of the GBIF Strategic Plan Goals and Work Programme updates. The plan goals were discussed in detail:
Strategic Plan Goal 1 – Empower Global Network
"Ensure that governments, researchers and users are equipped and supported to share, improve and use data through the GBIF network, regardless of geography, language or institutional affiliation."
Strategic Plan Goal 2 – Enhance Biodiversity Information Infrastructure
"Provide leadership, expertise and tools to support the integration of all biodiversity information as an interconnected digital knowledgebase."
Strategic Plan Goal 3 – Fill Data Gaps
"Prioritize and promote mobilization of new data resources which combine with existing resources to maximize the coverage, completeness and resolution of GBIF data, particularly with respect to taxonomy, geography and time."
Strategic Plan Goal 4 – Improve Data Quality
"Ensure that all data within the GBIF network are of the highest-possible quality and associated with clear indicators enabling users to assess their origin, relevance and usefulness for any application."
Strategic Plan Goal 5 – Deliver Relevant Data
Ensure that GBIF delivers data in the form and completeness required to meet the highest priority needs of science and, through science, society."
The meeting also presented the winners of the 2017 Young Researchers Award:
In official business, the various GBIF Committee chairs (Science, Nodes, Budget) all reported. Hobern also presented the 2018 budget and work programme. Ireland was selected as the host for the 2018 GBIF 25th meeting of the Global Biodiversity Information Facility (GBIF) Governing Board, and Governing Board positions were voted on. Results of the elections were:
Chair, Governing Board: Tanya Abrahamse, South Africa
2nd Vice Chair, Governing Board: Mark Graham, Canada
Chair, Budget Committee: Peter Schalk, Netherlands
1st Vice-Chair, Budget Committee: Liam Lysaght, Ireland
2nd Vice-Chair, Budget Committee: Joanne Daly, Australia
Chair, Science Committee: Thomas M. Orrell, United States
2nd Vice-Chair, Science Committee: Anders G. Finstad, Norway
3rd Vice-Chair, Science Committee: Philippe Grandcolas, France
Governing Board meeting group photo
(Photo by Linda Tammisto, CC0 2017)
* * * * *
Finnish National Seminar
All delegates and other guests were invited to the
Finish National Seminar
, "Finnish Biodiversity Information for the Benefit of Society".  The national seminar is a full-day event with talks from invited international and Finnish guest speakers including researchers of various fields as well as representatives of the natural resources administration. The programme gives broad insight into the various uses of openly available biodiversity data in research, governance, and teaching, and introduces the newly established Finnish Biodiversity Information Facility (FinBIF).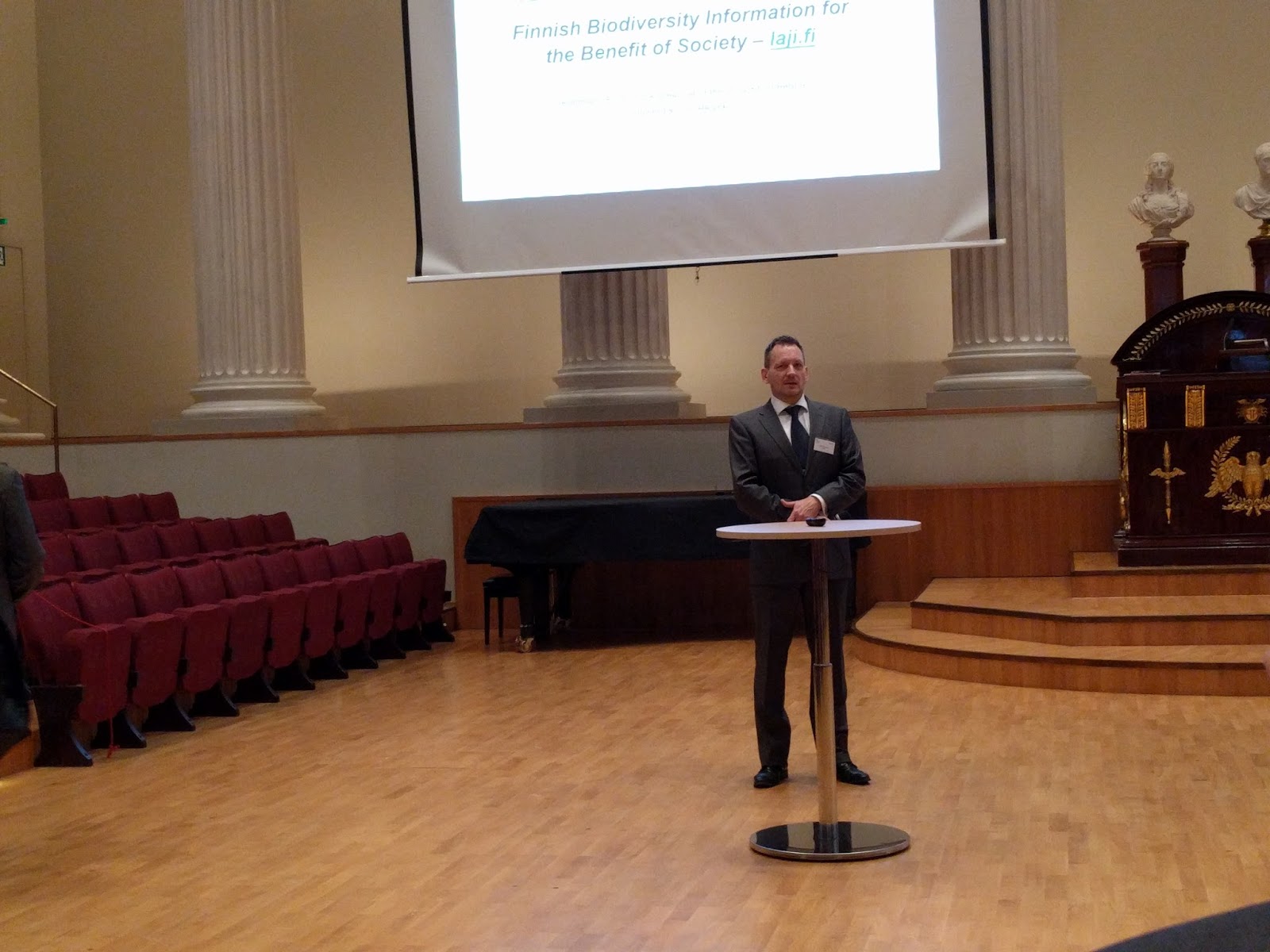 Professor Leif Schulman
Professor Leif Schulman, Director of the Finnish Museum of Natural History (and GBIF Head of Delegation for Finland) provided a brilliant opening to the Seminar (which was held in the beautiful Great Hall of the University of Helsinki) by pacing four meters across the stage and noting that it was this distance that birds in Finland are moving north due to climate change. Schulman also introduced Finnish Member of Parliment Ville Niinistö (Minister of the Environment in 2011-2014, led to the funding of FinBIF) who provided a governmental perspective on biodiversity.
GBIF Executive Secretary Donald Hobern provided an overview of GBIF's activities and goals and was followed by FinBIF Manager Kari Lahti who contextualized this work within the Finnish context. Dr. Vincent Smith (Head of Diversity & Informatics Division, Natural History Museum, London), provided a keynote talk, "The Digital Transformation of Biodiversity Institutions – a Changing Intellectual Business Model".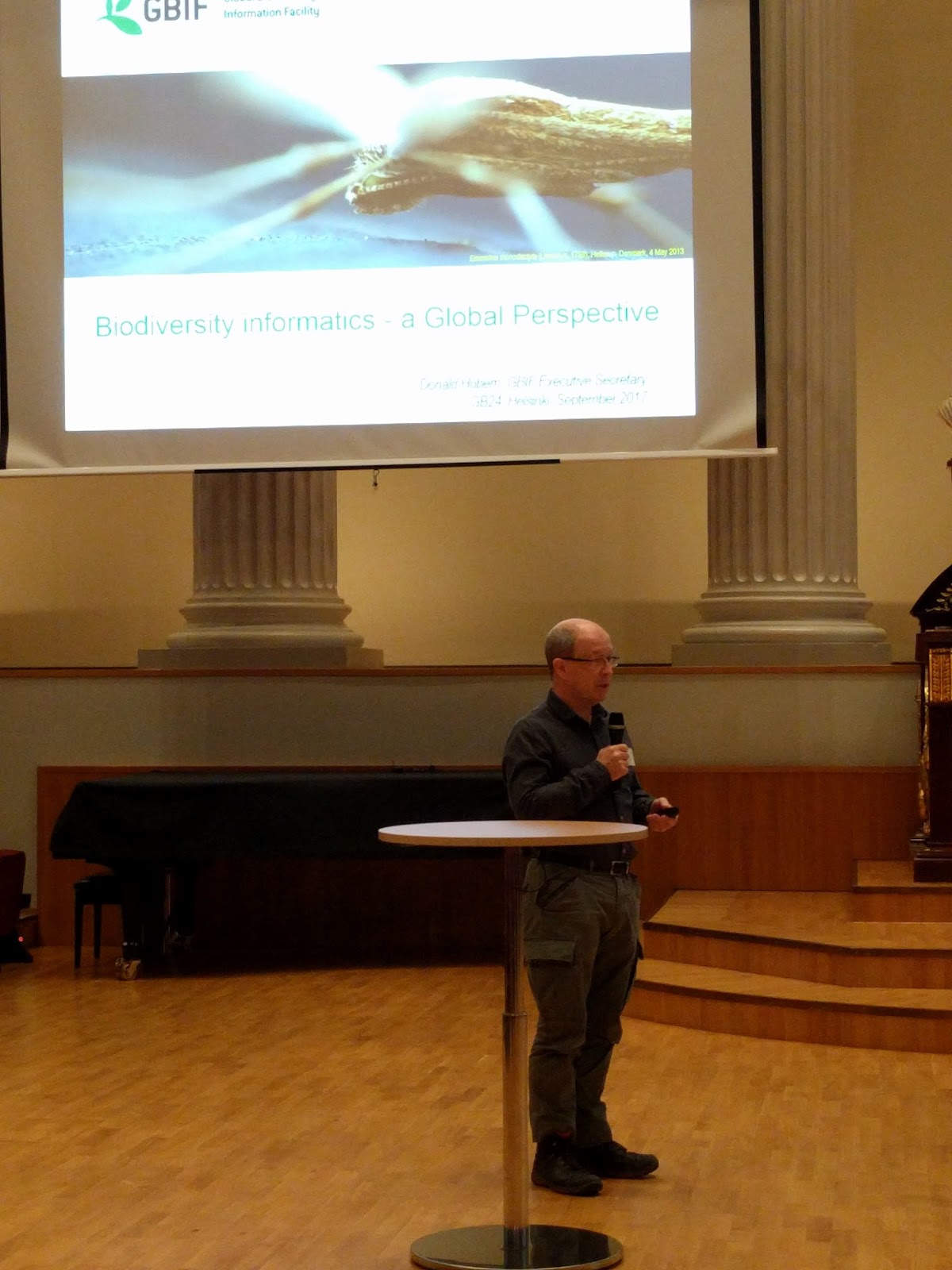 Executive Secretary Donald Hobern
Researchers from across Finland then provided a series of talks that delved deeper into programs and investigations that FinBIF, GBIF, and other global biodiversity research organizations are facilitating. The talks included:
Research Director Atte Moilanen (University of Helsinki & FinBIF)
Associate Professor Tuuli Toivonen (University of Helsinki)
University Researcher Sami Aikio (University of Oulu)
Post Doc Researcher Andrea Santangeli (Finnish Museum of Natural History)
Research Director Ilari Sääksjärvi (University of Turku)
Senior Curator Marko Mutanen (University of Oulu Biodiversity Unit)
Professor Jouko Rikkinen (Finnish Museum of Natural History & Faculty of Biosciences, University of Helsinki)
Ministerial Adviser Johanna Niemivuo-Lahti, Ministry of Agriculture and Forestry
Dr. Aino Juslén, Unit Director at the Finnish Museum of Natural History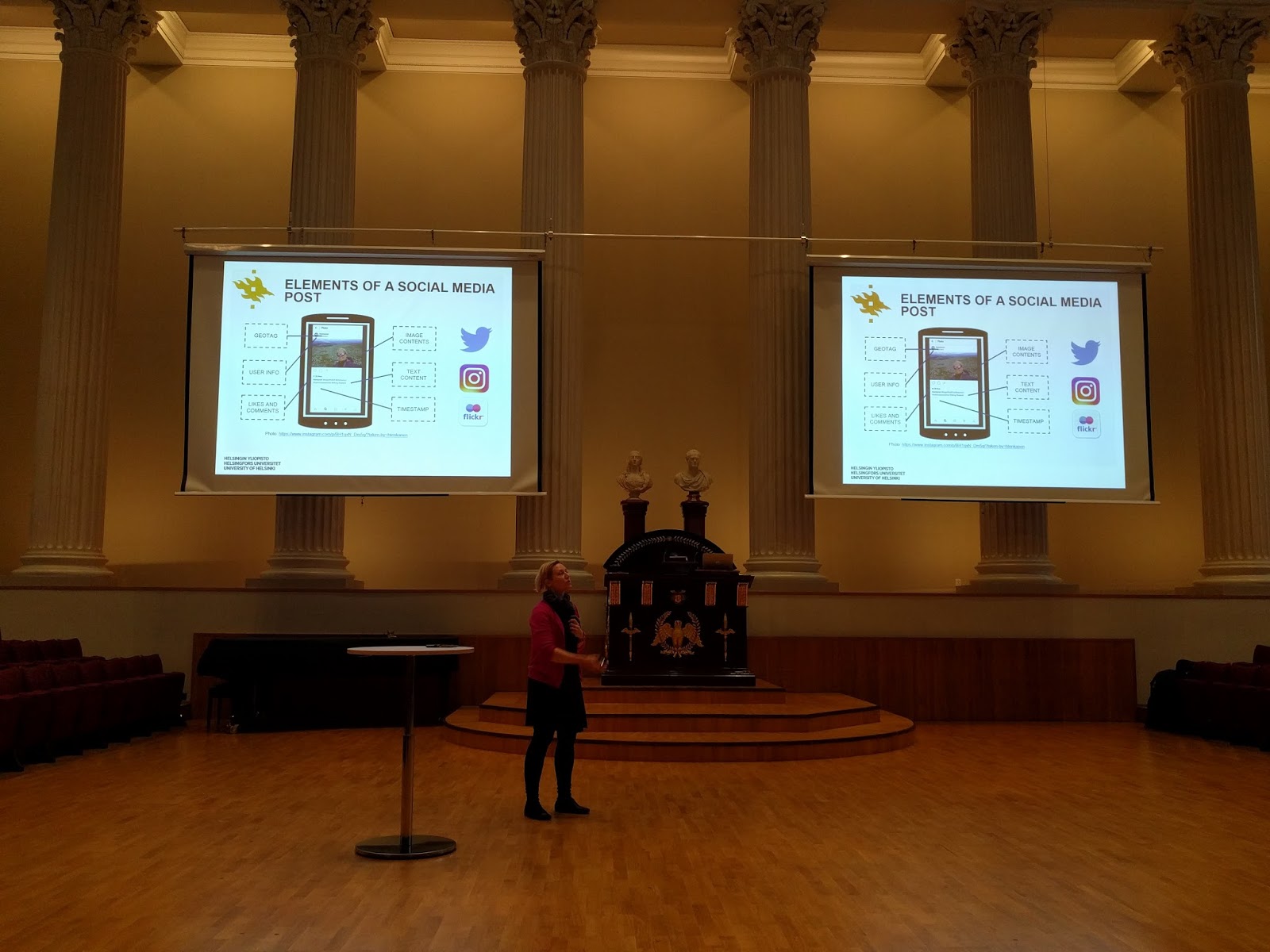 * * * * *
Other Meetings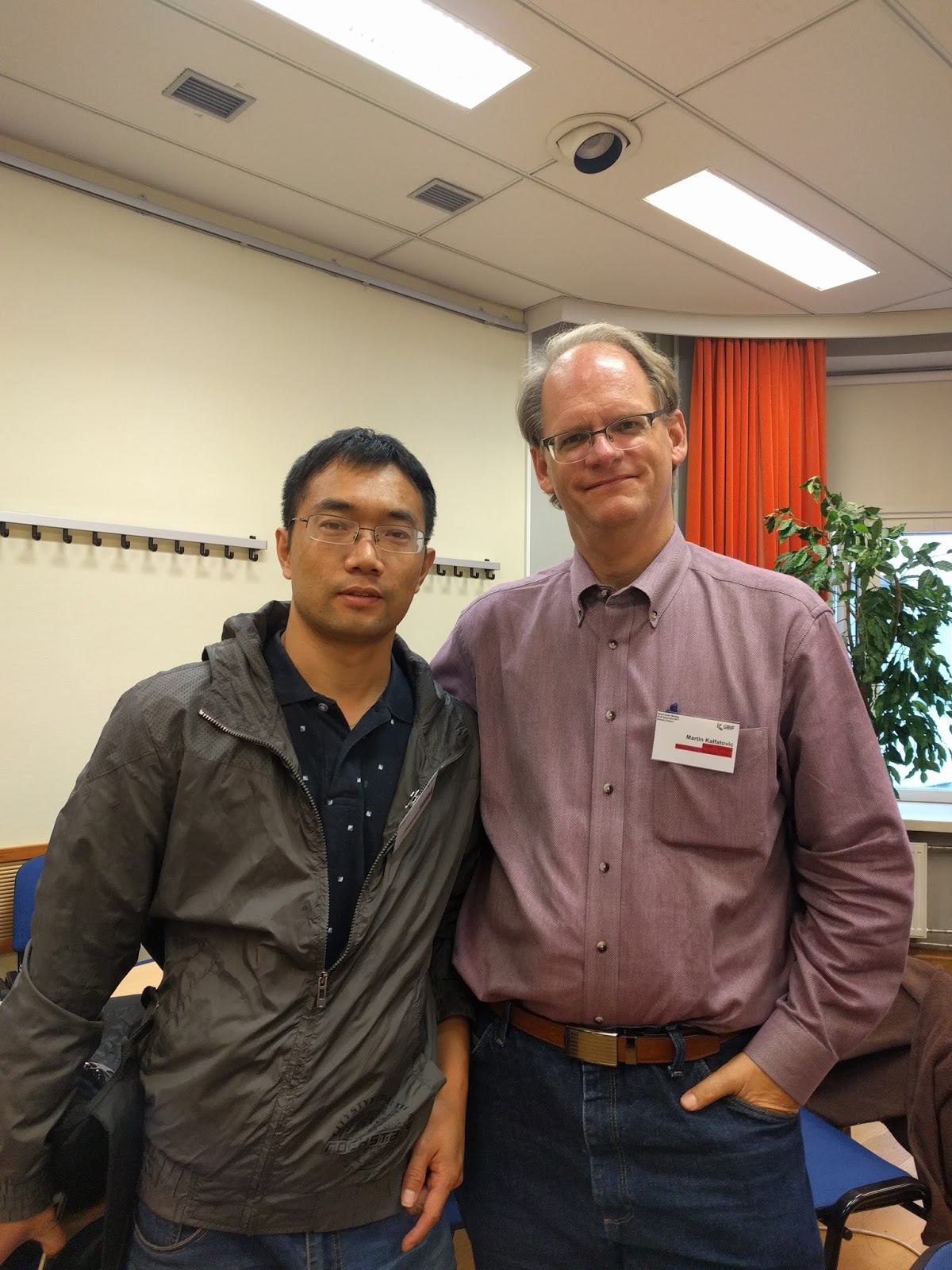 Xu & Kalfatovic
The meetings also allowed BHL staff to meet with a number of our partners including Dr. Zheping Xu (BHL China) and Patricia Koleff (BHL México). Discussions with Michelle Price (Conservatoire et Jardin botaniques de la Ville de Genève) and Chair of Consortium of European Taxonomic Facilities (CETAF AISBL) provided an opportunity to explore possible collaborations.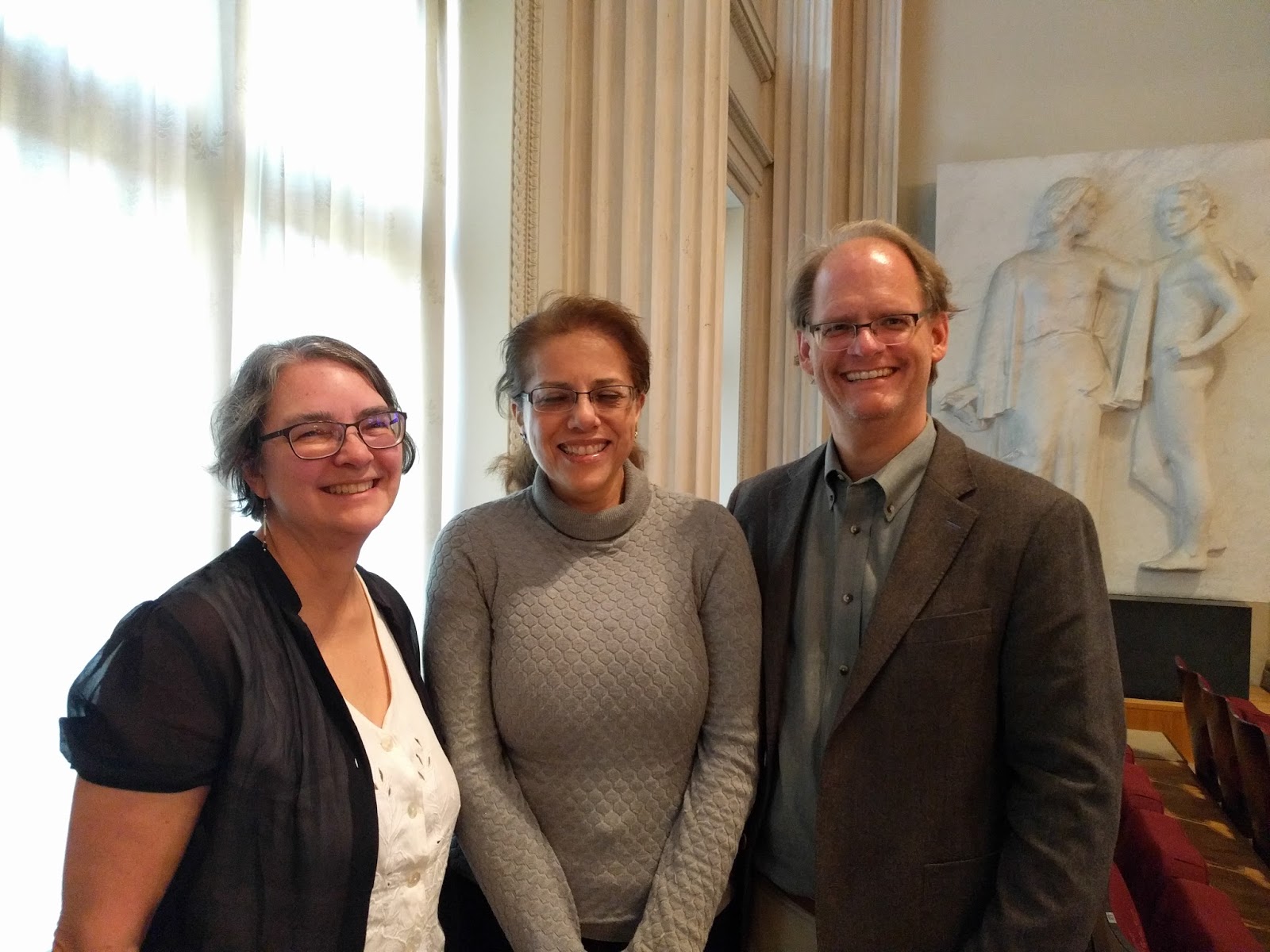 Rinaldo, Koleff, Kalfatovic
Rinaldo and Kalfatovic were also able to spend time with outgoing GBIF Science Committee Chair and BHL power user Rod Page to discuss ongoing work with the BHL portal. The GBIF meetings also provided a good opportunity to catch up with staff from iDigBio, including Deb Paul (Digitization and Technology Specialist).
* * * * *
Other Resources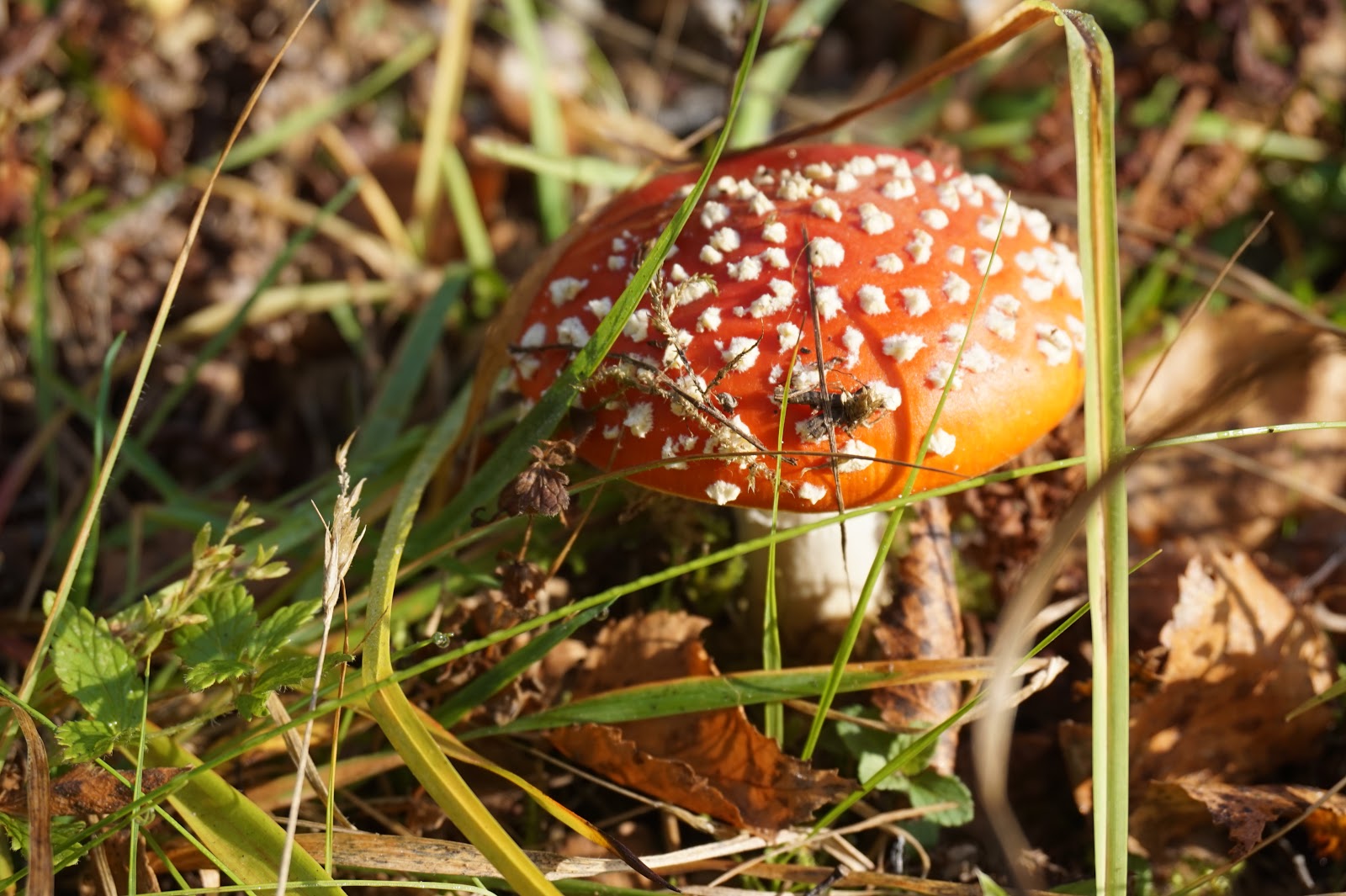 Amanita muscaria, Vallisaari, Finland