John Forbes Royle: Materia Medica and Economic Botany
As part of the Expanding Access to Biodiversity Literature project, an interesting title was added to BHL from Yale University's Harvey Cushing/John Hay Whitney Medical Library and the online Medical Heritage Library: An essay on the antiquity of Hindoo medicine, including an introductory lecture to the course of materia medica and therapeutics, delivered at King's College, by physician-botanist John Forbes Royle.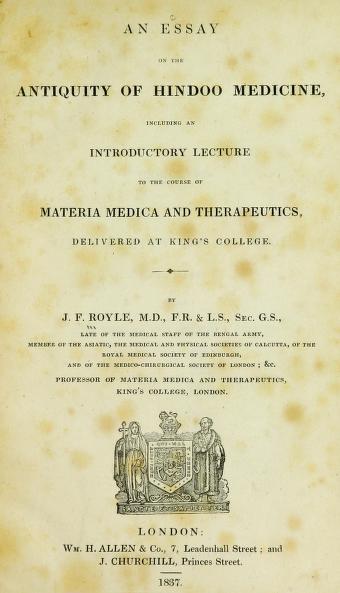 Title page of An essay on the antiquity of Hindoo medicine, including an introductory lecture to the course of materia medica and therapeutics, delivered at King's College, by Royle, J. Forbes (John Forbes), 1799-1858. London, Allen, 1837. Digitized by Yale University via the Medical Heritage Library. http://s.si.edu/2mtstTx.
This work from 1837 documents the materia medica (pharmacology) of India, and explores the historical exchange of medicinal knowledge between cultural groups of India, Arabia, Persia, Greece and China. Including details in botany, ecology, minerology and astronomy, it's an intriguing interdisciplinary resource that can also be read for insights on its Western author and this period in time.
John Forbes Royle (1798-1858) traded his plan to join the British army for an unexpected interest in natural history. He was born at Kanpur, India, and would return to India after attending Edinburgh High School and the East India Company's military academy at Addiscombe. Inspired by the mentorship of physician Anthony Todd Thomson, Royle chose to pursue medicine as a means to further his study of botany. He became an assistant surgeon with the East India Company, and in the following years worked at several locations across northern India, where he studied medicines from bazaars, employed collectors to amass a collection of economic plants, and became superintendent of the garden at Saharanpur. He earned the titles of MD in 1833 and Professor of Materia Medica at King's College, London, in 1836.
An excerpt from Essay on the antiquity of Hindoo medicine demonstrates Royle's interconnected thinking on medicine:
"There are, however, two branches of this extensive science [botany], respecting which I am desirous of making a few observations; one is the connexion between the Structure and Natural affinities of plants, and their Physical and Medical properties; and the other is the Geographical distribution, especially as connected with Climate. Both are important subjects, whether we consider them in a scientific or a practical point of view. The one teaches us the laws which influence the distribution of plants; points out the countries and climates which different families affect; and gives us principles for their cultivation, either as medicines, or as objects of agriculture: the other is no less valuable in affording us innumerable indications in every part of the world, for discovering the properties of new and unknown plants, whether as fitting them for food, for medicine, or for any of the arts of life[.]" [Royle, p. 3]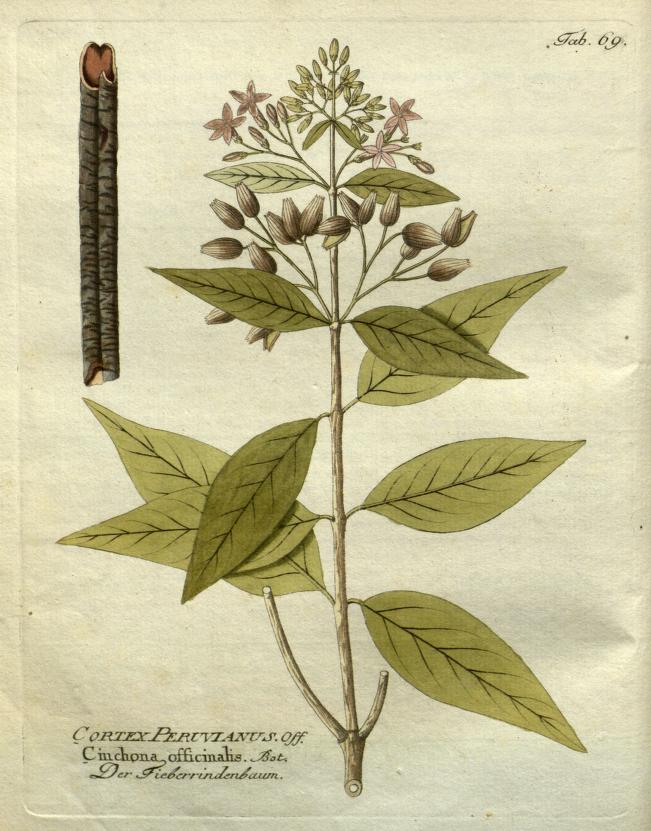 Cinchona, a South American genus. Its bark contains medicinal compounds including quinine, used to treat malaria. Royle recommended that Cinchona be grown in India. Image from BHL book: Icones plantarum medico-oeconomico-technologicarum cum earum fructus ususque descriptione. Wien:herausgegeben von Ignatz Albrecht und verlegt bey Phil. Jos. Schalbaecher, [1800]-1822. Digitized by Missouri Botanical Garden. http://s.si.edu/2iiHgMh.
Cushing/Whitney Medical Library of Yale University
The copy of Royle's text in BHL belonged to Edward Salisbury, a Yale graduate and professor who encouraged scholarship on West and South Asia. Salisbury donated his "Oriental Library," a collection of hundreds of rare and early printed books and manuscripts, to the college in 1870. Salisbury's Oriental Library is foundational to what is now the third-largest collection of Islamic manuscripts in the United States. Last year, Yale celebrated Salisbury's 175th anniversary as the first professor of Arabic and Sanskrit languages and literature in the Americas.
Essay on the antiquity of Hindoo medicine is now held at the Medical Historical Library of the Cushing/Whitney Medical Library. The library was named for Yale graduates Harvey Cushing, known as the father of neurosurgery, and John Hay Whitney, Herald Tribune editor and patron of the arts. In 1935, Cushing and two other physicians, John F. Fulton and Arnold C. Klebs, donated their personal collections of medical texts to the medical library, beginning its Medical Historical Library. Its collections include materials ranging from the 16th to 20th century, with works from Robert Boyle, Galen, William Harvey, Hippocrates, and Andreas Vesalius. Additionally, the Historical Library also holds prints, a collection of weights and measures, and presents rotating exhibits.
The Cushing/Whitney Library is also home to the Cushing Center, a room in the stacks transformed to display the medical specimens of Cushing's Brain Tumor Registry. Cushing meticulously documented over 2,200 case studies as he pioneered the field of neurosurgery, and his registry includes specimens preserved from human surgeries and autopsies as well as notes, journal excerpts, photos and negatives.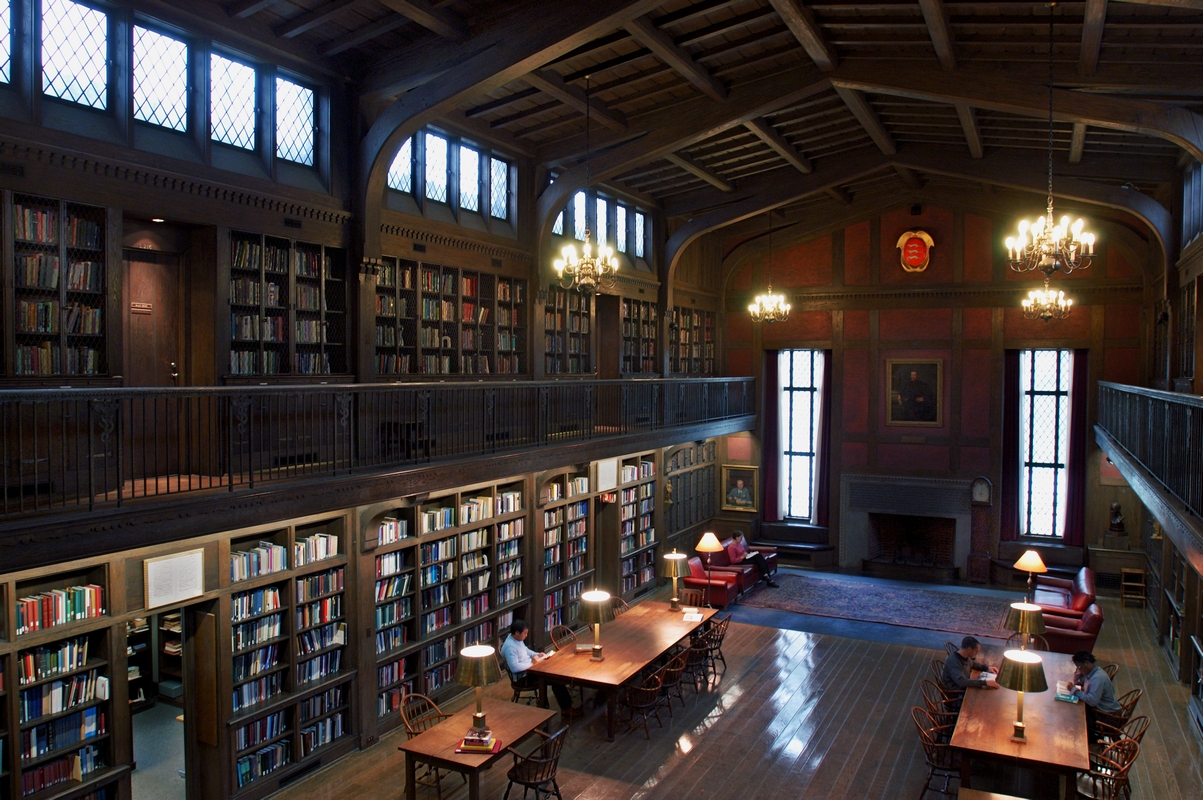 Harvey Cushing/John Hay Whitney Medical Library Historical Library. Frank Poole, 2004.
Medical Heritage Library
The Medical Heritage Library (MHL) is an online collection of materials that are free and openly accessible through the Internet Archive. Royle's Essay on antiquity of Hindoo medicine came to BHL via the MHL.
Much like BHL, the MHL is a collaborative effort by medical libraries to promote access to resources (such as rare books, pamphlets, journals and films) that are useful across a spectrum of disciplines. The collection includes over 200,000 titles with fascinating variety – skimming the landing page, one can find herbals, medical dictionaries and papers, as well as video clips of 1960s tobacco commercials and Helen Keller's autobiography.
The Medical Heritage Library was launched in 2010 by founders The Augustus C. Long Health Sciences Library at Columbia University and Columbia University Libraries/Information Services; The College of Physicians of Philadelphia; The Cushing/Whitney Medical Library at Yale University; The Francis A. Countway Library of Medicine at Harvard University; U.S. National Library of Medicine; and Wellcome Library in London, UK. (For more information about its content contributors, funding and support, please see MHL's 'About' page.)
An essay on the antiquity of Hindoo Medicine is a welcome addition to BHL's collection of works by John Forbes Royle, which include:
Thanks to Melissa Grafe, Ph.D, Head of the Medical Historical Library and John R. Bumstead Librarian for Medical History, who shared how this volume came to the Medical Historical Library.
Sources