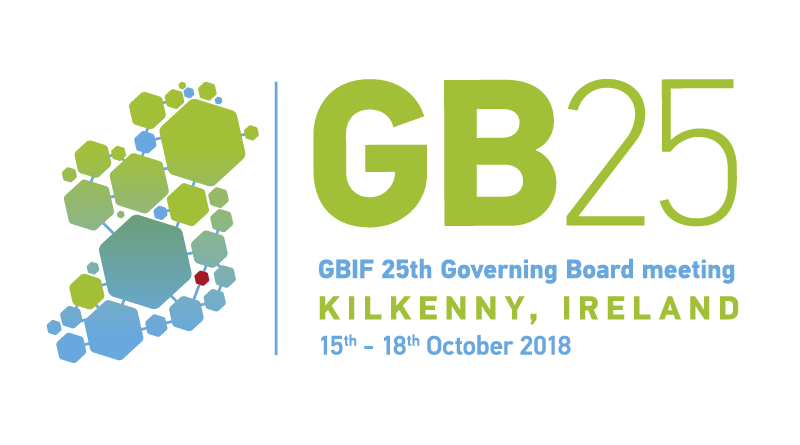 As Chair of the BHL Members' Council, I had the privilege of attending the 25th Meeting of the GBIF Global Governing Board convened in Kilkenny, Ireland, 15-18 October 2018. I represent BHL in its capacity as an Associate Participant in GBIF at the governing board meeting. BHL has been a participant since 2014.
The Global Biodiversity Information Facility (GBIF) operates through a network of global nodes to develop and maintain an open data infrastructure for sharing digital biodiversity data.
GBIF Governing Board Chair Tanya Abrahamse (former CEO South African National Biodiversity Institute) and Donald Hobern (GBIF Executive Secretary), along with the host, Liam Lysaght (National Biodiversity Data Centre, Ireland) led the meeting. Abrahamse and Hobern provided an overview of GBIF activities over the past year, including a discussion of the GBIF Strategic Plan Goals and Work Program updates. The various GBIF Committee chairs (Science, Nodes, Budget) all reported the past year's activities. Around 4 July 2018, GBIF reached the one billion record mark. The GBIF 26 Governing Board meeting will be part of the Biodiversity_next joint conference in Leiden, The Netherlands.
Results of the Governing Board elections with terms ending in 2020:
1st Vice-Chair, Governing Board: Christoph Hauser, Deputy Director General, Museum fur Naturkunde, Berlin
3rd Vice-Chair, Governing Board: Leonard Krishtalka, Director University of Kansas, Biodiversity Institute and Natural History Museum
Nodes Committee Chair: André Heughebaert, Belgian Biodiversity Platform
Nodes Committee 1st ViceChair : Anders Telenius, Swedish Museum of Natural History
Nodes Committee 2nd Vice-chair : Hulda Gideon, Tanzania Commission for Science and Technology
Science Committee 1st ViceChair: Gregory Riccardi, iDigBio/Institute of Scientific Data, Florida State University
Public Session of GBIF Governing Board. GBIF applications and relevance: progress and next steps.
All GBIF delegates and others from the greater biodiversity community in Ireland were invited to the public session. Many of the talks focused on data discovery and mobilization, improving functionality and relevance to policy.
Presentations were introduced by Tim Hirsch (GBIF).
org at 1 billion records: trends in data publication and research use
Kyle Copas, Communications Manager, GBIF Secretariat | presentation
Encouraging a data citation culture
Daniel Noesgaard, Science Communications Coordinator, GBIF Secretariat | presentation
Shining a light on 'dark taxa': naming and discovering DNA-based biodiversity data, Part 1
Dmitry Schigel, Scientific Officer, GBIF Secretariat | presentation
Shining a light on 'dark taxa': naming and discovering DNA-based biodiversity data, Part 2
Urmas Kõljalg, University of Tartu Natural History Museum & Botanic Garden, Estonia
Shining a light on 'dark taxa': naming and discovering DNA-based biodiversity data, Part 3
Dmitry Schigel, Scientific Officer, GBIF Secretariat
Improved information on invasive and alien species, Part 1
Shyama Pagad, IUCN Invasive Species Specialist Group (via video), New Zealand
Improved information on invasive and alien species, Part 2
Tim Hirsch, Deputy Director, GBIF Secretariat | presentation
Improved ecological data capture and Essential Biodiversity Variables
introduced by Donald Hobern, Executive Secretary, GBIF Secretariat
Improved ecological data capture and Essential Biodiversity Variables Laetitia Navarro, GEO BON: Group on Earth Observations – Biodiversity Observation Network, Germany | presentation
Overcoming the taxonomic challenge Olaf Bánki, Species 2000| Catalogue of Life, Netherlands | presentation
Biodiversity data for national reporting Liam Lysaght, National Biodiversity Data Centre, Ireland | presentation
The winners of the 2018 Young Researchers Award and Ebbe Nielsen Challenge were presented at the end of the public session. The Young Researchers Award honors projects that foster innovative research and discovery in biodiversity informatics and provides financial support for winners.
Raquel Gaião Silva, University of Algarve, Portugal: Raquel is a Master's student in International Science/ Marine Biodiversity Conservation. She has used GBIF mediated data in her work on climate-driven changes in seaweed distribution in Atlantic Iberian marine forests.
Kate Ingenloff, University of Kansas Biodiversity Institute is a doctoral student who used GBIF mediated data along with time-specific environmental and behavioral data to develop better niche models for highly mobile species such as pelagic birds.
The Ebbe Nielsen Challenge annual prize honors the memory of Dr Ebbe Schmidt Nielsen, a principal founder of GBIF and leader in biodiversity informatics. The six recipients shared prize money, some provided by the Swedish Research Council.
Checklist recipe: a template for reproducible standardization of species checklist data Lien Reyserhove, Damiano Oldoniand Peter Desmet, INBO: Research Institute for Nature and Forest, Belgium First prize
Ozymandias: a biodiversity knowledge graph Roderic D. M. Page, University of Glasgow, United Kingdom First prize
The bdverse. Tomer Guetaand Yohay Carmel, The Technion – Israel Institute of Technology, Israel, Vijay Barve, Florida Museum of Natural History, United States, Thiloshon Nagarajah, Informatics Institute of Technology, Sri Lanka, Povilas Gibas, Vilnius University, Lithuania, Ashwin Agrawal, Indian Institute of Technology (BHU), India Second prize
GBIF Issues Explorer. Luis J. Villanueva, Smithsonian Institution, United States Second prize
Smart mosquito trap to DwC pipeline. Connor Howingtonand Samuel Rund, VectorBase, United States Second prize
Taxonomy Tree Editor. Ashish Singh Tomar, University of Granada, Spain | BIG4 Second prize
Videos of the public sessions of the meeting are available on the GBIF website.
Other Explorations
I had some productive, informal meetings with BHL partners and potential partners providing opportunities to explore new partnerships or deepen existing ones. During the reception and other networking events, I learned about GBIF's Biodiversity Open Ambassador program, a chance to promote the principles of open data sharing in presentations, whether or not the work is about GBIF. GBIF will provide slides and information or you can develop your own to add to appropriate presentations. Discussions with Ana Casino of the Consortium of European Taxonomic Facilities (CETAF), Donald Hobern and Dmitry Shigel (GBIF), Dmitris Koureas (TDWG) and Patricia Koleff (BHL México), among others, determined that BHL's future plans will augment interoperability in the biodiversity community and that BHL is a critical resource for many GBIF participants.