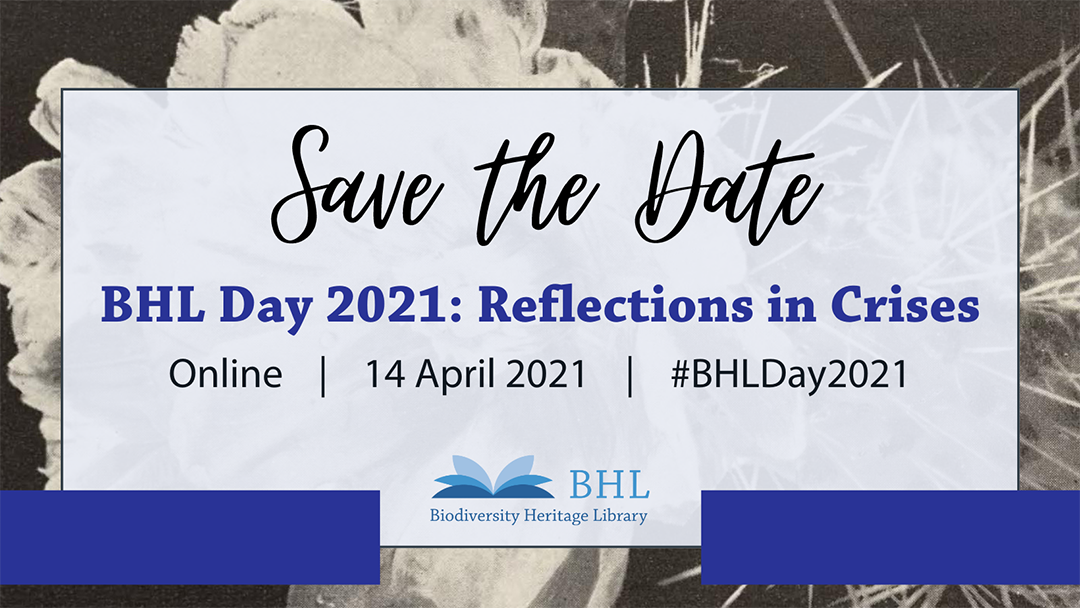 Save the date for a virtual BHL Day 2021 on 14 April, presented as part of our 2021 Annual Meeting! Themed "Reflections In Crises", the program will include sessions reflecting on BHL's roles in addressing the biodiversity crisis, challenges arising from COVID-19, and systemic racism in natural history collections.
Date and Time: 14 April 2021 (approx. 1200-1700 UTC, exact session times TBD)
Location: Online (via Zoom webinar)
Registration: The event is free but registration is required. Registration will go live on 29 March 2021 and will be shared via the BHL Day 2021 event page.
Program Details:
BHL Day 2021: Reflections in Crises will include an opening keynote from Dr. Ian Owens (Deputy Director at the Smithsonian's National Museum of Natural History) addressing the biodiversity crisis and a closing keynote from Lidia Ponce de la Vega (Doctoral Candidate in Hispanic Studies at McGill University) discussing how BHL can help decolonise biodiversity collections and archival practices. The program will also include a Partner Reflection Panel with representatives from BHL partner institutions focused on BHL's impact during the COVID-19 pandemic.
More Information can be found on the BHL Day 2021 event page. That event page will be updated with further program details over the coming weeks.