The Biodiversity Heritage Library is pleased to welcome two new Affiliates in 2023: Dumbarton Oaks in Washington, DC, and Meise Botanic Garden in Meise, Belgium. The BHL Consortium now includes 19 Members and 23 Affiliates.

Founded in 1940 as a gift from Robert and Mildred Bliss, Dumbarton Oaks is a Harvard University research institute, library, museum, and garden located in Washington, DC. The Dumbarton Oaks Library and Archives include collections on botanical illustrations, plant collecting, reports from scientific expeditions, rare books, and much more.
"We have been working closely with the Biodiversity Heritage Library since 2018," said Dumbarton Oaks executive director Yota Batsaki. "The Plant Humanities Lab, an open access digital platform we have created, utilizes the extraordinary resources of the BHL and other repositories to study and communicate how plants have shaped human cultures and our planet. The Lab demonstrates how historical collections in the BHL—such as herbarium specimens, botanical illustrations, and field notes—can be integrated into environmental and cultural narratives of urgent significance. We are delighted to strengthen this collaboration by contributing our own digitized content to this invaluable repository."
Staff at Dumbarton Oaks are already working to add
unique items
to the BHL collection, with plans to digitize more from their library and archives.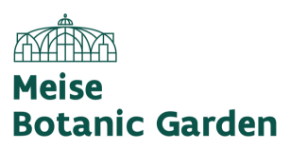 Meise Botanic Garden, founded in 1870, holds collections that date back to its predecessor, the Royal Dutch Horticultural and Arboricultural Society, which was established in Brussels in 1826 under Dutch rule.
The library at Meise Botanic Garden holds some 250,000 volumes and 10,000 periodical titles on various subjects including botany, mycology, ethnobotany, floristics, botanical history and horticulture. It also houses significant special collections of archives, manuscripts, photo archives and original natural history illustrations.
The library aims to expand this unique collection, preserve this important scientific and cultural heritage, and make it available to researchers worldwide.
"This is why I am so pleased that the Meise Botanic Garden has the opportunity to widely share a part of this collected literature through BHL," stated Nicole Hanquart, Head of Library, Art and Archives at Meise Botanic Garden. "Increasing access to the collections is a high institutional priority. Doing it through BHL, which is an essential tool for our researchers, is a major asset."
Meise Botanic Garden has actively participated as a content provider in BHL Europe since 2009. As part of its new affiliation, it plans to contribute with its own publications as well as with additional titles identified from its collection that are not yet in BHL. The focus will be on botanical literature on Belgium and Central Africa.