Book of the Week: Natural History According to Shakespeare & His Contemporaries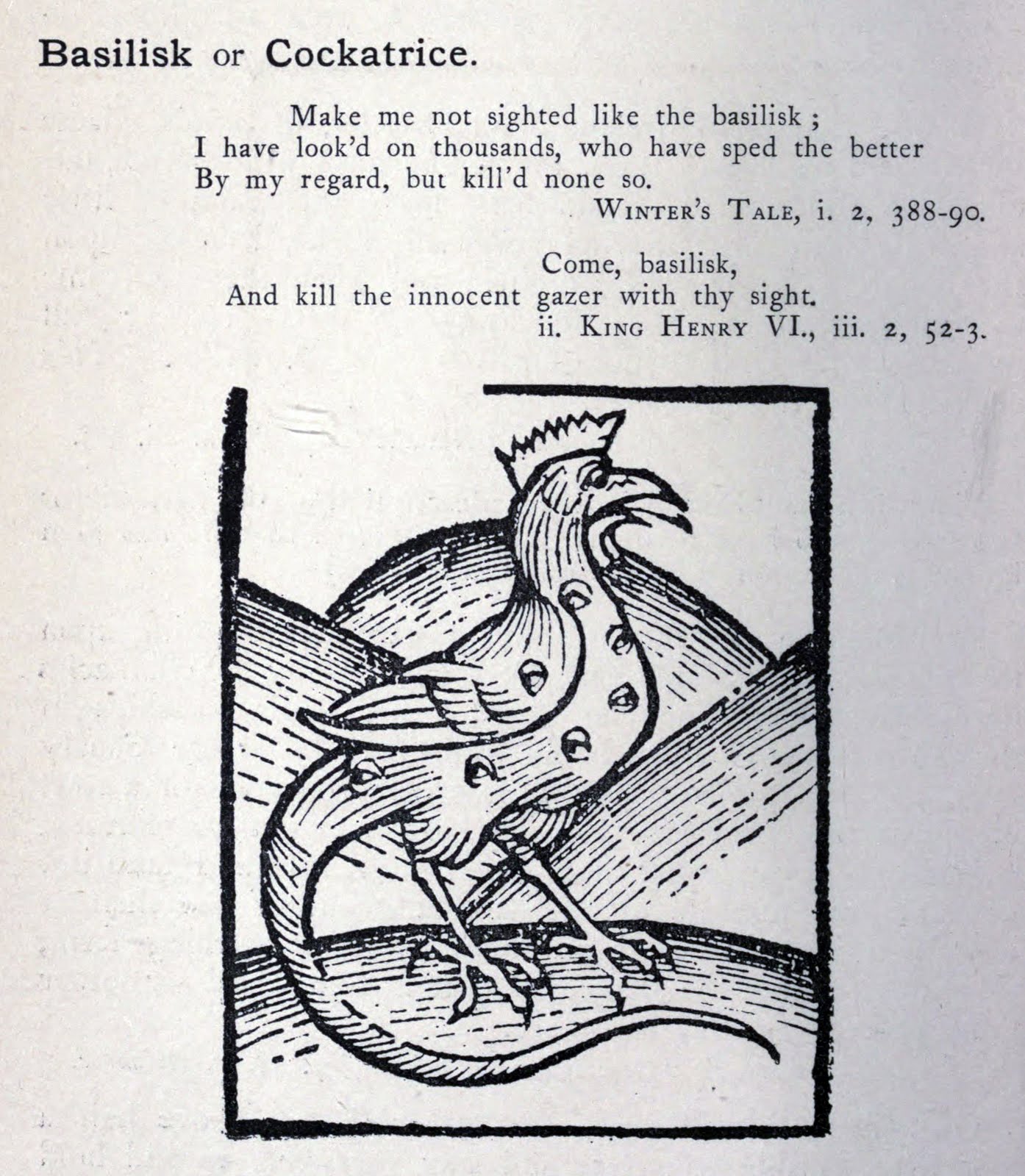 Ever wonder what people believed about natural history in Shakespeare's time? Well, even if you haven't, we're going to tell you. One of our BHL colleagues at Harvard brought the book Natural History in Shakespeare's Time (1896), by H.W. Seager, to our attention, and we knew we just had to highlight it.
According to the Preface,
"This book presents in a convenient form for reference a collection of the quaint theories about Natural History accepted by Shakespeare and his contemporaries…The plan of the book is to give some illustration of each word mentioned by Shakespeare when there is anything remarkable to be noted about it…It is certain that Shakespeare believed some of the strange ideas here mentioned, especially about those animals which he had no opportunity of observing in their wild state; but on the other hand, Shakespeare's knowledge of Natural History (in so far as his own observation extended) was far greater than that of his contemporaries as here illustrated."
In our post this week, we thought we'd highlight some of the more interesting ideas held by Shakespeare and his contemporaries regarding the natural world. For each animal, we present, as does our book of the week, Shakespeare's reference to the creature, as well as what his contemporaries were saying about them. Enjoy looking at Shakespeare in a whole new light!
"We shall lose our time,
And all be turn'd to barnacles"
– Tempest, iv. I, 248-50
"In the island of Ireland, and Orcades, in certain places there, there be certain trees, much like unto willow-trees, out of which come forth certain hairs, increasing by little and little into birds, having shape of ducks, hanging upon the bough by their nebs or bills, and when they are come to full perfectness, they fly away of themselves, or fall into the next seas, which birds we call Barnacles. This is related by the people that dwell there."
– Lupton's Notable Things, bk. vii
"Come, basilisk,
And kill the innocent gazer with thy sight."
– ii. King Henry VI., iii, 2, 52-3
"The Cockatrice is a king of serpents, and they be afeard and flee when they see him. For he slayeth them with his smell and with his teeth; and slayeth also all things that have life, with breath and with sight…But he is overcome of the weasel; and men bring the weasel to the Cockatrice's den where he lurketh and is hid."
– Bartholomew (Berthelet), bk, xviii.
"Its head is very pointed, its eyes red, its colour inclining to black and yellow; it has a tail like a viper, but the rest of its body is like a cock. The Basilisk is sometimes gendered from a cock; for towards the end of summer the cock lays an egg from which the Basilisk is hatched. But many things must concur to this gendering, for it lays the egg in much warm dung, and there sits on it. And those who have seen its creation say that there is no shell to the egg, but a very strong skin which can resist the hardest blows. Also the opinion of some is that a viper or toad sits on the cock's egg – but this is doubtful."
– Hortus Sanitatis, part iii ("Of Birds") ch. xiii
"Peas and beans are as dank here as a dog, and that is the next way to give poor jades the bots."
– I King Henry IV., ii, I, 9-10
"The Bean is a manner of codware, and serveth to pottage, and in old time men used to eat thereof. Beans cause vain dreams and dreadful. Many meddle beans with breadcorn, to make the bread the more heavy. By oft use thereof the wits be dulled. Or else, dead men's souls be therein. Therefore the bishop should not eat beans. Beans grow in Egypt with sharp pricks, therefore crocodiles flee from them, and dread lest their eyes should be hurt with the sharp pricks of them. Such a bean is x cubits long, with a head as a poppy, and therein Beans be closed, and that head is red as a rose. And those beans grow not on stalks nor in cods."
– Bartholomew, (Berthelet), bk. xvii.
"So work the honey bees,
Creatures that by a rule in nature teach
The act of order to a peopled kingdom.
They have a king and officers of sorts;
Where some, like magistrates, correct at home."
– King Henry V., i, 2, 187-204
"Bees be cunning and busy in office of making honey, and they dwell in their own places that are assigned to them, and challenge no place but their own…They have a host and a king, and move war and battle, and fly and void smoke and wind, and make them hardy and sharp to battle with great noise…Bees make among them a king, and ordain among them common people. And though they be put and set under a king, yet they be free and love their king that they make by kind love; and defend him with full great defence…And bees choose to their king him that is most worthy and noble in highness and fairness, and most clear in mildness, for that is chief virtue in a king."
– Bartholomew (Berthelet), bk. xii
And that's just what they had to say about creatures beginning with "B"! Keep reading to find out more about what our ancestors used to think about the world we live in. Of course, chances are that five hundred years from now, our descendants will be reading some of the things we think we know about the world and laughing as well. Just something to consider…