BHL and Our Users: Rebecca Morin, BHL Librarian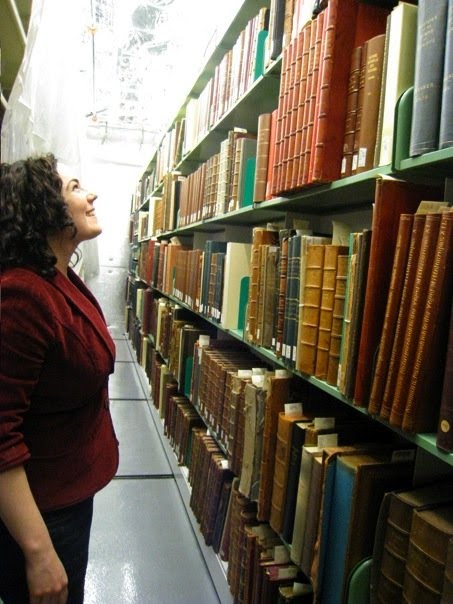 For our regular series "BHL and our Users," we usually feature scientists who use BHL to conduct their research. However, there are many different kinds of BHL users, not the least of which are librarians that use BHL to help them execute their own work supporting the research needs of their library patrons. For many librarians, BHL means that they can save time answering reference questions, as all content is online; save wear and tear on their physical books by directing people to online versions of the content; and save time and money by avoiding ILL (Inter-Library Loan – sending copies of books held in one library to another that does not own a copy) costs, as again patrons can simply be directed to the item in BHL. Not surprisingly, these benefits extend to BHL staff who that also wear the hat of reference librarian at their respective institutions. This week we feature just such a librarian – Rebecca Morin, the User Services Librarian at the California Academy of Sciences (CAS). She not only serves CAS patrons in her librarian role but is also the driving force behind the digitization of CAS materials for BHL.
What is your title and institutional affiliation?
I am the User Services Librarian at the
California Academy of Sciences in San Francisco
. My main responsibilities are reference, instruction and outreach, acquisitions, and collection development for all areas of the Academy Research Division. I also oversee library systems, interlibrary loans, and the rare book collection.
How long have you been working in a library environment?
Almost 14 years. My first library job was working as an undergraduate in the Interlibrary Loan Department at the Margaret Clapp Library at Wellesley College. After graduating with an incredibly useful degree in music, I worked in libraries at UC Berkeley, here at the California Academy of Sciences, and in the Science & Engineering Division of the University of British Columbia Library in Vancouver. I received my MLIS and MAS (Master of Archival Studies) from the UBC School of Library and Information Studies in 2007.
When did you first discover BHL?
I have a hard time remembering not using BHL in my current position! It must have been shortly after launch. I used the
Missouri Botanical Garden's Botanicus portal
quite a bit, so I think my adoption of BHL just flowed naturally from there. The California Academy of Sciences is not a founding member of BHL, but by the time we joined the consortium in May 2009 I was using BHL regularly as part of my reference and interlibrary loan duties.
What is your current level of involvement in BHL?
I spend approximately one day/week working on BHL. I am on the Staff Committee, the Collections Committee, and I was part of the Communications Committee for the
Life & Literature Conference
in November 2011. I've spoken about BHL quite a bit over the last several years, giving presentations at the 2010 meeting of the Society for the Preservation of Natural History Collections, the 2011 IMLS WebWise Conference, and the 2011 Museum Computer Network Conference. I've also taught BHL instructional sessions at the Academy and at the National Museum of Natural History. I'm finishing up a scanning project, and I serve as a Principal Investigator on an IMLS National Leadership Grant called
Connecting Content: A Collaboration to Link Field Notes to Specimens and Published Literature,
which will result in some field note materials being served via the BHL portal (among other outcomes). BHL is a big part of my professional life!
What is your opinion of BHL and what impact has it had on your duties as a librarian?
I am extremely proud of this project and so happy that I have the chance to be involved with it! The Library at CAS is separated from the rest of the Research Division by several floors, our graduate students attend schools that are anywhere from five to eighteen miles away, and I work with a large number of off-site research associates and affiliated scholars. It makes a HUGE difference that I can direct researchers to the material they need, instantly, free of charge, from anywhere with an internet connection. BHL is a game-changer.
How often do you use BHL?
Without exaggeration, every day. Since reference is my primary responsibility, I find myself using it to verify citations and species descriptions. I send links to articles and bibliographies generated via TaxonFinder to off-site researchers. I download papers that would otherwise require interlibrary loan. I use the
BHL Flickr account
to help fill the requests I get for beautiful scientific illustrations. BHL is my most-visited external website, ranking just behind Google (according to my browser history).
What has been the reaction of your patrons to BHL?
Some research staff were skeptical at first. Several years ago it was not uncommon for me to pull up an item in BHL only to have the patron insist on seeing a paper copy from my collection as well. But now that researchers have grown accustomed to acquiring the latest literature online via ejournal subscriptions, I find they have an increased comfort level in accessing BHL for legacy literature. Students and researchers who don't live in the Bay Area or visit the Academy often are very enthusiastic about BHL, and patrons are increasingly viewing BHL as a trusted resource and a reliable source of information.
What services/features do you like most about BHL and which do you most like to point out to your patrons? Which services/features are your patrons most excited about/use the most often?
My absolutely favorite feature of BHL is that it is free and open. Scientific literature is so expensive, and access to older foundational literature can be so restrictive. I know a lot of visiting scholars and students are just thrilled with what BHL offers, and many are excited to share it with friends and colleagues who may not have easy access to rich library collections. Many of my patrons are big PDF-makers; they use the PDF creator to build their own literature libraries, kind of like an electronic reprint collection.
If you could change one thing about BHL, what would it be, or what developmental aspect would you like the BHL team to focus on next?
Full-text searching within items is something that my users really want to see. For students new to research in systematic biology, it can be hard to find one's way around the text online. Tools for image retrieval would be incredibly helpful as well.
Is there a specific item on BHL that is most often requested by your patrons/that you use more than any other to fulfill ILL requests?
The publications of the Academy, such as the
Proceedings of the California Academy of Sciences
, are always popular. Our reference copies are difficult to photocopy, and Academy staff from the Research Division and beyond regularly consult the Proceedings. The Academy was founded just three years after California became a state, and the Academy is inextricably wrapped up in the history of California. Academy staff, students, collection managers, historians, genealogists, and scholars of all stripes constantly seek information from the Proceedings, and I usually refer them to BHL.
________________________________________________________
Thanks, Becky, for sharing your valuable insights, garnered from not only a reference librarian perspective, but a BHL staff member perspective as well. To date, the California Academy of Sciences library has contributed thousands of pages of taxonomic literature to BHL, and we look forward to the continued provision of material from this important academic and historical institution. These contributions are the direct result of work done by Becky and other library staff at CAS, and we are grateful for their commitment to the BHL project!