Did you know that orchids are the national flower of Belize, Brazil, Colombia, Costa Rica, Guatemala, Honduras, and Venezuela? Or that an estimated 25,000 species live in almost every type of environment and continent except Antarctica? The Orchidiceae is one of the most iconic, beloved, and studied flower families in the world, particularly in Latin America where many species of orchid are found in large numbers and are entwined in local folklore, religious ceremonies, and cultural traditions.
To celebrate this fact, the Smithsonian National Museum of Natural History (NMNH), in collaboration with Smithsonian Gardens and U.S. Botanic Garden, is currently hosting a three-month-long Orchids of Latin America Exhibition that explores the connections between orchid botany, horticulture, and Latin American culture. The exhibition will be open and free to the public until April 21st at the NMNH's Exhibit Gallery, 1st Floor, West Wing. If you happen to be in DC during this time, this event should not be missed.  It will be an oasis of color and warmth, providing visitors with a much needed respite from the bleak winter weather. Families should make special note to mark their calendars for Saturday, February 23, 2012 and attend !Fiesta de las Or-KID-eas! which will give kids the opportunity to make an orchid garland or pot their own orchid plant, learn to care for it, and even bring it home.
BHL Book of the Week Celebrates Orchids!
To coincide with Orchids of Latin America Exhibition that just opened over the weekend, the Biodiversity Heritage Library wanted to highlight one of the most comprehensive resources on Orchids in its corpus as this week's book of the week. Orchidologists and orchid enthusiasts alike, will appreciate the breadth of this sixteen volume work as well as the enchanting illustrations that it contains:
Dictionnaire Iconographique des Orchidées by Alfred Cogniaux
Although the BHL has a voluminous selection of some absolutely fabulous orchid books, folios, and journals, the Dictionnaire Iconographique des Orchidées is truly a stand-out resource. Originally, the work was issued in no particular order but, the intent of the author was that subscribers would eventually rearrange the plates and their descriptions by genera and bind the work after all of the parts had been issued. Unfortunately, the work was never completed. However, the copy in the BHL digitized by partner library Missouri Botanical Garden, has indeed been arranged by genera as the Belgian Botanist and author Alfred Cogniaux would have wanted. This arrangement makes the tome very user-friendly and allows readers to easily compare and contrast the many different varieties of orchids. Today, around 25,000 orchid species have been documented and over 70,000 hybrids have been cultivated by horticulturists!  Orchids truly are one of the most beautiful and diverse flower families in the world.
Peruse the BHL's Orchids of Latin America Flickr Collection
As mentioned earlier, the national flower of many Latin American countries is some variety of orchid. In addition to highlighting our favorite orchid tome, we wanted to bring your attention to a special collection of orchid illustrations that Gilbert Borrego our Flickr guru curated to coincide with the ongoing exhibition happening at the National Museum of Natural History. The "Orchids of Latin America Flickr Collection" brings together some of the most beautiful Latin American orchid illustrations in the BHL — including many of the national flower specimens. As always, these illustrated plates are open, free, and available for download by users everywhere to enjoy!
Columbia's National Flower – Cattleya trianae, The Christmas Orchid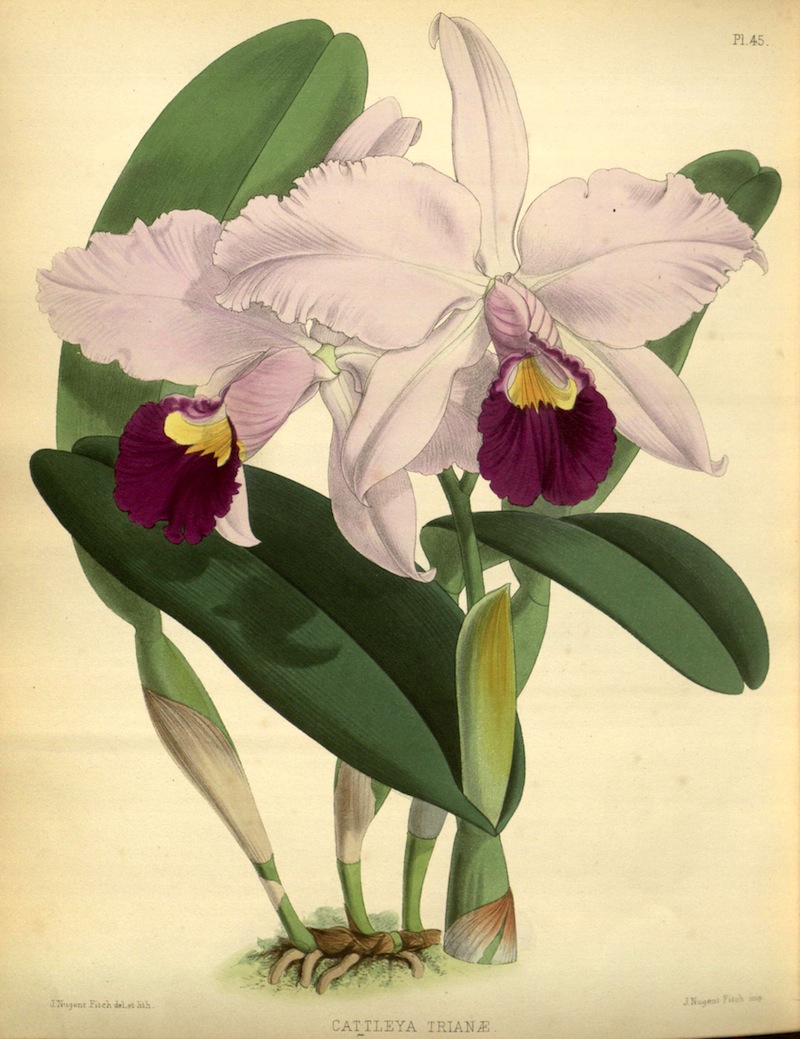 This variety of orchid has been Colombia's national flower since 1834 and was named after the Colombian naturalist José Jerénimo Triana.
Guatemala's National Flower – Lycaste skinneri,  Monja Blanca (White Nun)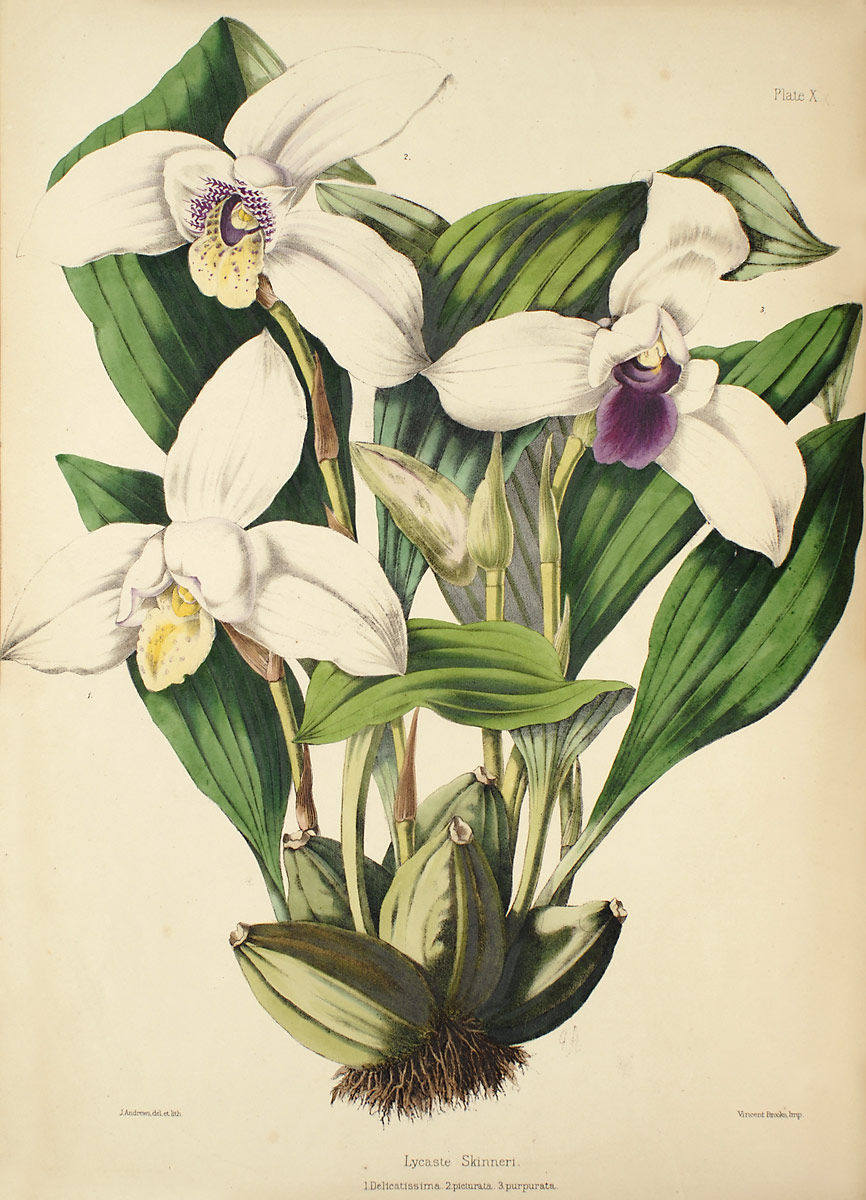 The Lycaste skinneri is a hermaphrodite plant capable of producing millions of seeds within a fruit in capsule form. In 1934 the President of Guatemala issued a decree naming the Monja Blanca the official national flower. It was chosen for its exceptional rarity and beauty.
Honduras' National Flower – Rhyncholaelia digbyana, Digby's Beaked Laelia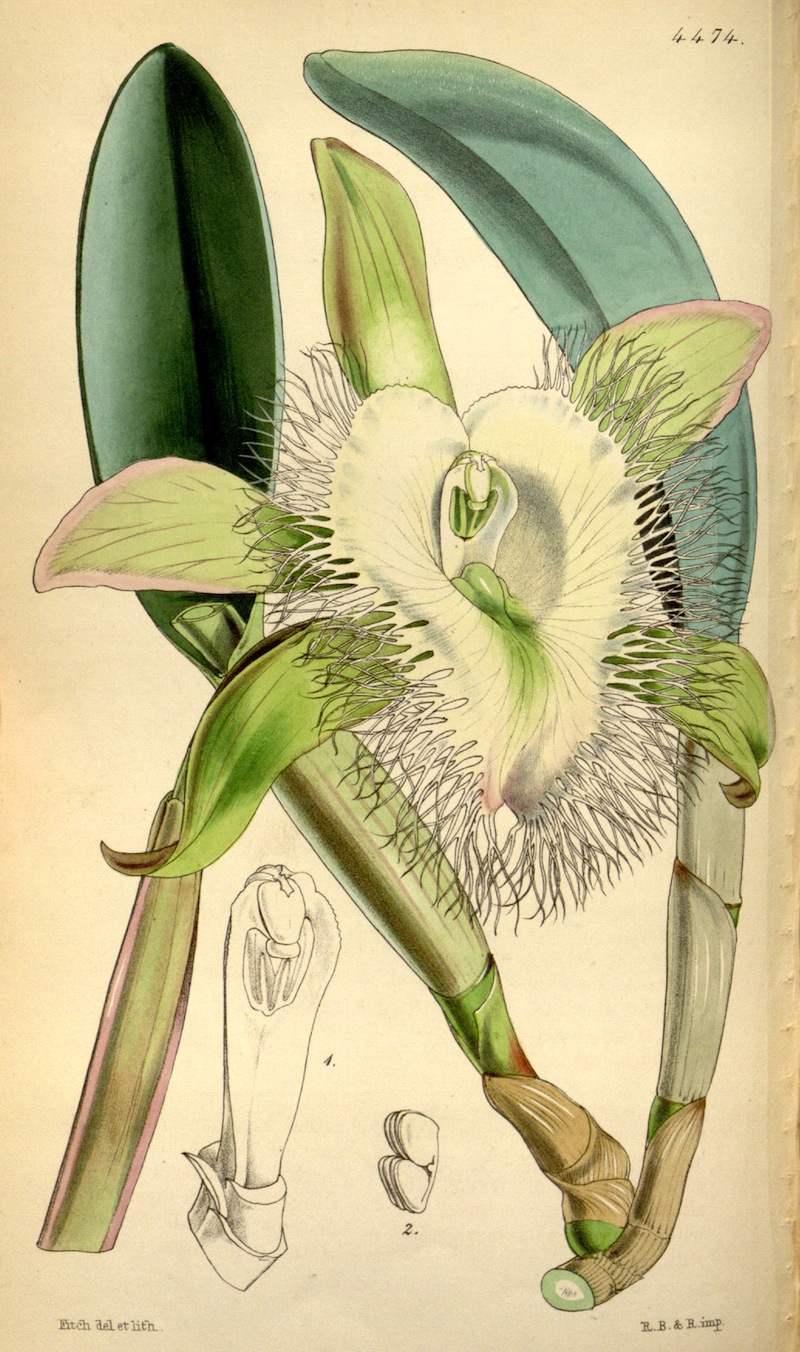 ,
Formerly named Brassavola digbyana, Honduras' National Flower has been used more in hybridizing than almost any other orchid. It has been known to grow in extreme conditions and can withstand long periods of dryness. Some sightings of this specimen have been seen growing on cacti!
Venezuela's National Flower – Cattleya mossiae, Mrs. Moss's Cattleya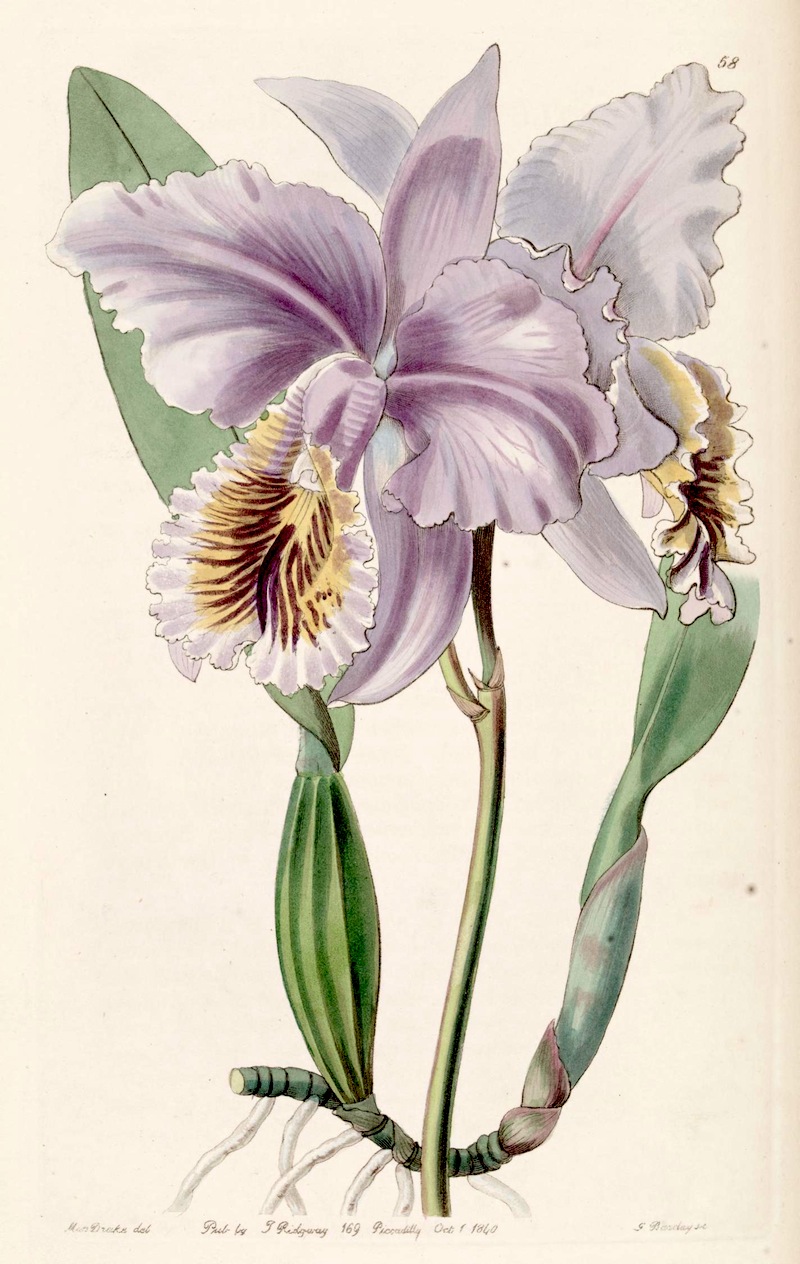 This kind of orchid is also commonly known as Flor de Mayo (May Flower). It was given the status as Venezuela's National Flower on 23 May 1951. Venezuela lays claims to eight Cattleya species so becoming its national flower was quite a feat. This flower is most beloved by the Venezuelan people.
All of these orchids and MANY more are available in the BHL Orchid Flickr Collection. Don't forget to check them out!
We hope you enjoyed this post. Interested in guest-blogging for BHL? We'd love that! Natural history, biodiversity and conservation topics are especially welcomed. Email us your ideas at feedback@biodiversitylibrary.org.
Orchid Links
BHL Orchid Resource Bibliography
Opulent Orchids: Smithsonian Associates Tour 
Facebook Event Details: !Fiesta de las Or-KID-eas!
EOL: The Smithsonian Orchid Collection Watchlist