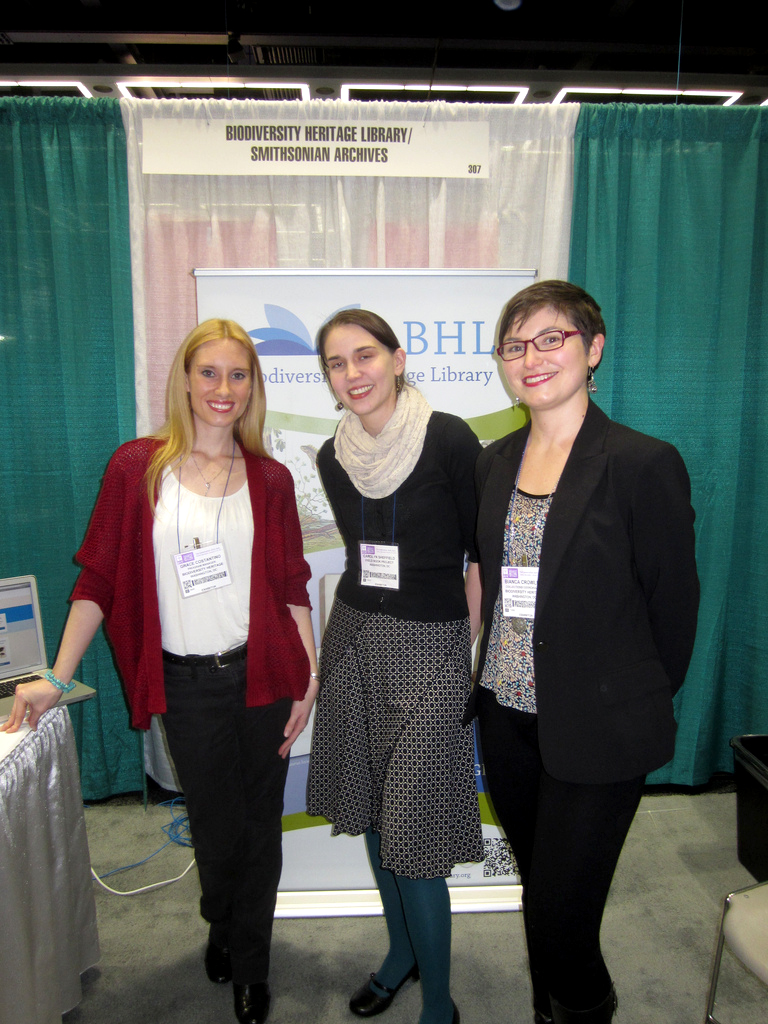 Left to Right: Grace Costantino, Carolyn Sheffield, Bianca Crowley
On Friday, January 25-Monday, January 28, 2013, BHL hosted a booth in conjunction with the Smithsonian Archive's Field Book Project at the American Library Association (ALA) 2013 Midwinter meeting in Seattle, Washington. The booth was a chance to connect with the thousands of librarians and information professionals that attend ALA, introducing them to our open access initiatives and fantastic free resources.
BHL Collections Coordinator Bianca Crowley, BHL Program Manager Grace Costantino, and Field Book Project Manager Carolyn Sheffield, with support from BHL Program Director Martin Kalfatovic, Field Museum's Technical Services Librarian Diana Duncan, and Smithsonian Libraries' Metadata Librarian Suzanne Pilsk (both of whom regularly contribute to the BHL project), spoke with over a hundred people during the four exhibit days. Providing valuable project information (to many who had never before heard of BHL or the Field Book Project), booth staffers also gave out cool swag, including pens, brochures, stickers, buttons, book marks, and business cards, and conducted two raffles for prizes including books and greeting cards and matted prints gleaned from BHL's fantastic Flickr site.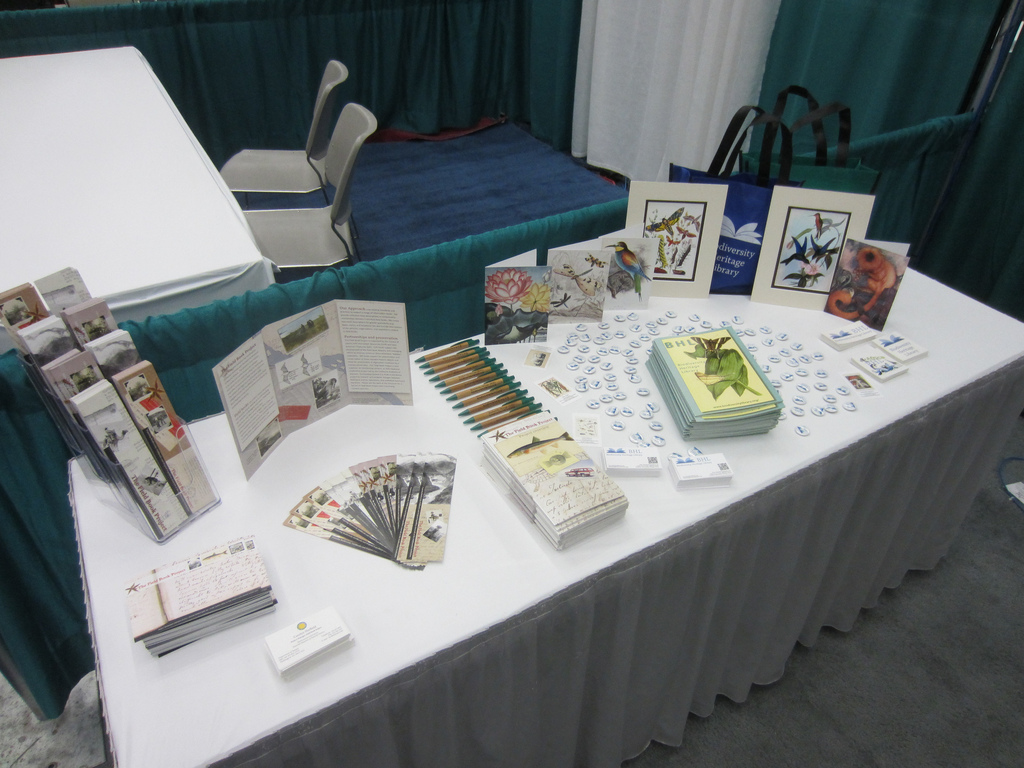 BHL and Field Book Project Swag at ALA booth.
In a sea of vendors attempting to sell an array of library-related products and services, BHL and the Field Book Project's free resources were a breath of fresh air that attracted many curious and enthusiastic visitors. One particularly memorable encounter involved two librarians who, just a week before the conference, had an inquiry from a patron who wanted a digital version of Audubon's Birds of America. At the time, they were unable to satisfy the request, but, upon learning of BHL, excitedly remarked that they could now fulfill their patron's need. Another visitor, a blog writer, was especially attracted to BHL's free images and expressed a desire to feature the project in a future blog post. A German librarian – who remarked after being introduced to BHL, "How do I not know about this?!" – asked what he could do to help tell others about the project. And, perhaps most rewarding for those at the booth, a visitor Saturday evening asserted that our project was "One of the more interesting things going on in this building."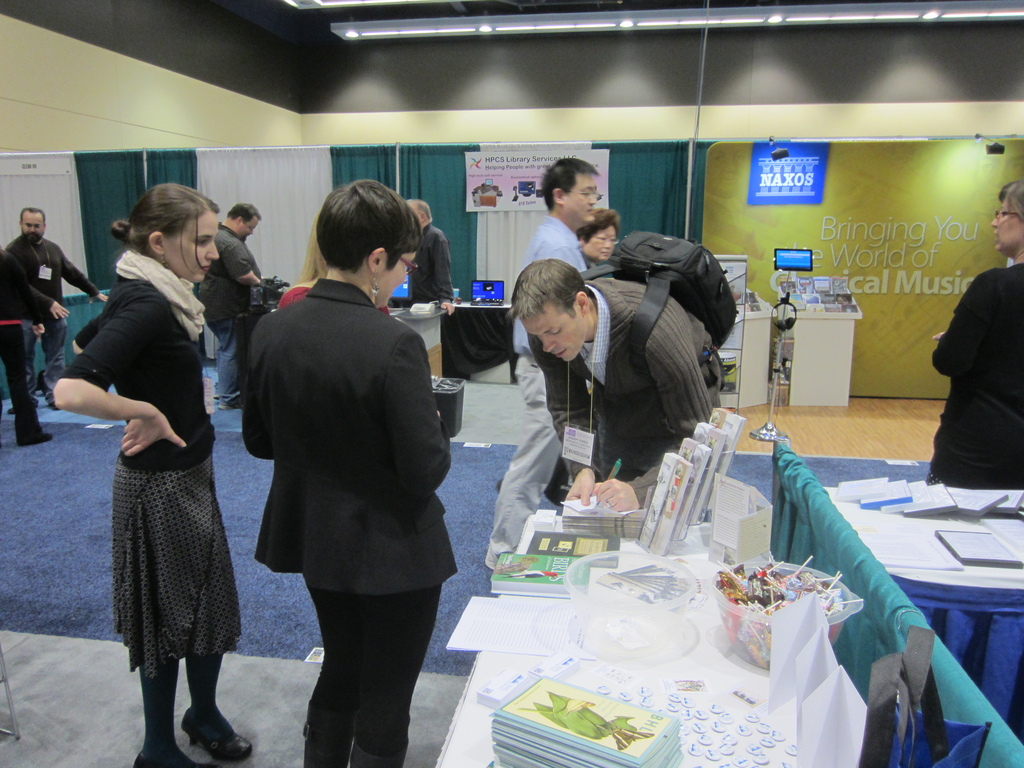 Carolyn Sheffield (left) and Bianca Crowley (center) with visitors at the ALA booth.
The conference in Seattle also provided BHL staff with another unique opportunity – to be interviewed for an upcoming BHL video produced by Lockheed Martin (a follow-up to the 2011 emmy-winning video about the Smithsonian Libraries). Interviewees included Martin Kalfatovic, Bianca Crowley, Grace Costantino, Carolyn Sheffield, and Nancy Gwinn (Smithsonian Libraries Director and BHL Executive Chair). The film crew also set up shop at the exhibit hall's opening reception Friday night, shooting footage of booth visitors and conducting an impromptu interview with Rebecca Wilke (a BHL volunteer at the Field Museum working to improve BHL's metadata) who serendipitously stopped by the booth. Check back on our blog, Twitter and Facebook for more information about the video's future release.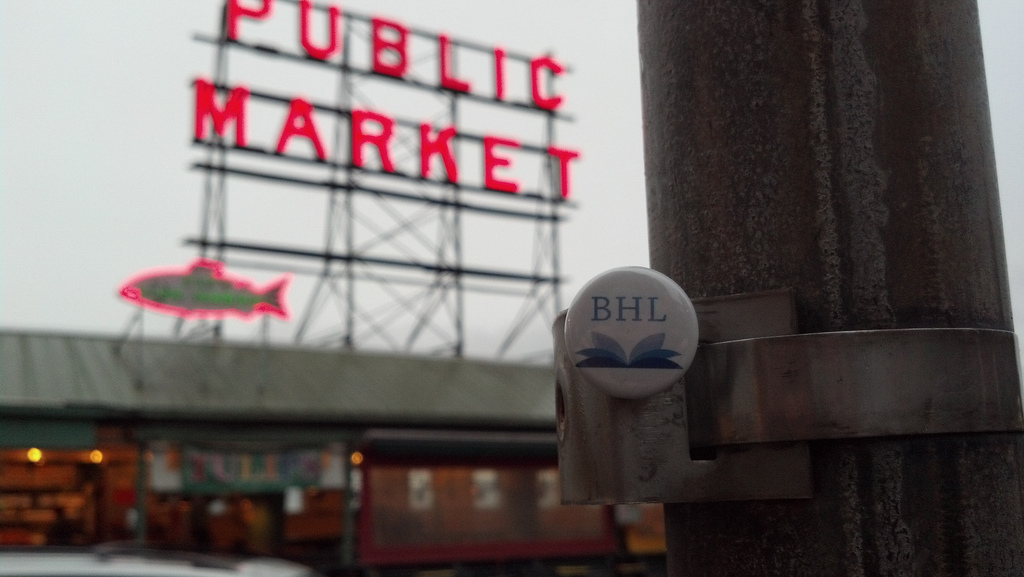 The BHL button at the Public Market in Seattle.
Events like ALA provide an incredible opportunity for us to showcase the BHL project. It is not enough to make natural history literature freely available through BHL. We must also ensure that people are aware of the work we do. Presenting at conferences is an important piece of our outreach strategy. If you have any suggestions for conferences or venues we should be present at, please send us feedback or email us as feedback@biodiversitylibrary.org. Each digitized book and each user connection moves us closer to the day when the entire published record of biodiversity knowledge is available to everyone, everywhere.