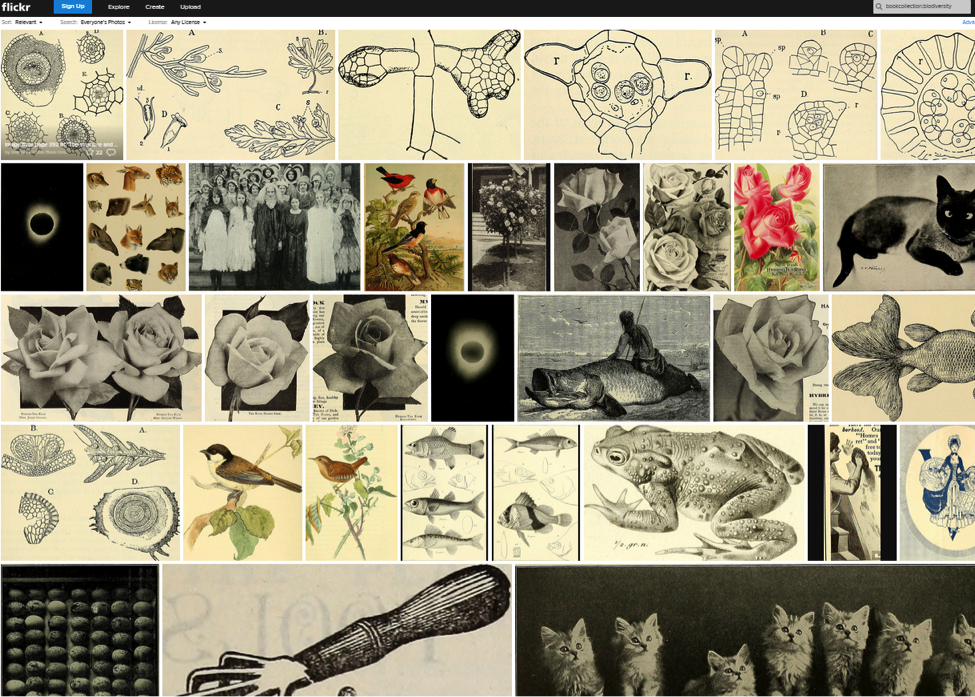 BHL Images in the new IA Book Images Flickr Stream
Two Ways to Access BHL Images in Flickr
Images from the books and journals of the Biodiversity Heritage Library (BHL) are now more readily available in Flickr than ever before. Thanks to the work of researcher Kalev Leetaru and developers at Smithsonian Libraries (SIL), Missouri Botanical Garden (MBG), and the Internet Archive (IA), over 1 million images from BHL are being added to the IA's Book Images Flickr stream. This work began in the summer of 2014 when Leetaru extracted over 14 million images from 2 million IA public domain books and pushed them to the Flickr Commons. BHL images are a subset of this collection because, as a digitization partner for BHL, IA not only scans many of BHL's books and journals but also hosts all of its content at the Internet Archive as a mirror of the content found at the BHL portal. To improve the discoverability of the images, developers at SIL, MBG, and IA added additional metadata, such as BHL Collections, contributing library, and digitization sponsor tags, to the images exposed through the IA Flickr stream.
As a result, BHL users now have 2 streams from which to access BHL images – the BHL Flickr stream and the IA Book Images Flickr stream.
The primary differences between the two streams have to do with the number of images in each, their organization, and presentation. For example, the BHL stream, which now contains approximately 94,000 images, is manually curated by BHL staff and can be browsed by albums (i.e. book titles) with images presented at the page level. The IA stream currently contains 350,000 BHL images but will rapidly grow to over 1 million in the next few months. While the numbers are significantly larger than the BHL stream, this stream is not organized into subsets or albums and the images are cropped to the illustration's borders, removing it from the context of the larger page. The full page can be viewed by clicking on the "View Book Page" link beneath each image in the IA stream.
The new IA stream, along with BHL's current Flickr stream, provides an even larger pool of content for our users to both view and tag BHL images. This moves us further towards our goals on the Art of Life project – to automatically identify, classify and describe BHL images and improve their access for both the BHL community and any scholars and educators who rely on visual resources in their research and teaching.
We Need Your Help!
We need your help to add species common name tags to the BHL images in Flickr, either within the BHL or IA streams. Adding common names is a low barrier way for non-specialists to engage with these images, and common name tags can be very useful for educators trying to locate images of plants and animals with which to illustrate their lessons.
In order to tag BHL images with common names we recommend the following format:
taxonomy:common=owl
If the common name is composed of more than one word use quotations around the phrase:
taxonomy:common="black bear"
And we still need your help to add taxonomic species name machine tags to images in the BHL Flickr stream. In 2011 we began asking users to add machine tags for taxonomic binomials to images in the BHL Flickr stream, and the community responded generously (as of Sept 2014 over 22,000 of these tags have been added to 14,000 BHL images). These tags allow the Encyclopedia of Life (EOL) to harvest the images and support their efforts to create a web page for every species on earth. See detailed instructions for adding species name machine tags.
Adding common and species name machine tags not only helps users in both Flickr and EOL discover our images, but these tags will also be used to enhance the BHL portal. Currently, the portal does not allow for searching on image metadata, but BHL is planning on incorporating this functionality in the near future. The Flickr tags added by users will be ingested into BHL to eventually enable image search within the portal itself.
The British Library also has a great guide to additional tag formats, such as those for adding artist names, dates, or VIAF information. Take a look and feel free to add as much of this information as you can!
Have questions while you're tagging? Add a comment to this blog post, post to our page in Facebook, send us a message on Flickr, or tweet us with the hashtag #BHLTags.
Tips for Navigating the IA Flickr Stream
With the browsing limitations of the IA stream we'd like to offer some search tips to help users navigate this collection. All BHL images are tagged with bookcollection:biodiversity, which can either be typed into the search box from any Flickr page or you can go directly to the subset.
To further filter results you will need to use the advance search in Flickr. Because all images in the IA Flickr stream are tagged with bookyear, bookdecade, and bookcentury these can be used as further criteria for searching.
More than one tag can be added to the advanced search box. Here is an example of searching on the biodiversity collection and year 1910.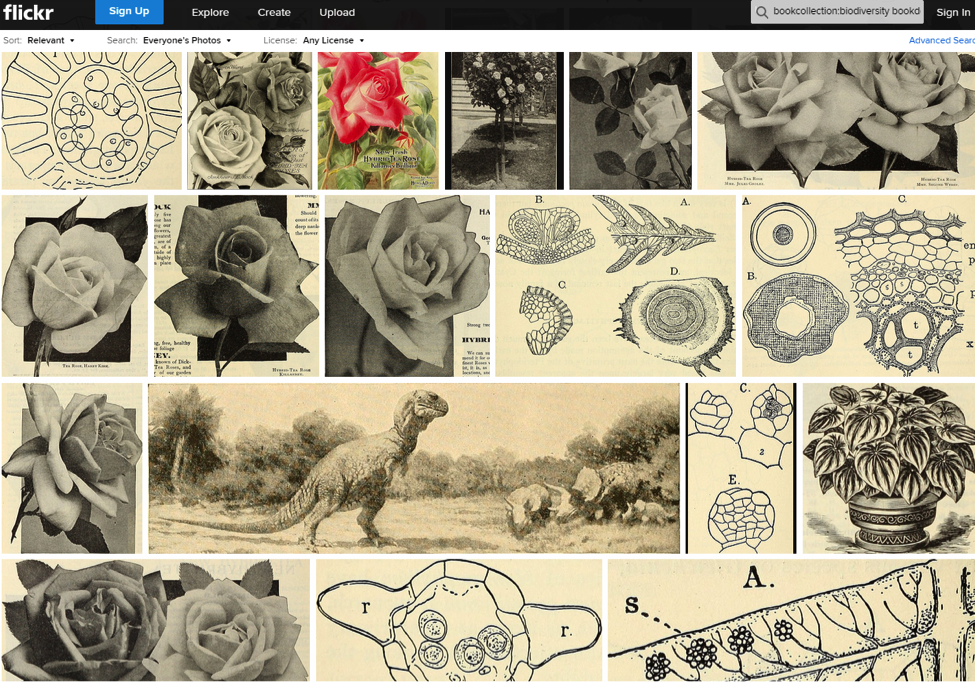 Results of an advanced search on "bookcollection:biodiversity bookdecade:1910"
Users may even want to search a single year of a specific journal.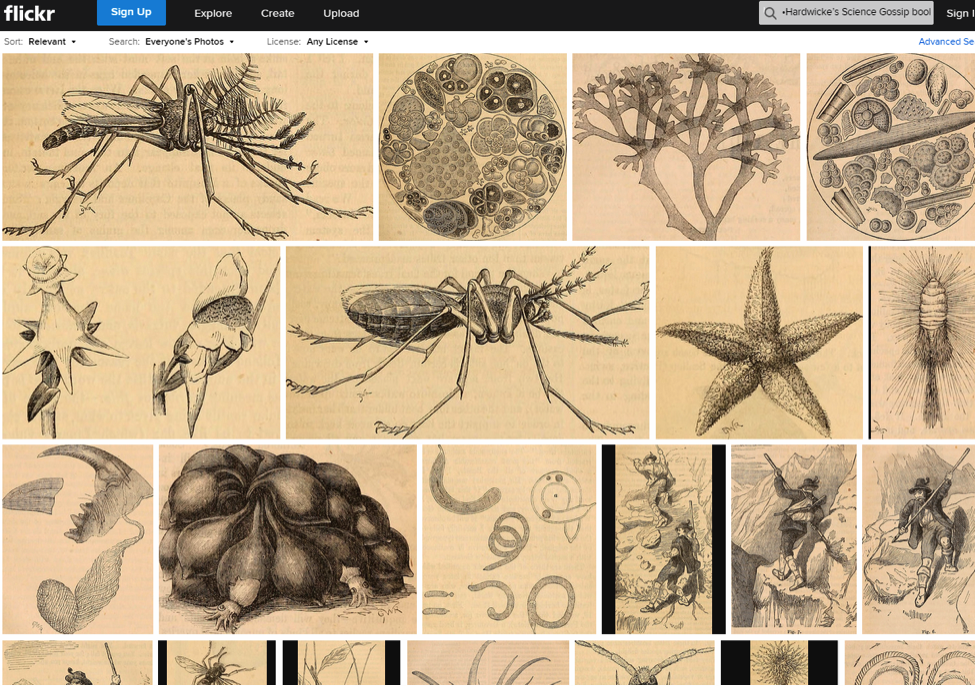 Results of advanced search on Hardwicke's Science Gossip bookyear:1967
We want to thank the BHL community for helping us in our efforts to crowdsource these image descriptions and we look forward to seeing the fruits of your labor in a future version of the BHL portal – Happy Tagging!