Announcing Altmetric and MyTweeps on BHL!
Have you ever wanted to learn more about the books in BHL? Or maybe find out what people are saying on social media about our collections? Or perhaps you'd like to connect with other BHL-enthusiasts?
We're excited to announce that today, as part of our Mining Biodiversity project, we've launched two new features on BHL that will allow you to do all of the above! These features are Altmetric and MyTweeps.
Altmetric
Altmetric is a UK-based company that offers tools to help track online mentions of a library, publisher, or other entities' content. Sites such as Twitter, Facebook, Wikipedia, Reddit, Google+, and Mendeley, as well as other online sources like blogs and news outlets, are indexed.
We worked with Altmetric* to track online conversations that include links to BHL books and articles. All mentions** of an individual book (which include a link to the book itself or a link to a page within that book***) are aggregated together into a single dashboard that allows you to explore all of the conversations happening about that item in one place. Each book's individual dashboard is accessible by clicking on the Altmetric badge (a colorful, donut-shaped icon) in the book viewer header or the "see more details" link in the information box that pop-ups when you hover over the Altmetric badge (see below) in BHL.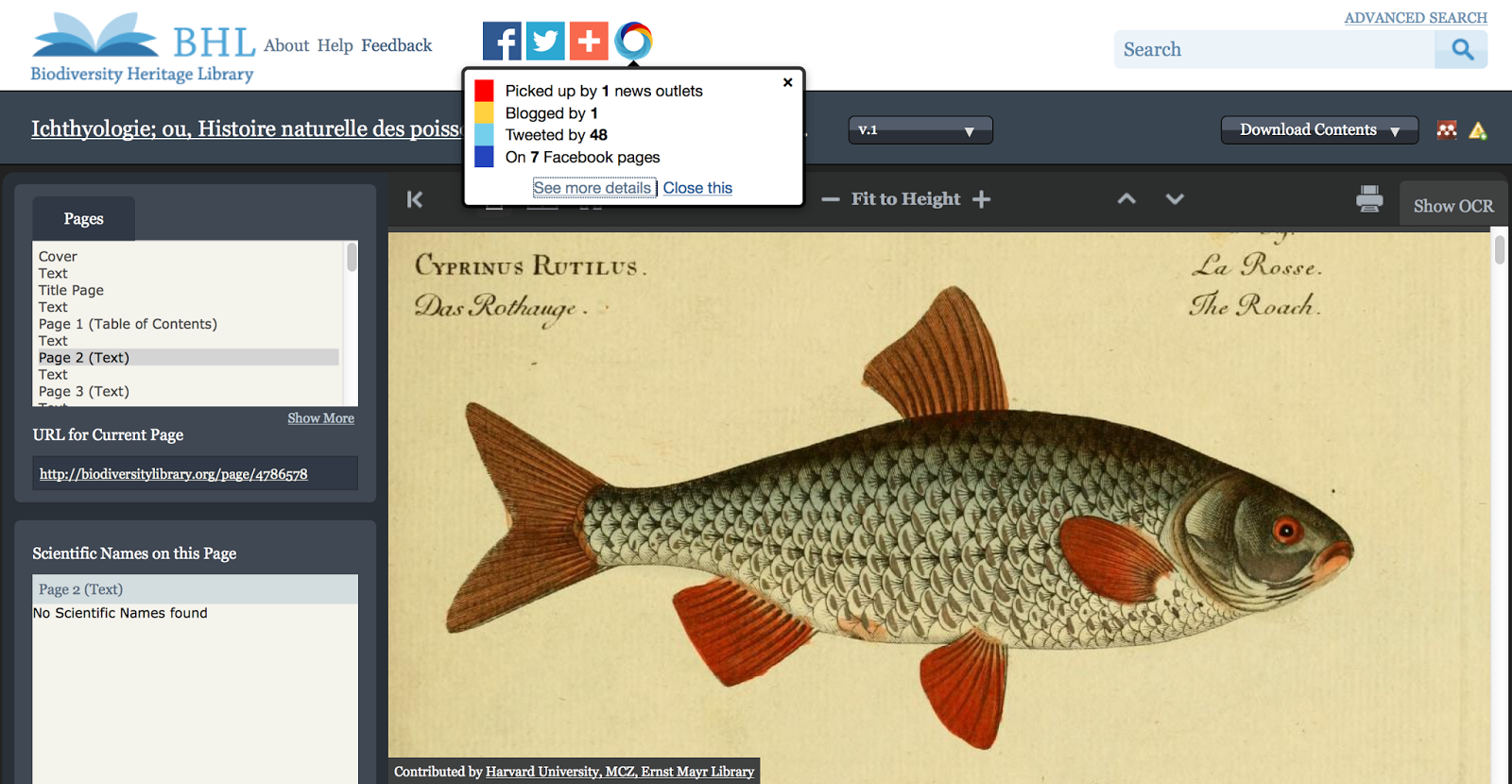 The Altmetric badge in the BHL book viewer. Click on the badge itself, or the "See More Details" link in the pop-up box that appears when you hover over the badge, to see the Altmetric dashboard aggregating conversations about this item.
Within the dashboard, you can explore the specific tweets, Facebook posts, news articles, Wikipedia articles, or blogs that talk about that particular book. Each indexed site is represented by a different color (i.e. Twitter is teal; Facebook is navy blue; etc.), so a simple glance at the Altmetric donut will tell you which sites people have mentioned that item on.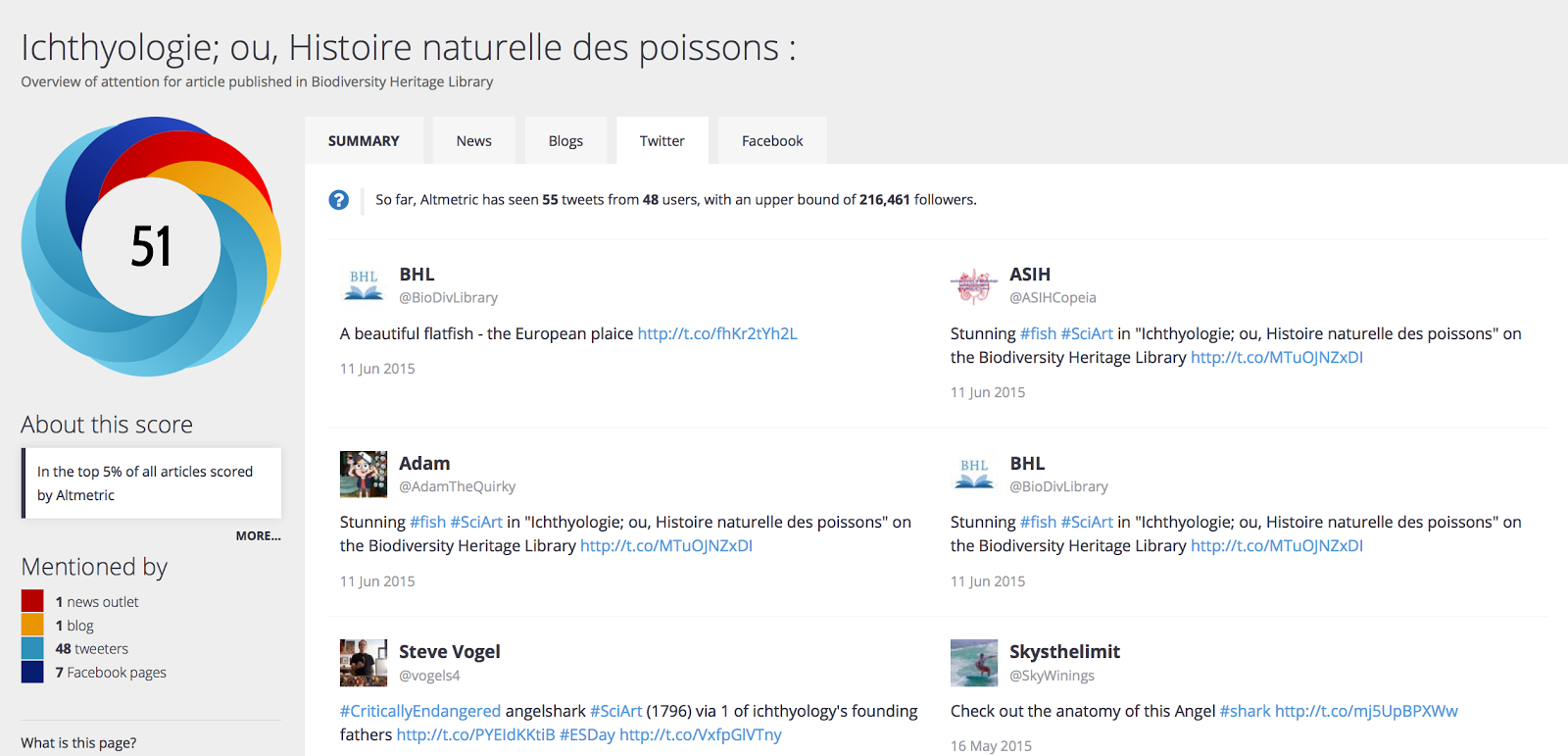 Example of the Altmetric dashboard, accessed by clicking on the donut-shaped icon or information box illustrated above, for a book in BHL.
The Altmetric icon will appear in the book viewer header for any book that has been mentioned (and where that mention includes an actual link to that book or a page within that book) on one of the indexed online sites. If there is no Altmetric icon in the book viewer header, then there have not yet been any online conversations (with a link) about that book (but you can change that!).
Altmetric dynamically tracks new online mentions of BHL books. That means that if you tweet or post about a book in BHL (and include the link to it), Altmetric will subsequently index that post and make it available in BHL via the described Altmetric icon. Thanks to the social sharing buttons we've added to BHL (see below), it's easier than ever to share your thoughts, expertise, or comments about a BHL book on social media. And thanks to our Altmetric implementation, it's also now easier than ever for others to find those comments in BHL and benefit from your knowledge!

The social media sharing buttons on the BHL website. Simply click on the desired social site to share a link to the page you are viewing in BHL.
Altmetric picks up new mentions on Twitter, news outlets, and blogs on a daily basis. Mentions on Wikipedia, Google+, and Facebook are picked up and indexed via the described dashboards every 2-3 days.
Here are links to just a couple of BHL books that have been indexed by Altmetric. Click on the donut icon in the book viewer header to explore the fascinating conversations about each item. You can contribute directly to the online conversations using our social sharing buttons in BHL (see above), or by clicking on the appropriate links in the Altmetric dashboard (see below). Or start your own conversations about BHL books and see them appear (note the time lag for indexing on various sites above) in BHL!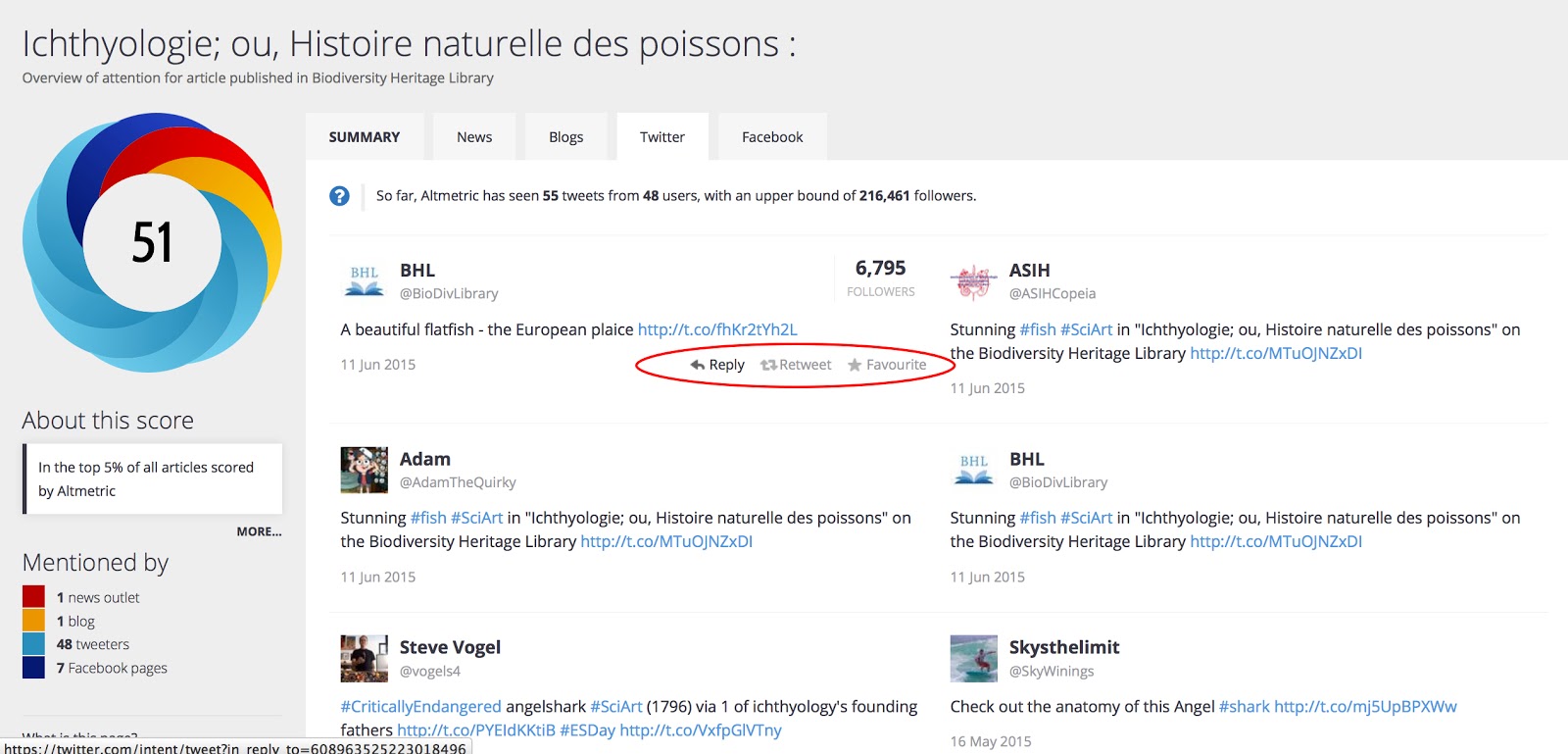 Contribute to a Twitter conversation you discover in Altmetric simply by hovering over the tweet in the Altmetric dashboard and then choosing "Reply," "Retweet," or "Favorite."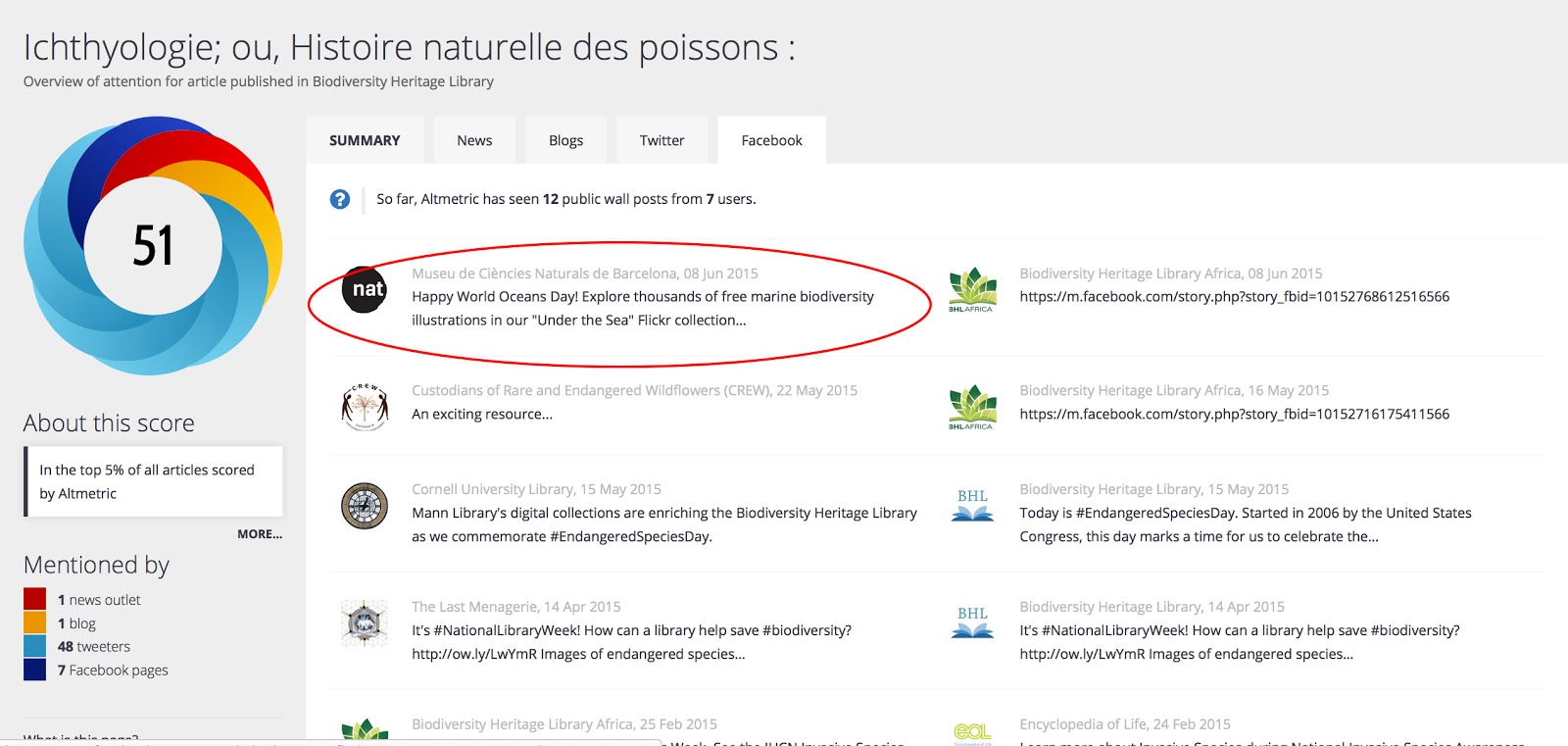 Clicking on any one of the Facebook posts you discover in the Altmetric dashboard will take you directly to that post in Facebook. From there you can comment, like, or share the post within Facebook itself.
MyTweeps
Love biodiversity, books, or natural history? Want to find others who like it too? Or perhaps you'd like to find an easy way to connect with other BHL fans? Are you on Twitter?
Then look no further than MyTweeps on BHL.
MyTweeps is a tool developed by the Social Media Lab at Ryerson University, one of our Mining Biodiversity grant partners. The tool allows you to explore an individual Twitter network (those who follow a certain account on Twitter).
We've included a link to the BHL MyTweeps dashboard on the homepage of BHL. Simply click on the "BHL Twitter Community" button at the bottom of the homepage, beneath the BHL Twitter feed, to access the dashboard.
The BHL MyTweeps dashboard displays the latest tweets from the Twitter accounts that follow BHL, trending hashtags and trends over time from those followers, geographic location of BHL's tweeps (i.e. followers), and the connectivity of the BHL network (i.e. who mentions whom among the BHL community of followers). We've also included an Altmetric dashboard in the lower left-hand corner of the MyTweeps page that shows the most popular BHL books on social media that week.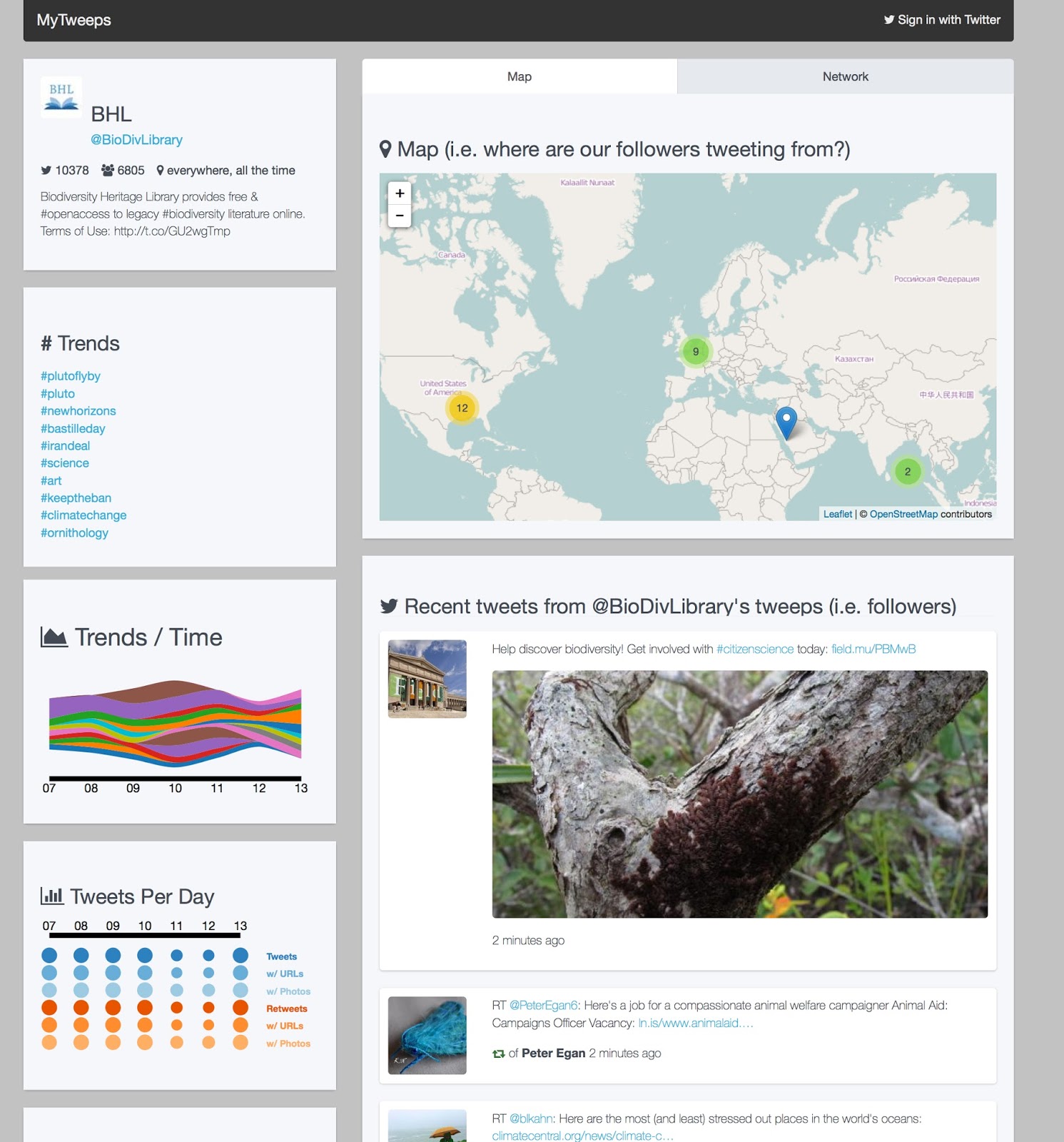 The BHL MyTweeps Dashboard, accessed by clicking on "BHL Twitter Community" at the bottom of the BHL homepage.
Take a look and discover a whole new network of biodiversity and BHL enthusiasts to connect, converse, and collaborate with. Or simply use MyTweeps as a way to stay informed about the topics and issues that are important to our community.
We hope you'll explore and enjoy our new social media tools and take the opportunity to learn more awesome information about our collections. If you have any questions or comments about the tools, please don't hesitate to send us feedback!
Happy socializing!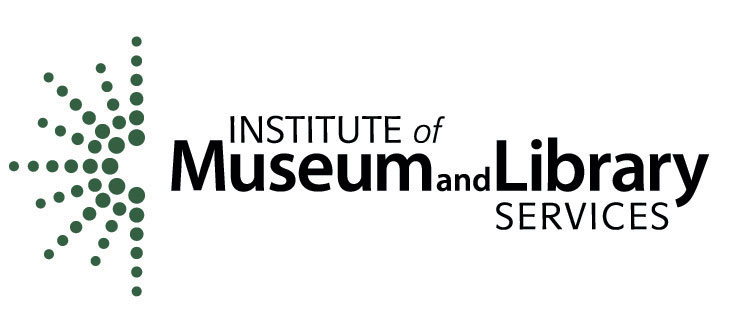 This project is made possible by a grant from the Institute for Museum and Library Services [Grant number LG-00-14-0032-14].
*Traditionally, Altmetric tracks only DOI (Digital Object Identifiers) mentions, but for this project our team worked with Altmetric to pioneer the tracking of URIs (Unique Resource Identifiers) via Altmetric. In exchange, Altmetric has granted us free access to their license and services.
**Mentions of BHL content on social media sites (i.e. Twitter, Facebook, Google+, Reddit, and Mendeley) are captured from June 2014-onwards. Mentions of BHL content on blogs and news articles are captured since the launch of BHL onwards.
***Indexed conversations are those that include links that start with "http://biodiversitylibrary.org/item/" or "http://biodiversitylibrary.org/page/" or "http://biodiversitylibrary.org/part/." We are not tracking mentions with links that start with "http://biodiversitylibrary.org/bibliography/" due to Google Scholar tag guidelines, which form the basis of Altmetric's tracking ability.