Coloring Our Collections: The Art of Lithography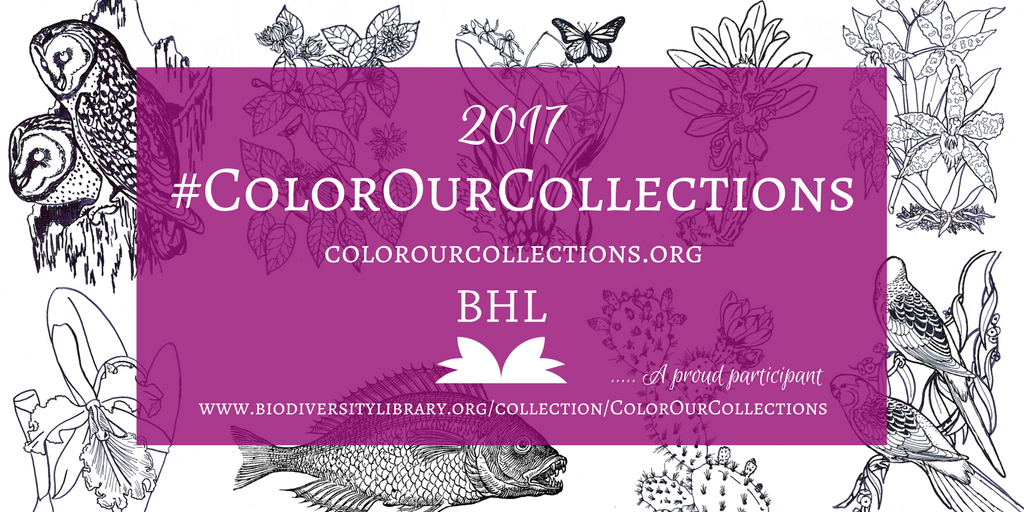 This year for Color Our Collections, we've produced a coloring book with illustrations from books that represent the evolution of the art of printing. This week on our blog, we'll explore the books featured in the coloring book and the printing techniques used for the illustrations.
You can download our 2017 Color Our Collections coloring book here.
Learn more about Color Our Collections here.
The Art of Lithography
The process of lithography was first discovered by a German actor and playwright, Alois Senefelder, in 1796. It was used to varying degrees in the early 19th century, but became increasingly popular from the mid-19th century onward. By the 1880s, it was used widely for printing magazines and advertising.
In the lithographic process, the image is drawn onto a stone with a grease-based ink or crayon. The stone is then processed using a gum Arabic and nitric acid solution. The solution chemically separates the image and non-image areas, making the non-image areas water-receptive and the image areas water repellent. Once the stone has been processed, it is kept damp and an oil-based ink is applied. The ink is repelled by the damp non-image areas and sticks to the fixed image areas. The ink can then be transferred to a sheet of paper using a printing press.
This video from the Minneapolis Institute of Art demonstrates the lithographic process:

Gould's Australian Bird Lithographs
John Gould was an English ornithologist and bird artist who is famous for producing several magnificently-illustrated monographs on birds. One such work is The Birds of Australia, which was originally issued in 36 parts between 1840-48. Taken together, the title consists of 7 folio-sized volumes plus a supplement. It described all of the 681 Australian bird species then known, many of which were scientifically described for the first time. This title was digitized in BHL by Smithsonian Libraries.
Gould's original interest in Australian birds was sparked when his two brothers-in-law, Charles and Stephen Coxen, who had emigrated to Australia, sent him some specimens. Many of these he described in the 1837-38 work A synopsis of the birds of Australia, and the adjacent islands (Digitized in BHL by Museums Victoria).
In 1838, Gould, his wife Elizabeth, their eldest son, their nephew, Gould's assistant John Gilbert, and two servants set sail for Australia so that Gould could undertake a more extensive work on Australian birds. During the 27 months that they were in Australia, Gould and his assistant collected some 800 bird and 70 quadruped specimens. Some 300 of these at the time were deemed new-to-science, although some of these are now recognized as subspecies.
After returning to England, work began on the publication. The title's crowning achievement is the beautiful lithographic illustrations. These were based on rough sketches by Gould that were worked up into paintings that were then reproduced through the process of lithography. The plates were printed in a single color by the firm of Hullmandel and Walton and then hand colored by a Mr. Bayfield.
John's wife Elizabeth, who produced most of the lithographs for John's earlier works, executed 84 of the plates in this title. Sadly, she died of puerperal fever a year after returning to England. John enlisted Henry Constantine Richter to produce most of the remaining illustrations, although Edward Lear and Waterhouse Hawkins also contributed an illustration each. The first seven volumes were completed in 1848, but additional parts were later produced to form a supplementary volume to describe additional new species.
References