This post originally appeared on the Smithsonian Field Book Project blog.

Since its inception, the Field Book Project has evolved from a single project focused on cataloging Smithsonian collections into a growing portfolio of projects, at first focusing on enhancing access to those same collections through conservation and digitization of the Smithsonian materials, and now as a multi-institutional digital initiative to provide open access to field notes through the Biodiversity Heritage Library. As with so many long-term projects or programs, staff have come and gone over the years. Many of those staff have made significant contributions and we try to share adequate thanks and acknowledgment for each.
Two individuals who were especially key to the project's success—Rusty Russell, one of the original PI's, and Lesley Parilla, the project's longest serving cataloger—recently moved on to new positions. Both were integral to the project and we couldn't be more grateful for their contributions. So with great pleasure, the current project team extends both their congratulations on the next phase of their respective careers and acknowledgement to both for their contributions.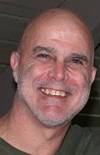 Rusty Russell
In fact, when we look back it's truly hard to imagine the Field Book Project taking off in quite the way it did without Rusty's own intellectual investment and collaborative spirit. At the time the project kicked off, Rusty was serving as Collections Manager in the Department of Botany in the Smithsonian National Museum of Natural History. In many ways, it was his interest in the United States Exploring Expedition, also known as the Wilkes Expedition, and his efforts to track down some of the original source materials that became a major impetus for the project. A four-year voyage from 1838-1842, the Wilkes Expedition covered an impressive expanse of land and sea, including regions of the Pacific Northwest, down to Tierra del Fuego, on to Antarctica, not to mention the Fiji Islands. The expedition resulted in one of the largest, early collections of natural history specimens and artifacts—related not just to botany, but also ornithology, marine biology, anthropology and other fields—to be deposited in what was then known as the National Museum.
As with so many expeditions and other collecting events, over time the field notes and other original documentation from this expedition had become separated from the specimens and artifacts. If you've been following the Field Book Project blog, you already know that scientists' field notes can be especially tricky to track down as they are often treated as what we refer to as "ancillary collections", that is material that might support understanding of the main collections but because of their format are generally not managed using the same catalogs as those collections. As a result, field notes might be found in libraries, archives, or curators' offices. And it can be quite difficult to know not only which department to start with but even which museum. Thus it can quickly become a wild goose chase.
For Rusty, though, rather than simply focusing all of his time and energy on finding the field notes relevant to his own interests, he started asking the bigger question: how can we make these kinds of materials easier to find in general?
Those who know Rusty will not be surprised that he approached the question in his typical collaborative fashion and began discussing possible strategies with colleagues both within and beyond the Smithsonian. Then, in 2009, he and Anne Van Camp, Director of Smithsonian Institution Archives, submitted a successful grant proposal to the Council on Library and Information Resources (CLIR). As enthusiasm for the project spread, additional funding was brought in to support conservation and digitization of Smithsonian field notes, thanks to Smithsonian Women's Committee, Save America's Treasures, and others. More recently, the Arcadia Fund also provided generous funding, enabling us to continue both cataloging and digitizing Smithsonian field book collections, and CLIR has provided additional support to collaborate across 10 institutions to digitize and provide open access to their field note collections as well.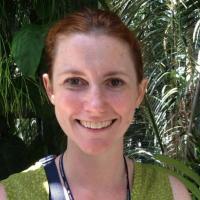 Lesley Parilla
Lesley Parilla was one of our first catalogers, joining the project in 2011 as part of that first CLIR grant, so she was with us as the project continued to evolve. Lesley was already part of the Smithsonian family when she started, having worked as part of the Entomology Department where she took on a variety of tasks, including creating finding aids for field books and oral histories. Her transition to the Field Book Project seemed a natural fit!
In her six years with us, Lesley helped catalog almost half of the field books cataloged for the project so far. That's over 4000 field book records! Not to mention the over 700 related collection and authority records she created as well. To say that Lesley's work has increased the discoverability of Smithsonian's field books would be an understatement. As the project progressed, Lesley also started taking on more responsibilities beyond cataloging, from managing the field book record database and website, to creating project documentation and training our interns. To better reflect her increased responsibilities, in 2015 Lesley became our Cataloging Coordinator, juggling her cataloging work along with the other behind-the-scenes tasks.
A great thing about having Lesley on the project was her knack for stories. She was always coming across interesting stories and threads when cataloging, and was happy to share her finds. She was a regular contributor to our different social media outlets (including this blog) where she would write about the fascinating things she found while cataloging field books. The topics that could pique her interest spanned the gamut. One day she could write about how the study of an expedition is supported by field books, herbarium sheets and published material, the next she would share an illustration of Albatross courtship behavior, and finally she'd write about how often researchers seemed to come across moonshiners in the field. Regardless of the topic at hand, what was always evident was Lesley's enthusiasm for the project, the field books, and the researchers. Lesley's eye for interesting details was our gain. This compelling storytelling wasn't limited to the Field Book Project social media accounts. Lesley is a gregarious storyteller, and on any given day will have something new to share with friends and coworkers, be it about the material she is cataloging or the career of chef Jacques Pépin. Lesley moved on earlier this year to become an original cataloger for Smithsonian Libraries. While we were sad to see her leave the project, we are so happy her skills and enthusiasm will be supporting the Smithsonian in other ways.
Rusty has also since moved on and is now Director of the Gantz Family Collections Center at the Field Museum of Natural History. While we miss having Rusty at the Smithsonian, we are incredibly happy for him and the Field Museum. It is also perhaps a bit serendipitous for us, too, as the Library at the Field Museum is not only a BHL Member but also one of the partners on the current CLIR grant. So we're feeling pretty lucky that they have a new leader in their corner who understands and loves field notes as much as we do.
So a hearty congratulations to Rusty and Lesley and warmest wishes to you both from the Smithsonian Field Book Project and BHL Field Notes Project teams!