Last month, the BHL Program Director Martin R. Kalfatovic and Program Manager Carolyn A. Sheffield participated in multiple events throughout different regions of Kenya to help promote BHL to existing and potentially new users, connect with our BHL Africa partners, and explore opportunities for growing partnerships in the region.  We will be highlighting each event with its own blog post throughout the week, starting with the first stop in Nairobi, Kenya.
From 15-19 May 2017, the National Museums of Kenya and the Catholic University of East Africa (CUEA) co-hosted the XXI AETFAT (Association for the Study of Tropical Flora of Africa) Congress. Held on the beautiful campus of CUEA, the Congress brought together approximately 250 individuals from around the world to meet and discuss research on various aspects of the botany of tropical Africa.  BHL participated with a symposium Botanical Contributions from the Biodiversity Heritage Library: A Focus on Africa, which focused on digital library resources related to the conference topics.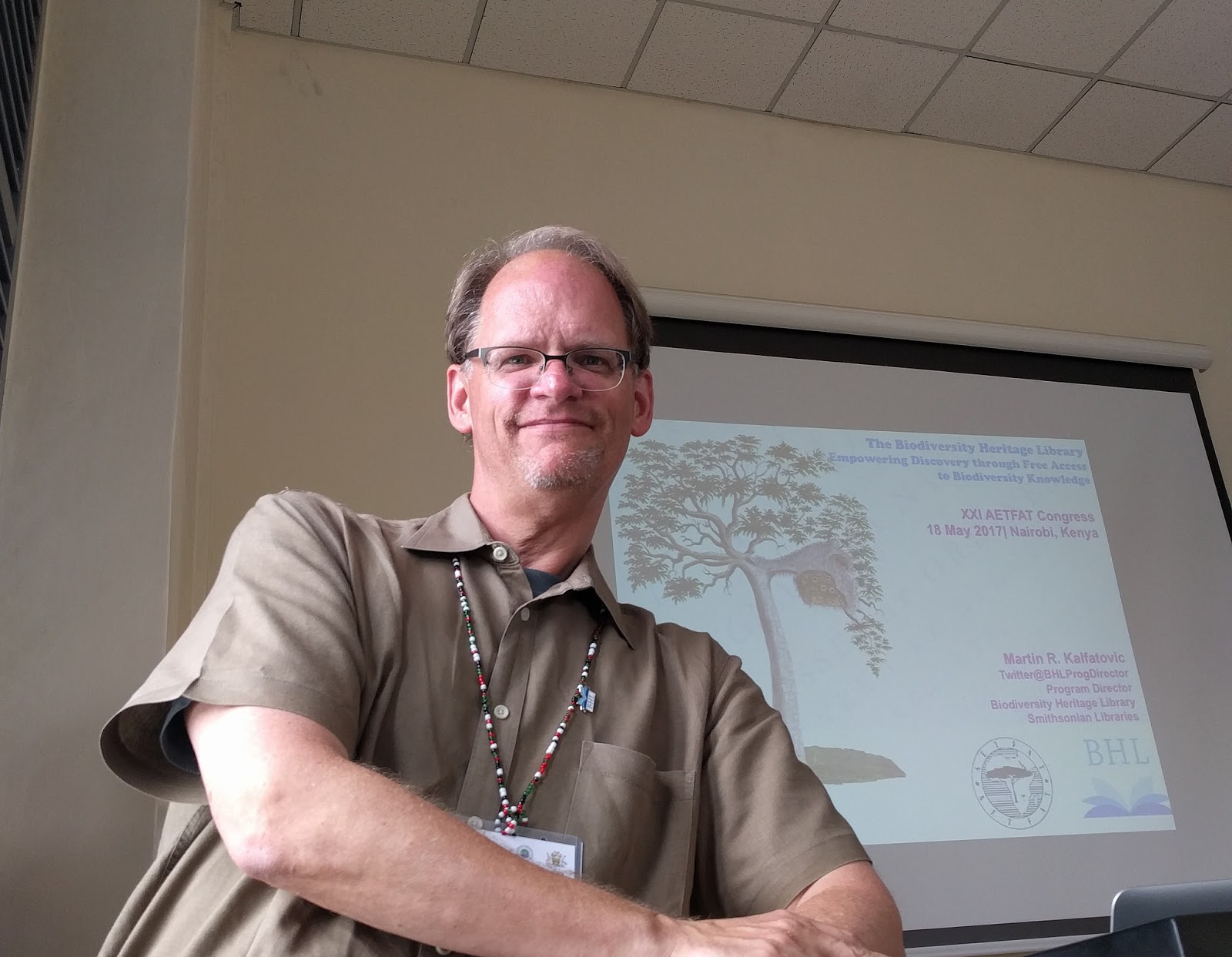 Martin R. Kalfatovic at the podium for the BHL symposium
The symposium was led by BHL Program Director, Martin R. Kalfatovic and also included presentations from BHL Program Manager, Carolyn Sheffield and Director of JSTOR Primary Sources, Deirdre Ryan. 

Kalfatovic opened the session with an introduction to BHL, entitled Biodiversity Heritage Library: Empowering Discovery Through Free Access to Biodiversity Knowledge. Kalfatovic also delivered a presentation on behalf of Grace Costantino entitled The Story of Engagement: Outreach Strategies at the Biodiversity Heritage Library.  
In Building the Biodiversity Heritage Library Through Standards and Content, Sheffield reported on strategies and results from BHL Workshops, highlighting involvement and new contributions from BHL Africa partners.  

Ryan delivered an overview of JSTOR entitled "Journals, AETFAT, African Plants, and more…," covering the scope and breadth of JSTOR collections, including 2,600 journal titles which are made freely available to all non-profit and educational institutions in Africa through the African Access Initiative.  Additionally, she highlighted results of the African Plants Initiative that grew into the Global Plants Initiative and has brought digitized herbarium sheets into the JSTOR collection, many of which link to BHL!  She also identified the AETFAT Congress as a historically significant event for JSTOR, where some of the founding ideas first germinated.  Kalfatovic then concluded the session and opened it up for questions.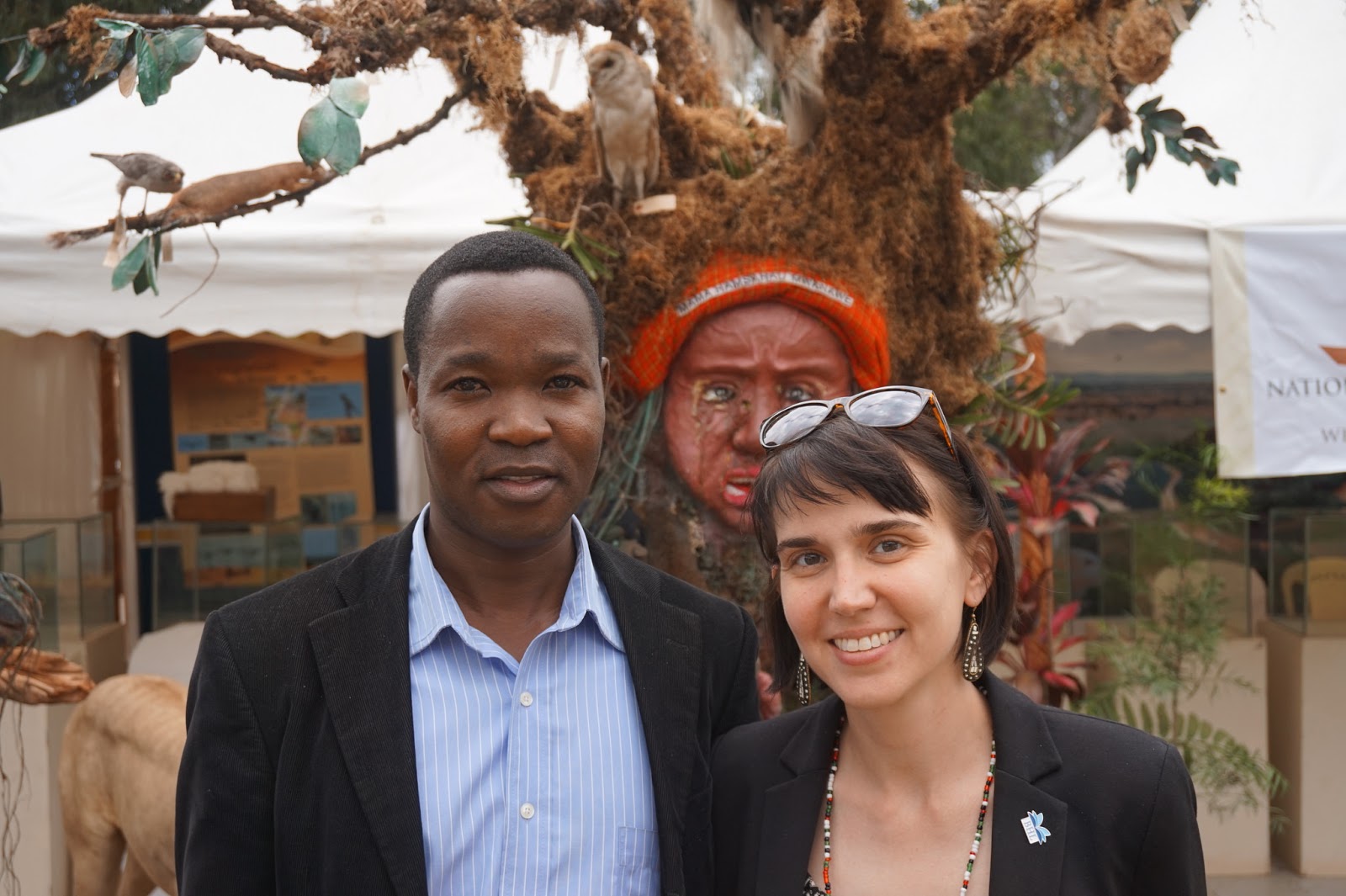 Carolyn Sheffield and Ben Nakitare at the NMK booth

      at the XXI AETFAT 2017 exhibits
Approximately 20 people were in attendance at the session and discussions were fruitful, focusing on both BHL work to date and potential future opportunities. 

In addition to the symposium, the conference provided several other opportunities for productive discussions with both BHL users and also with several BHL Africa partners.  It was especially lovely to catch up with some of our colleagues from National Museums of Kenya who hosted and participated in the BHL Africa Workshop in 2015, including Dr. Geoffrey Mwachala, Dr. Asha Owano, Lawrence Monda, and Ben Nakitare. We are thrilled with their ongoing commitment to participate in BHL, and we look forward to continued collaborations with our partners at National Museums of Kenya and all of our BHL Africa partner institutions!