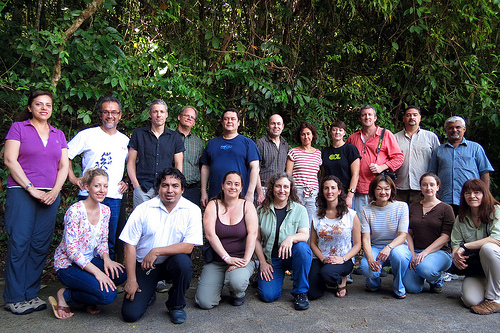 William Ulate and I attended the Global Encyclopedia of Life (EOL) Content Summit at the Smithsonian Tropical Research Institute's facility on Barro Colorado Island (BCI) in Panama. The meetings, 17-19 January 2012, brought together a group of current and planned world-wide EOL content providers. Joining BHL at the meeting were representatives from the Atlas of Living Australia, Naturalis, INBio, CONABIO, NHM/ViBRANT, GBIF, French Institute of Pondicherry India, Alexander von Humboldt Biological Resources Research Institute, Biological Diversity and Environment Information System (Peru), and Smithsonian Institution Global Earth Observatory (SI GEO).
After taking a bus from Panama City to Gamboa, we boarded one of the Smithsonian boats, The Morpho, for the 90 minute trip to Barro Colorado Island. After a quick orientation to the facilities on the island, we were assigned to our dorm rooms at the field station. In keeping with the BHL camaraderie, William and I shared room (along with a fairly large spider that we gave plenty of space).
The group reassembled for a hike around BCI. We were provided with excellent guides and spent nearly 3 hours exploring. Though we didn't see some of the more charismatic megafauna of the island (Tapir, Ocelot), we were showered with attention by a troop of Howler Monkeys, spotted an Agouti, heard the calls of two species of Toucan, saw a large piliated woodpecker, many ants (including Army ants and some impressive leaf cutters). Here's an EOL Collection of some of the things we saw.
As it got darker, a Tinamou posed for some photos and White Faced monkeys appeared. Oh, and there were some giant spiders. After a quick dinner in the dinning hall, we started in on the meeting. Each project represented gave a brief presentation to help the participants understand its focus. You can find mine here and William's here. The others will be posted by the EOL staff.
The first full day of meetings included an overview of the EOL activities and training on the content provider tools. In the evening, we had a social gathering on one of the verandahs where we watched some nocturnal creatures (bats, a large toad, etc.).
The final day of meetings (January 19) focused on developing content plans from the different partners as well as a discussion of EOL v.3 led by Erick Mata (EOL Executive Director).
We made some very good new contacts with our colleagues in India, Costa Rica, Peru, Colombia, and Mexico and explored new collaborations with our partners in Europe and Australia.
Early on the morning of 20 January, we boarded the boat back to Gamboa and back to our next destinations.