How does BHL celebrate the holidays?
As a project, we work to raise awareness about the plight facing the Earth's biodiversity today and provide ways to help preserve scientific knowledge, support research, and conserve species. As a consortium, our BHL member institutions spread some fantastic holiday cheer by featuring some exciting seasonal exhibits.
We decided to celebrate the holidays this year by taking you through a virtual tour of the seasonal exhibitions at some of our member institutions and, as an added bonus, showcase this year's BHL "superstars" for each member. What's a BHL "superstar," you ask? Well, today, it's each member's most popular book in BHL this year. Some of them just might surprise you!
American Museum of Natural History
Did you know that a group of jellyfish is called a smack? Or that a group of kangaroos is called a mob? A group of wise owls? It's called a parliament.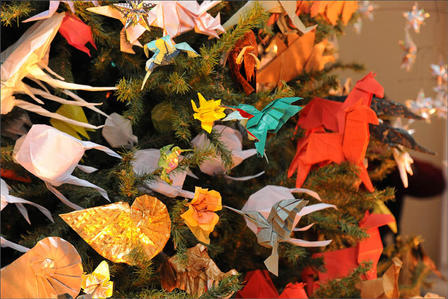 "Smack" of jellyfish (far left). Origami Art on the AMNH Holiday Tree.
The American Museum of Natural History has decorated its annual 13-foot tall holiday tree with origami "groups" of animals, inspired by the museum's collections. These "groups" highlight the fact that even solitary animals spend at least some time with others of their species. The 500 delightful origami ornaments took volunteers from OrigamiUSA approximately 5 months to construct, and include groups of zebras, giraffes, and even bacteria!
The origami tree has been a hallmark of the museum's holiday celebrations for more than 30 years and will be on display through January 6. Don't miss your chance to experience biodiversity through paper art! How about using the over 50,000 images in the BHL Flickr to inspire your own origami art?!
The winner of the AMNH 2012 Most Popular Book? Ibis (1859), v. 1. 
The American Museum of Natural History has an extremely strong ornithology collection. Therefore, it's no surprise that the most popular book contributed by this library would be one of the cornerstones of ornithological literature. Frederick Godman and Osbert Salvin, the authors of Biologia Centrali Americana – arguably the most authoritative work on Mexican and Central American biodiversity – were two of twenty ornithology enthusiasts to establish this journal, which is still published today, in 1859. Explore the illustrations of the Ibis in our past blog post.
California Academy of Sciences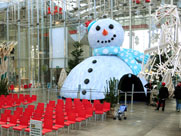 Snowman Dome at CAS.
Think you won't find much snow this Holiday Season in California? Think again! The 'Tis the Season for Science event at the California Academy of Sciences features live reindeer, research specimens illustrating how various species cope with cold temperatures, a snowman-shaped digital dome featuring programming about the science of the seasons, and, yes, snow in the piazza every 30 minutes!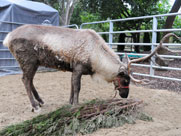 Live reindeer at CAS!
Some interesting tidbits from CAS: Did you know that the reindeer is the only deer species in which both males and females exhibit antlers? Did you know that species deal with harsh winters, generally, by adopting 1 of 2 strategies: heading south or hibernating? Perplexed by the bi-hourly snow falling at CAS? It's temperature-resistant and biodegradable!
The CAS Holiday Exhibit 'Tis the Season for Science will be open through January 6. Don't miss your chance to experience polar bears, geese, reindeer, and snow in California! In honor of the CAS caribou attraction, enjoy this Reindeer Holiday Greeting Card from BHL!
The most popular book from the California Academy of Sciences this year? The Rollo Beck Galapagos Expedition Journal!
The Rollo Beck Journal was the first field notebook to be ingested into BHL. As part of the IMLS Connecting Content project, CAS is digitizing field notebooks (essentially the scientific journals kept by researchers while on expeditions and/or performing field work) in its collection. This journal gives a broad overview of the 1905-06 expedition to the Galapagos, led by Rollo H. Beck. An interesting highlight from this journal? It includes a passage relating the first news Beck received of the 1906 fire that destroyed nearly all of CAS's collections. Learn more about the journal and the Connecting Content grant in this past blog post.
Missouri Botanical Garden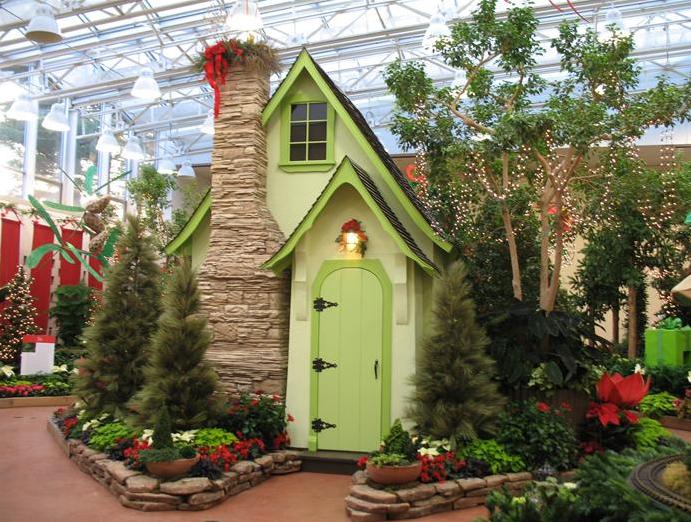 Fairy Tale Cottage at MOBOT's Gardenland Express.
It's a holiday wonderland in St. Louis this year with the Gardenland Express! Staff and volunteers have transformed the Garden's Orthwein Floral Display Hall into a whimsical fantasy complete with a fairy tale cottage, 900 feet of miniature train tracks, and a stunning array of traditional holiday plants. The exhibit, celebrating "Merry Botanical Traditions," took years to plan and even features silk poinsettia, holly, and Christmas Cactus constructed by artisans from the Garden's previous Lantern Festival.
Find out what it takes to transform a barren room into a holiday treat in the video below. If you're in St. Louis anytime before January 1, don't miss your chance to experience the wonder for yourself! Maybe you can use our botanical illustrations to identify some of the plants featured in the exhibit!
This year, the MOBOT "Superstar" award goes to…..Systema Naturae (1758), v. 1, 10th Ed., by Carl Linnaeus.
It's probably not very surprising that the publication that marked the beginning of zoological nomenclature is the 2012 most popular book contributed by the Missouri Botanical Garden. But did you know that, though Linnaeus' first edition of Species Plantarum and this tenth edition of Systema Naturae are heralded as the starting points of binomial nomenclature for botany and zoology, respectively, the concept for the system was partially developed by Gaspard and Johann Bauhin in the late 1500s? Learn more about Linnaeus, Species Plantarum and Systema Naturae in our previous blog post.
New York Botanical Garden
It's all about the trains this year for BHL's botanical partners! Celebrating the season with the Holiday Train Show, the New York Botanical Garden has laid a quarter of a mile of miniature train tracks throughout a lush botanical backdrop populated by reconstructions of 140 of New York's famous landmarks. The best part? These reconstructions, the products of Applied Imagination, are crafted using natural materials like bark, twigs, fruit, seeds, and stems!
What delightful icons will visitors to the seasonally-converted Enid A. Haupt Conservatory at NYBG encounter? To name just a few: Yankee Stadium, New York Public Library, the Brooklyn Bridge, and, new this year, the Macy's location made famous by "A Miracle on 34th Street." The Artists' Studio, part of the exhibit, gives visitors a behind-the-scenes view of how these marvelous buildings are constructed, as well as a chance to experience some international icons, including the Sphinx and Parthenon.
Have kids? Then NYBG's Gingerbread Adventures, which gives children a chance to play inside a life-size gingerbread house and decorate gingersnaps, is right up your alley!
The Holiday Train Show runs through January 13. Don't miss your chance to experience New York with botanical eyes!
The most popular book this year contributed by NYBG? Again in the spirit of BHL botanical institutions, it's v.1, pt.1 of the 11th edition of Systema Naturae (1760). The next twelfth edition, the last published under Linnaeus' authorship, was comprised of 2,400 pages, expanded from the original eleven pages of the first edition (published in 1735).
Smithsonian's National Zoo
Every year, the Smithsonian's National Zoo lights up the dark winter nights with thousands of Christmas lights strung together to form animal silhouettes. This year is no exception, with more than 500,000 environmentally-friendly LED lights depicting dozens of dazzling species. Free to the public, the ZooLights event runs until January 1 on select days. Don't miss this opportunity to see a mamma and baby panda, brown kiwi, elephants, a python, a lion, and even a cow like you've never seen them before!
And not to spoil the train theme, the National Zoo is also featuring a farm-themed miniature train at the Visitor Center.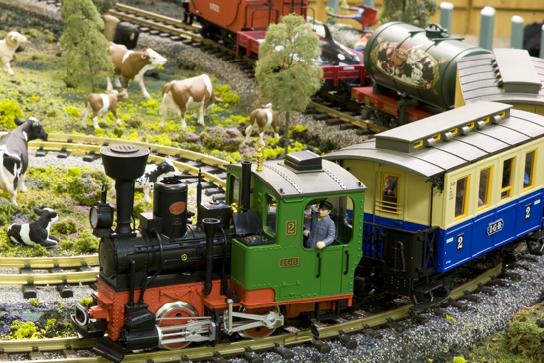 Farm-Themed Train at National Zoo Visitor Center.
The most popular book contributed to BHL by the Smithsonian Libraries also happens to be the most popular item in BHL. What is it? Taxonomic Literature (1976), v. 1.
More commonly known as TL2, Taxonomic Literature: a selective guide to botanical publications and collections with dates, commentaries and types "provides the most comprehensive biographical and bibliographical analysis for systematic botany literature published between 1753 and 1940." In all, TL2 is comprised of 15 volumes, organized by author name. The volumes represent an extensive list of botanists who have published botanical literature between 1753 and 1940. Each entry provides a short biography of the author, the location of any specimens they may have collected, a list of publications that author has published, and, based on analysis of more than 100 library collections, information about which libraries may hold a copy of each publication.
The Smithsonian Libraries' online TL2 project indexes corrected OCR for the TL2 volumes scanned for BHL to provide additional search and analysis functionality, including author, author name abbreviation, and title abbreviation search support.
______________________________
We hope you get a chance to visit one of the exceptional Holiday Exhibits at our BHL member institutions.  From all of us here at BHL, we wish you very Happy Holidays!