A Fossil-Focused Citizen Science Challenge!
UPDATE: We are proud to announce that after 3.5 days, volunteers successfully transcribed and reviewed all 252 pages of field notes that we uploaded as part of this challenge! Thanks to all of our great volunteers, and tune in all week (Oct. 13-16, 2015) for more great fossil fun and highlights from the challenge!
October 14 is National Fossil Day! What do you think you might learn if we unleashed notes on the mighty and micro fossilized specimens in the Smithsonian Institution's collections? Let's time travel together with Smithsonian scientists – to their field sites, their discoveries, and the mysteries they uncover.
We're celebrating fossils during the BHL Fossil Stories social media event, running October 13-16, 2015. Follow #FossilStories on Twitter and Facebook or read this article to learn more.
As part of Fossil Stories, we're teaming up with The Field Book Project, the Smithsonian Transcription Center, the Smithsonian Institution Archives, and the National Museum of Natural History to issue a transcription challenge to you!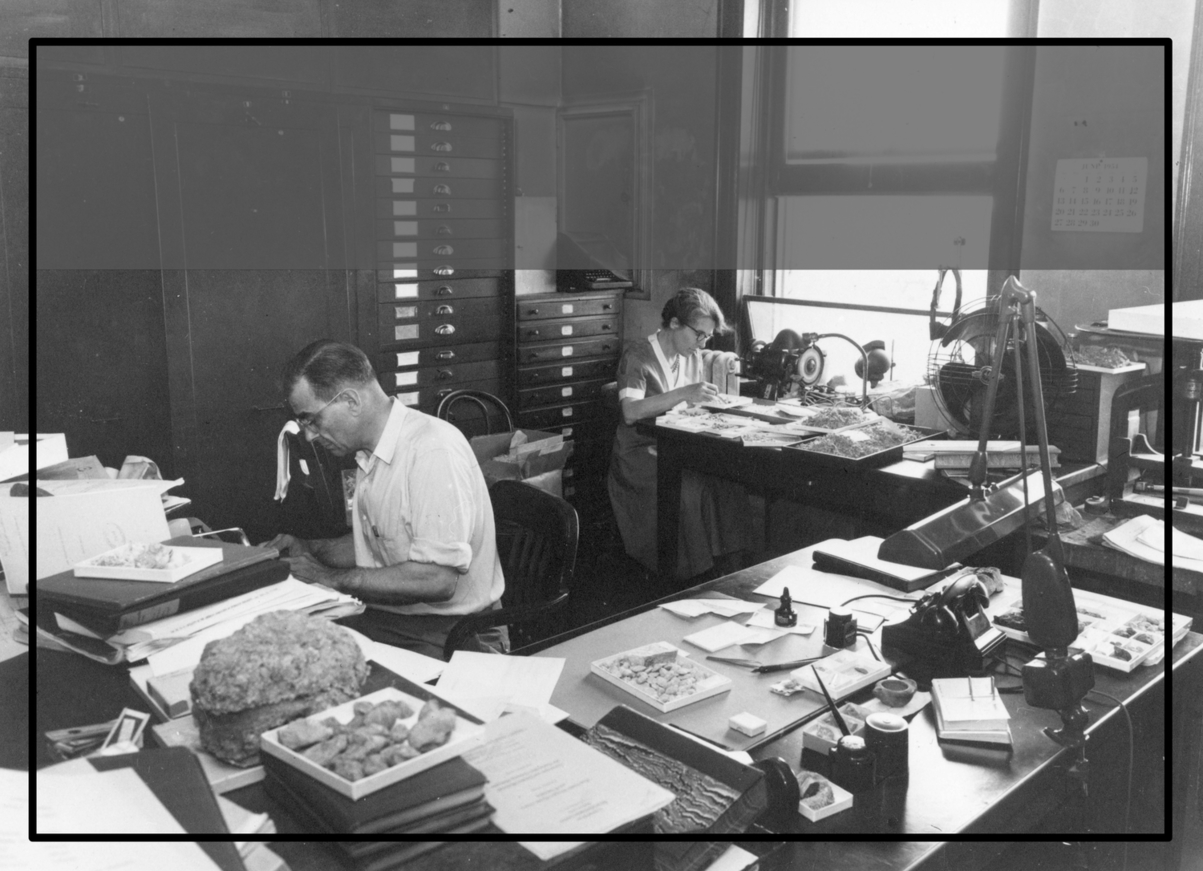 To Fossick is to "rummage or search," often for gold nuggets or gems, though you'll be gathering pearls of wisdom this week. And since knowledge is golden, we know we'll all be enriched by our #FossilFossick challenge!
Here's how the challenge works:
We'll launch several paleontology-related field notes on the Smithsonian Transcription Center
You successfully transcribe and review the pages of those field notes with many of your transcribing friends
Follow and share your findings on Twitter with the #FossilFossick hashtag
We connect you with behind-the-scenes access to fossil specimens and scientists who will tell you more about the real ways fossil records make a difference in our world today
The set of field notes we've selected for the challenge not only provides a glimpse into the worlds of three paleobiologists (Lester F. Ward, Harry S. Ladd, and G. Arthur Cooper) over nearly a hundred-year period (from 1893 to 1965), but also highlights the fact that paleontology is a discipline that is frequently transformed by technology, whether that is the technology to travel to previously inaccessible places, technology to find and excavate items too hidden or too fragile to unearth before, or technology to inspect, record, and preserve findings in new ways.
As you transcribe the field notes for this challenge, you'll discover some of these changes in technology, from sailing ships to "electric cars" and airplanes, and from the naked eye to new scanning microscopes and 3-D scanning. You'll also uncover the names of other scientists, researchers, and collectors that our paleobiologists corresponded with, the specimens that they collected, and the locations they collected in. We hope you'll share these findings with us by tweeting with the challenge hashtag #FossilFossick and/or adding them to our Google spreadsheet.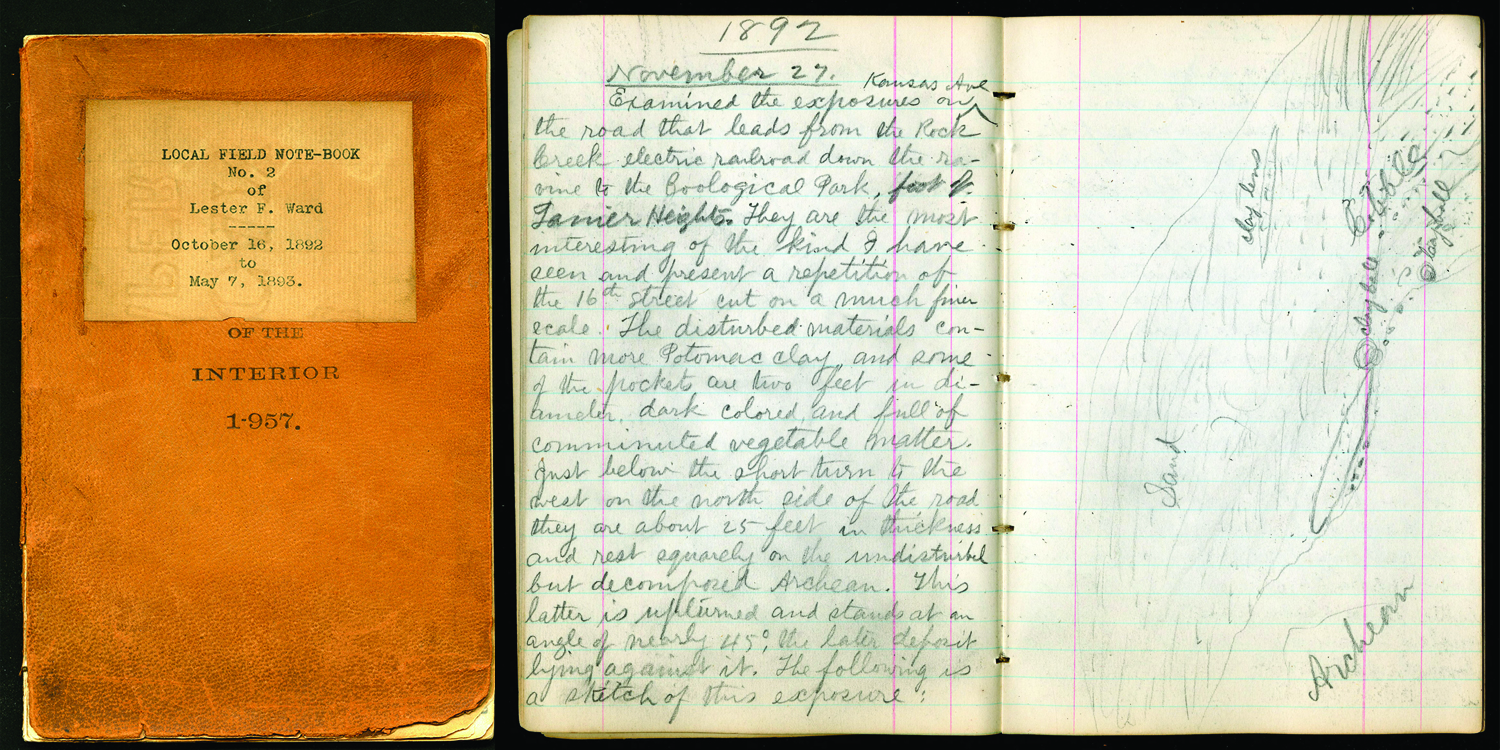 Local field note-book no. 2 of Lester F. Ward, October 16, 1892 to May 7, 1893. http://biodiversitylibrary.org/bibliography/107244. Smithsonian Institution Archives.
If you successfully transcribe all of the field notes in the challenge, we'll celebrate with a live webcast with Dr. Nicholas D. Pyenson, Curator of Fossil Marine Mammals at the Smithsonian's National Museum of Natural History, on October 26 via the BHL Periscope account (@BioDivLibrary). He'll show off some of his favorite specimens in the collection and you'll have the opportunity to ask him your most pressing fossil questions.
So, do you accept our challenge? If so, dig into the field notes here:
Harry S. Ladd: 
Lester F. Ward:
G. Arthur Cooper:
Be sure to share your discoveries using our challenge hashtag, #FossilFossick. Learn more about the collectors who created these field notes and get updates on challenge progress by following #FossilStories all next week.
Welcome to the #FossilFossick Challenge!