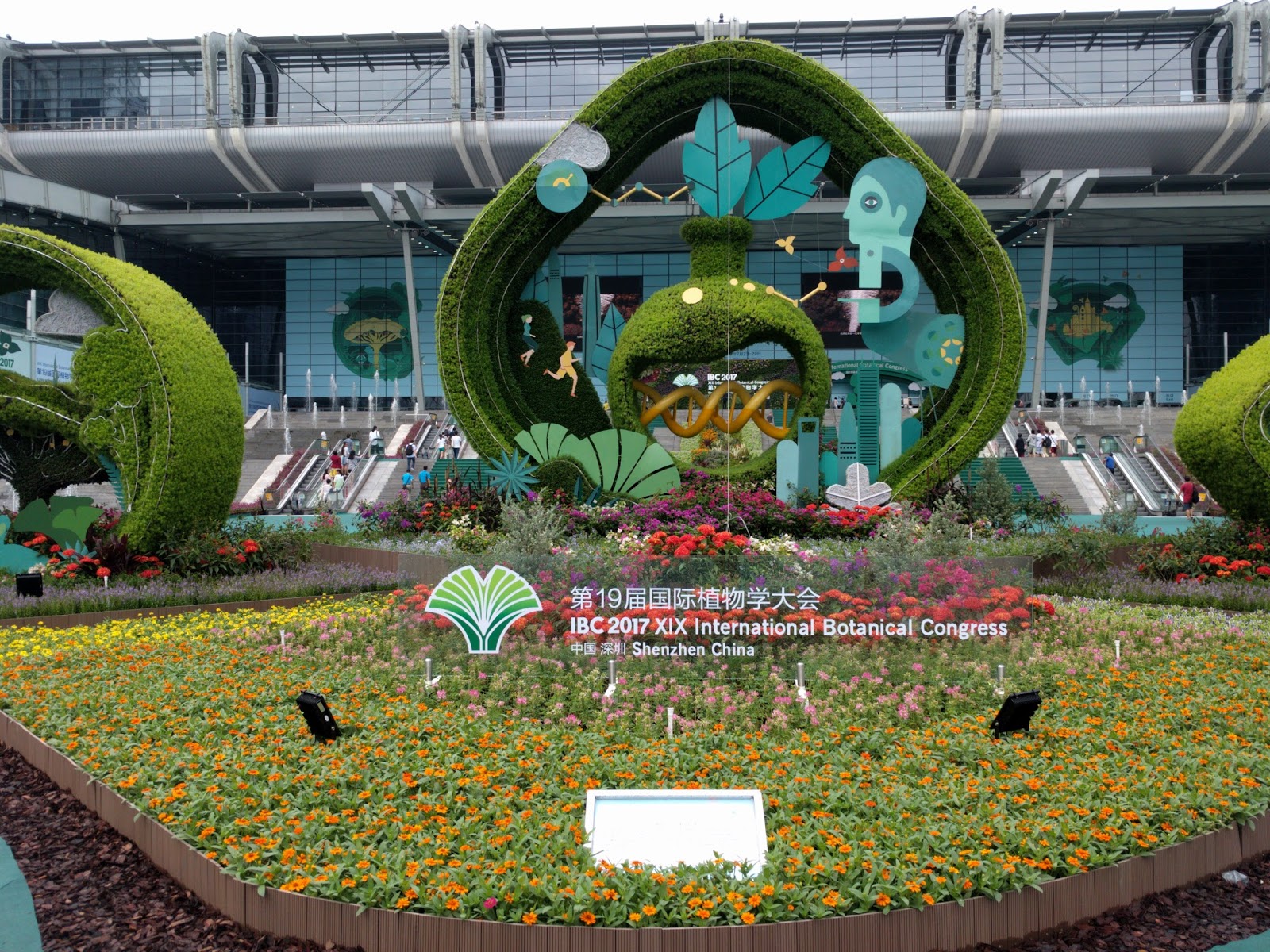 XIX IBC 2017
Along with BHL Program Manager Carolyn Sheffield, I represented BHL as a delegate to the XIX International Botanical Congress in Shenzhen, China. Held during the week of 24-28 July 2017, the Congress (which is held every five years) drew over 6,000 botanists from around the world.
The Congress provided an excellent opportunity to catch up with colleagues from around the world and learn about some of the latest botanical research.
SHENZHEN DECLARATION AND PUBLIC TALKS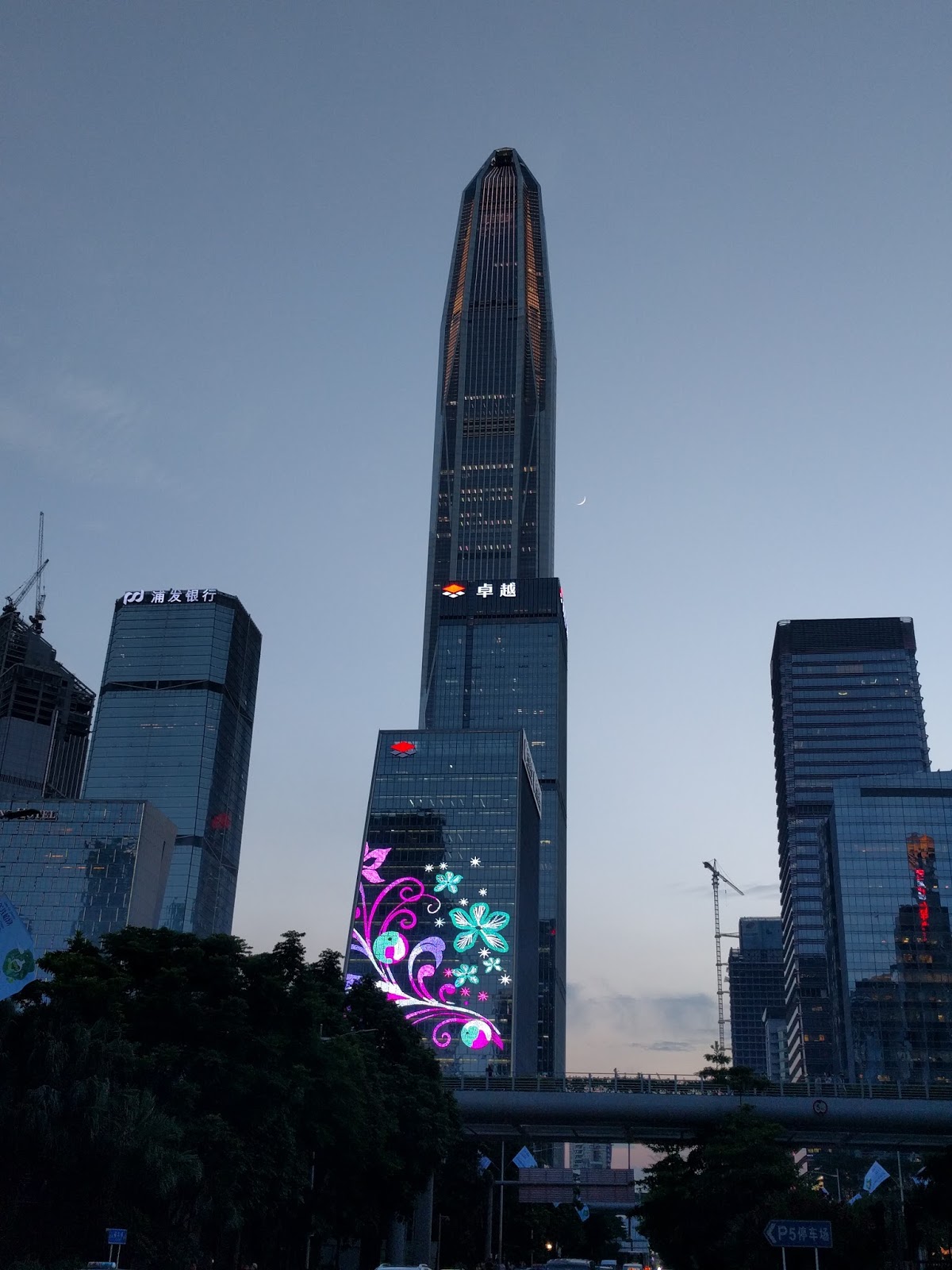 IBC logos on Shenzhen skyline
The program was divided into plenary talks, keynote talks, general symposia, and public lectures (see abstracts for all here). The Congress opened with a public lecture by Peter H. Raven, President Emeritus of the Missouri Botanical Garden. Raven's talk, "Saving Plants to Save Ourselves: The Shenzhen Declaration" was on the public announcement of the Shenzhen Declaration on Plant Sciences. Authored by fourteen illustrious botanists that formed the Shenzhen Declaration Drafting Committee, the declaration is an important statement on the role of plant science in a changing world. The declaration opens with:
"Actions and priorities to connect the global community of plant scientists with the world's changing societies are today more imperative than ever. Environmental degradation, unsustainable resource use, and biodiversity loss all require integrated, collaborative solutions."
Noting the changing world we inhabit, the change evidenced by increased species extinction, global climate change, rapid changes in the practice of plant science, and refactoring of the world's economy, the declaration outlines seven priorities for strategic action in the plant sciences. These priorities will "allow society, with the help of science, to mitigate impacts of human activities on plant species, habitats, and distributions, and to approach formation of a sustainable world for ourselves and those who follow us."
These seven priorities are:
To become responsible scientists and research communities who pursue plant sciences in the context of a changing world.
To enhance support for the plant sciences to achieve global sustainability.
To cooperate and integrate across nations and regions and to work together across disciplines and cultures to address common goals.
To build and use new technologies and big data platforms to increase exploration and understanding of nature.
To accelerate the inventory of life on Earth for the wise use of nature and the benefit of humankind.
To value, document, and protect indigenous, traditional, and local knowledge about plants and nature.
To engage the power of the public with the power of plants through greater participation and outreach, innovative education, and citizen science.
Raven's inspiring talk on the Declaration was a brilliant opening to the Congress (and was touched upon by nearly all speakers for the remainder of the Congress) and concluded with a rousing call to action: "Let us make this Congress a time of commitment to do better and resolutely seek a sound and sustainable future for all people."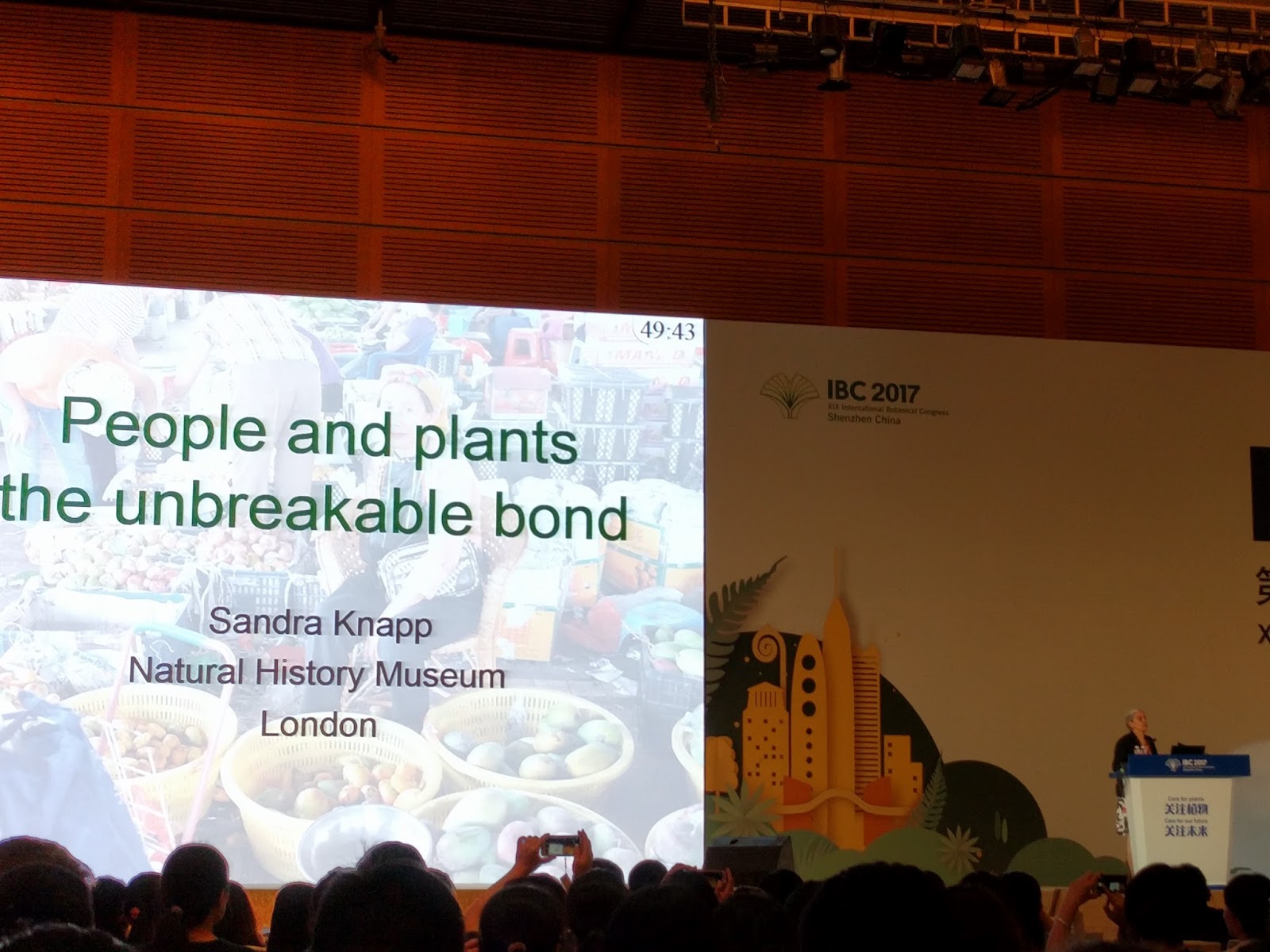 Sandra Knapp
Another public lecture of note was by Sandra Knapp (Natural History Museum, London): "People and Plants — the Unbreakable Bond". Knapp noted "Plants form the scaffold for Earth's green ecosystems, but they are also essential for human survival. Plants provide most of the food we eat (directly or indirectly), our medicines, clothes, buildings, and even the air we breathe; they also beautify our daily lives." Knapp further detailed the importance of plants to humans and then pivoted to ask, "So we need plants, but do they need us?" Knapp's answer was yes:
"In this time of increasing human impact on plants, animals and natural habitats, our actions can make a big difference in whether plants are a part of an ecological civilization for the future. Plants do in fact need us – they need us to study and use them responsibly, both as scientists and as members of human societies."
KEYNOTE AND PLENARY TALKS
The Congress presented a number of excellent keynote and plenary talks. Of special note were the following:
"Tropical Plant-Animal Interactions: Coevolution in the Anthropocene" by W. John Kress (Smithsonian Institution, National Museum of Natural History). Kress illustrated his talk with research on the interaction of beetles, humming birds, and Zingiberales (including bananas, birds-of-paradise, heliconias, gingers, and prayer plants). Kress concluded with, "The geographic mosaic of these relationships across tropical islands, fragmented landscapes, and elevational gradients suggests that human-caused habitat alterations, biological invasions, and climate change may significantly modify and disrupt through time and space the historical patterns of ecological interactions. The future of today's biological complexity in the Age of Humans, in the Anthropocene, remains to be determined."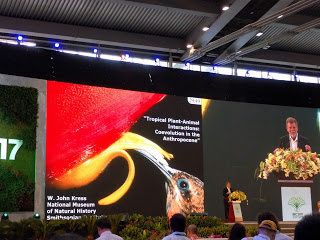 W. John Kress
"International developments and responsibilities for the botanical community in plant conservation" by Peter Wyse Jackson (Missouri Botanical Garden). Wyse Jackson provided a high level overview of the importance of the Global Strategy for Plant Conservation (GSPC), part of the United Nations Convention on Biological Diversity, and showed how individual institutions can help achieve the 2020 targets of the GSPC. He specifically noted how the Missouri Botanical Garden is working in the areas of conservation biology, ecological restoration, community conservation and education programs, horticulture and ex situ conservation towards this end. The World Flora Online project, based at the Missouri Botanical Garden and with partners worldwide, was previewed at the Congress and is a first target of the GSPC.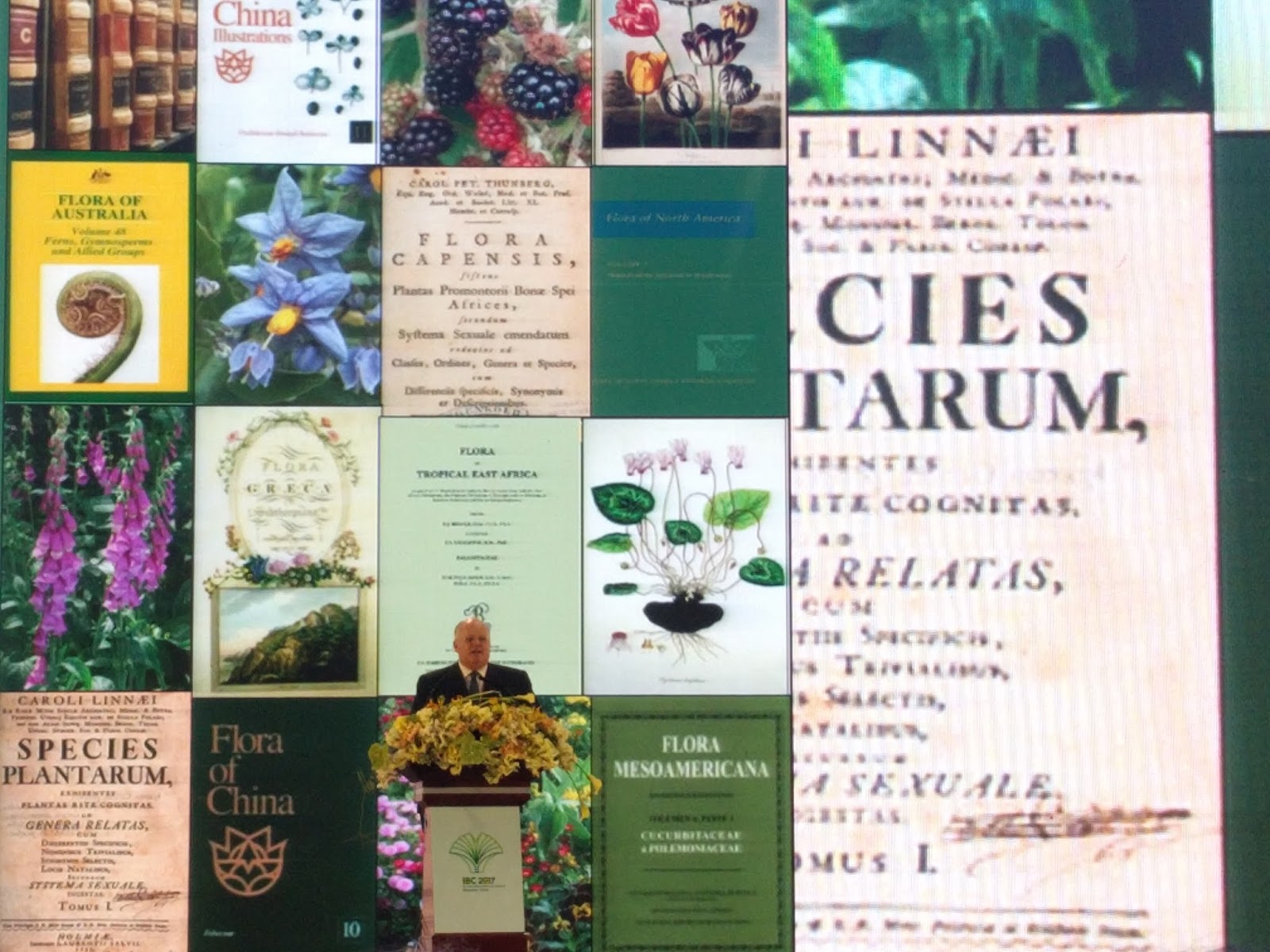 Peter Wyse Jackson
"Mapping Asia Plants" by Keping Ma (Institute of Botany, Chinese Academy of Sciences). Ma provided an excellent overview of a number of resources that are helping to document plant life in Asia. Ma commented, "Because of the huge population and rapid growth of economy, biodiversity including plants are being seriously threatened in Asia." He also detailed the work of the Asia Biodiversity Conservation and Databases Network (ABCDNet) project, entitled Mapping Asia Plants for cataloguing species of plants and collecting distribution data. The importance of the Biodiversity Heritage Library China (BHL China) in providing access to literature was noted.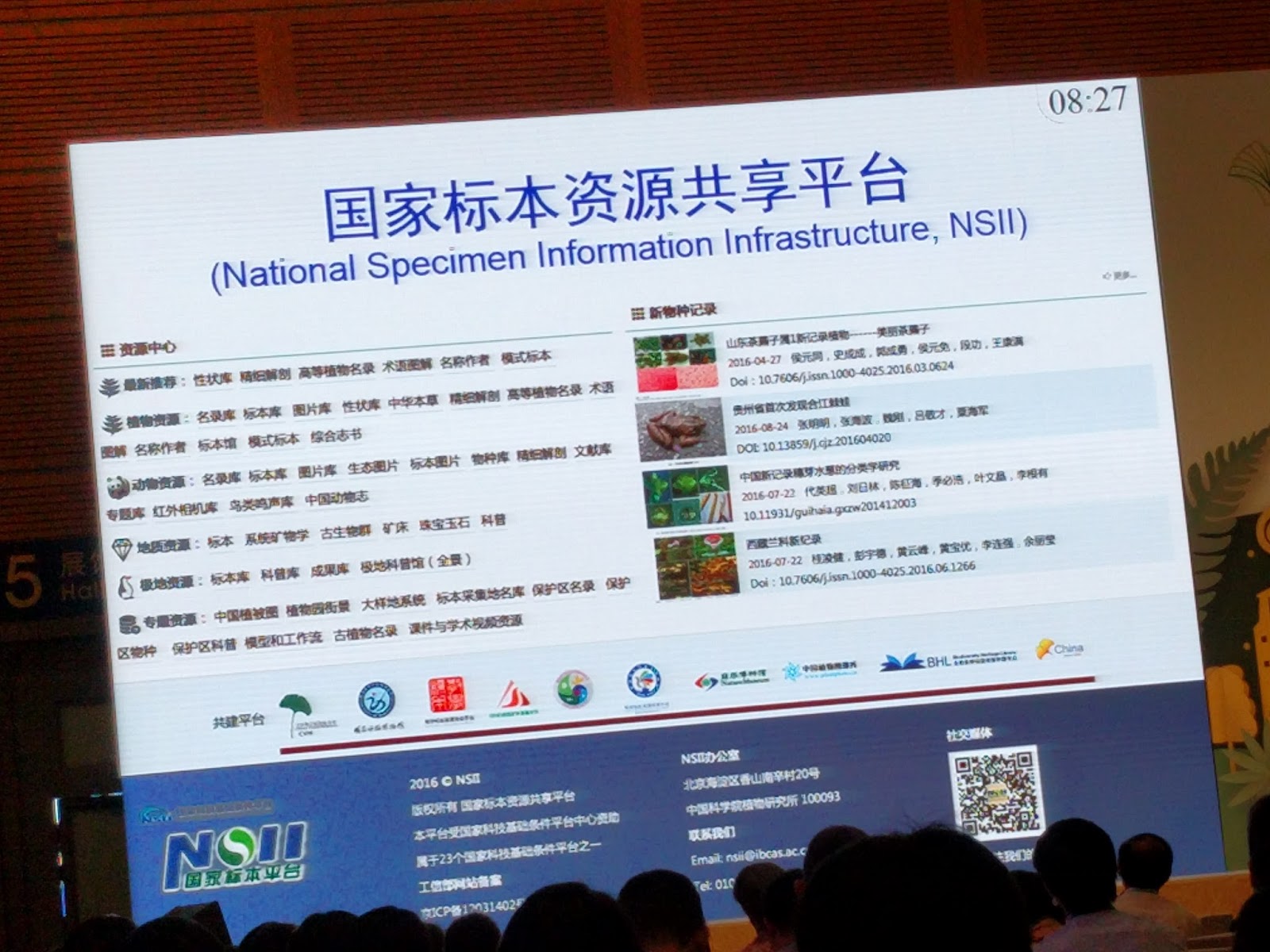 Keping Ma
"Developing integrative systematics in the informatics and genomic era" by Jun Wen (Smithsonian Institution, National Museum of Natural History). "Systematics is the science of discovering, organizing and interpreting the diversity of all living organisms on Earth. Recent developments in genomics and biodiversity informatics are transforming systematics and have opened up many new opportunities." With that statement, Wen outlined the opportunities of big data, digitization, and genomics in developing the tree of life. The wider importance of this work was driven home as Wen noted "integrative systematics must proactively educate the public and policy makers on the importance of systematics and collections in the biodiversity crisis of the Anthropocene."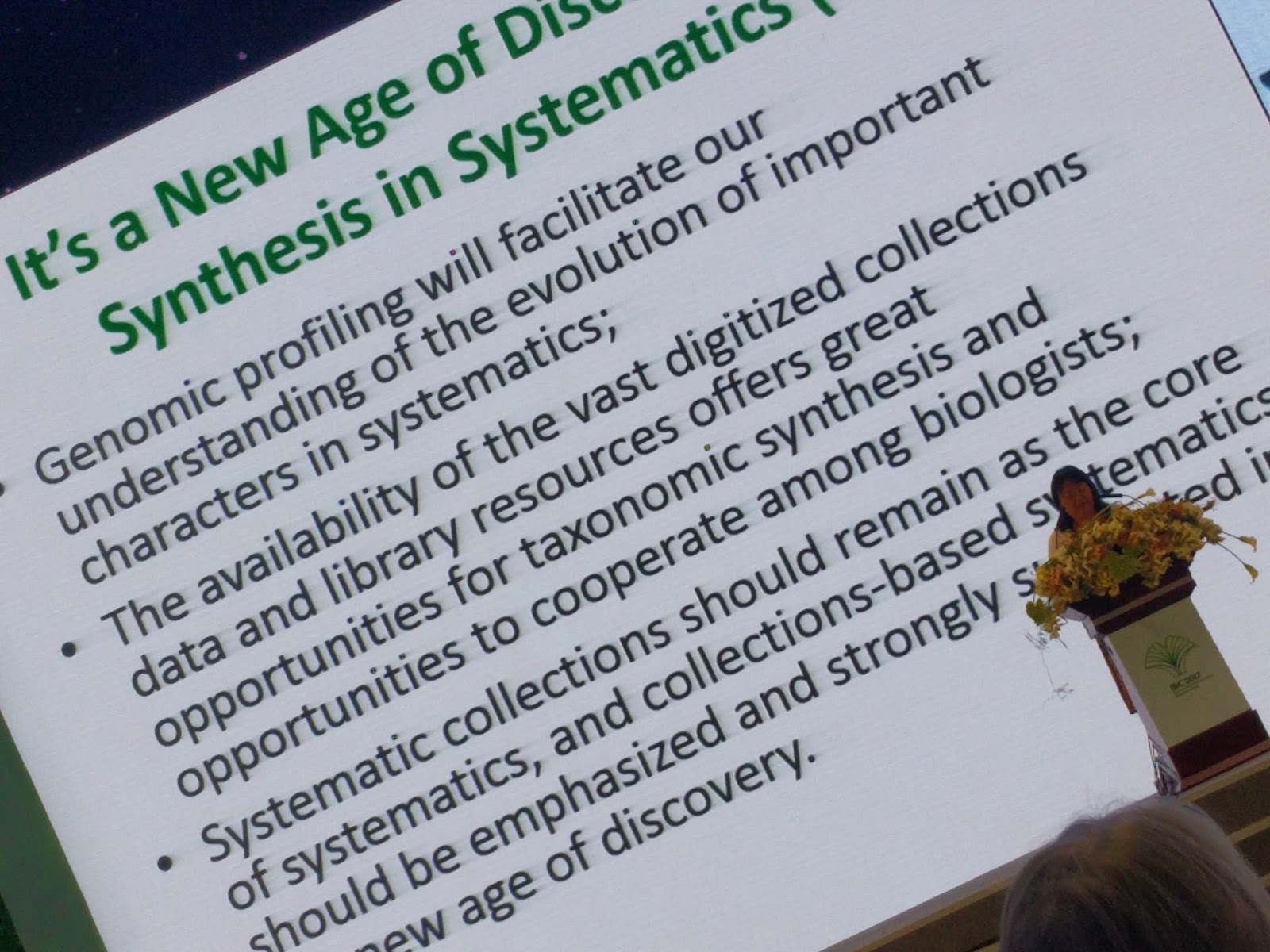 Jun Wen
"Thinking through the e- in e-Floras; or, Floras old, new, and not-yet" by Kevin Thiele (Western Australian Herbarium). Thiele delivered an provocative talk that touched upon the very core of how plant scientists do their work and to what level much of the scientific output is wedded to 19th century methods of dissemination while we are living well into the 21st century. He illustrated this with how many "e-floras" simply reproduce print methodologies. He challenged the audience to consider, "If modern taxonomy and systematics were invented, or re-invented, now (in the age of the internet, social media, citizen science and the block chain), rather than in the 18th Century, would we do it all differently?"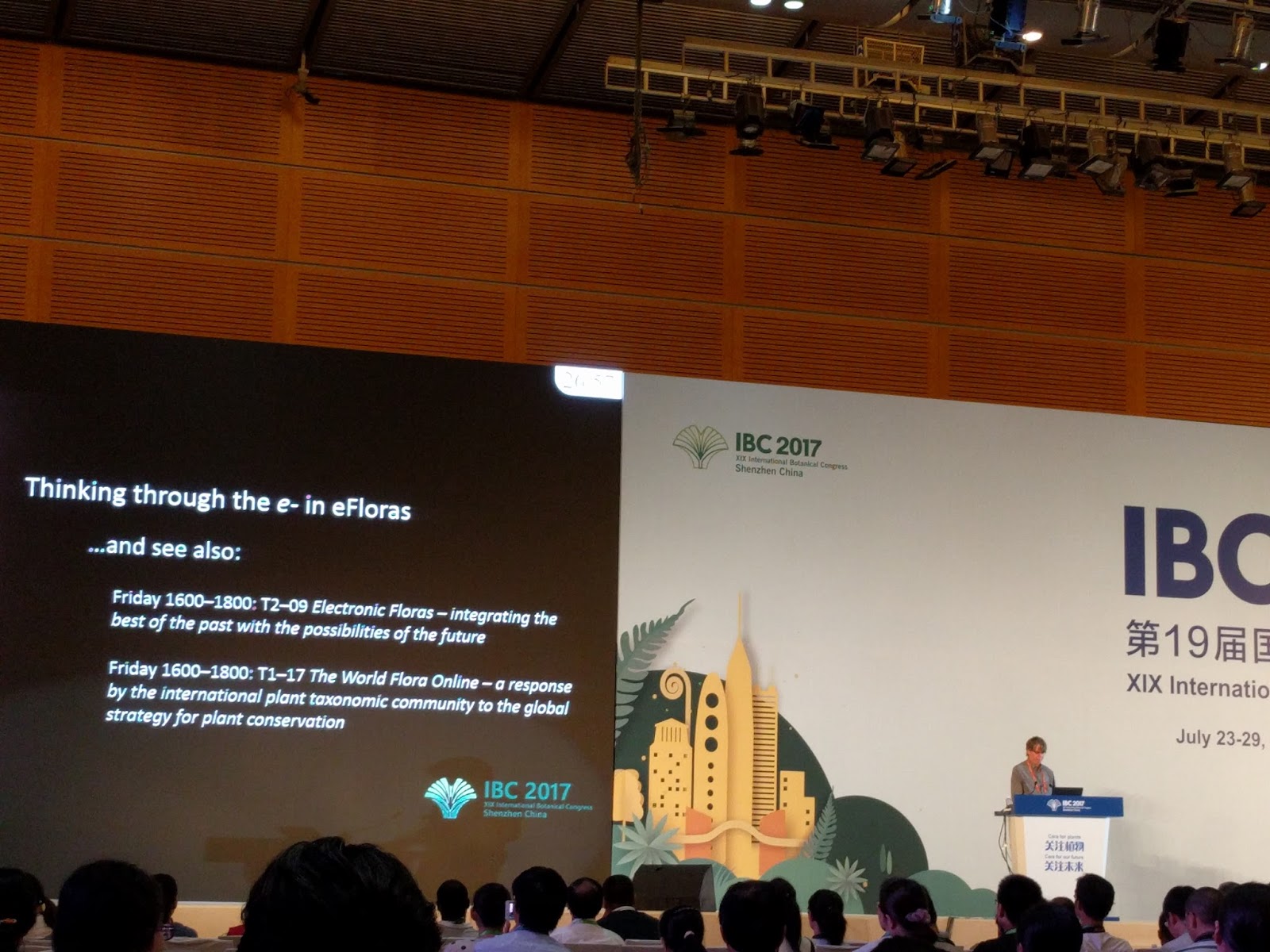 Kevin Thiele
In perhaps the most inspirational talk of the Congress, Stephen Blackmore (Royal Botanic Garden Edinburgh) spoke on the seemingly simple topic, "Saving Plants". Blackmore drew on his personal experience in Pearl River Delta area to tie together the different sectors and stakeholders that are needed to create a world where plants, and by extension, humans, can both survive and thrive. Blackmore focused on the contributions of botanic gardens, arboreta, seed banks and other collections of living and preserved plants to achieve the goal of saving plants. Blackmore ended on the note that "we will need to work closely together if we are to succeed in passing on the Earth's rich, green inheritance to future generations."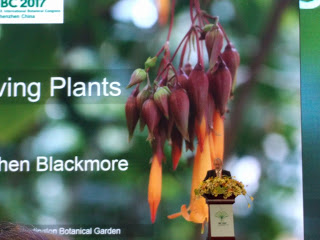 Stephen Blackmore
BIODIVERSITY HERITAGE LIBRARY SYMPOSIUM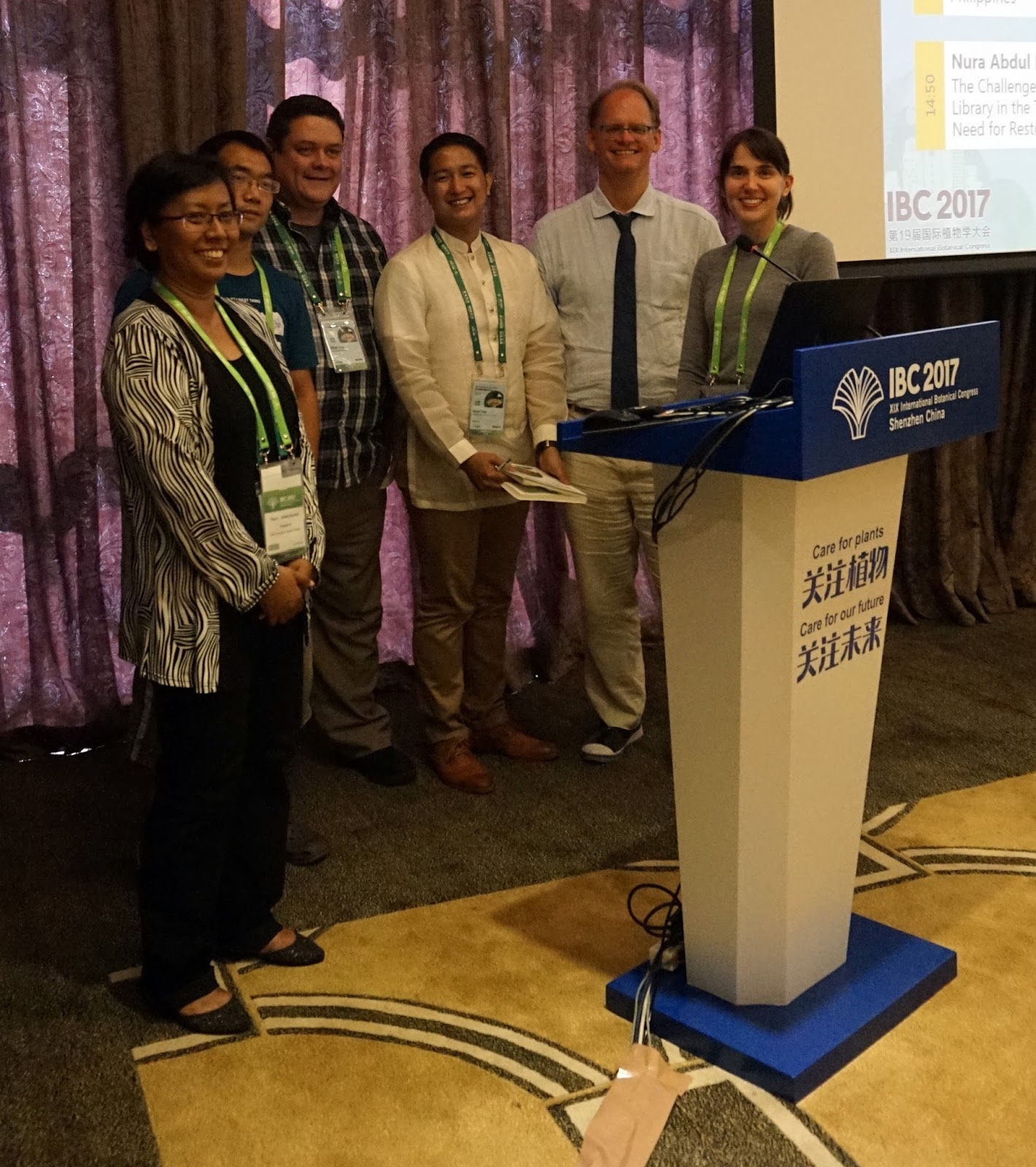 Speakers at the BHL Symposium
For the Congress, I, along with Carolyn Sheffield, organized a general symposium, "The Biodiversity Heritage Library: Empowering Discovery through Free Access to Biodiversity Knowledge" with colleagues from the Biodiversity Heritage Library's global partners. Presenters at the symposium were:
OTHER SYMPOSIA 
Many familiar colleagues participated in the General Symposium, "Green digitization: online botanical collections data answering real-world questions", organized by Shelley A James (Florida Museum of Natural History, USA) and Gil Nelson (Florida State University, USA).
Talks at the symposium included:
Rebranding botanical collections: Global societal and biodiversity data needs for novel research | Shelley James
Invasive or Not? A collection-based investigation of a historically unseen, persistent green algal bloom on Pacific coral reefs | Tom Schils [unable to present]
Current status and the applications of online botanical collection data in China | Zheping Xu
Virtual Herbaria tracking usage and benefits for biological collections: An example from Australasia | David Cantrill
Developing standards for scoring phenology from herbarium specimens | Jenn Yost
From field collections to digital data: A workflow and digitization pipeline for reconstruction of a fossil flora | Dori Contreras [delivered in abstentia]
OTHER ACTIVITIES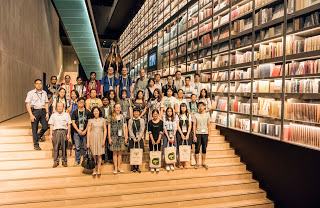 Artron (photo by Ivan Lee @ Artron)
A number of excursions were organized for delegates. I participated in one excursion that highlighted the hi-tech industry that has led to Shenzhen growing from a small fishing village to a world-class city with a population of 15 million in less than 40 years. The first stop was at UBTECH, a robotics start-up company that markets a robot that can interact with digital assistants (such as the Amazon Alexa). The next stop was Nirvana for this former art librarian: Artron, a world-class printer that produces art books and catalogs for the museums and galleries of the world. We visited their library and exhibition spaces. The focal point of the facility was the "Wall of Art Books." Over 150,000 art books are on display in a four story space (that has to be experience to be believed). All books are available to view by members of the Artron private library. We visited the private library, consisting of 20 themed rooms (e.g. "Japanese Vintage Books" and "The Business of Art") as well as the main reading room with a touch pad catalog where readers can page books (after pre-viewing full-text digitized versions). After leaving the Artron facility, I couldn't help but imagine this is how the brick and mortar library of the future will look.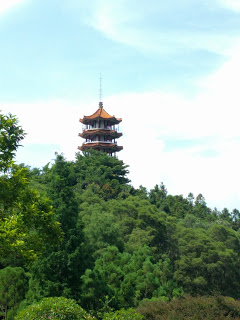 My second excursion was more on a botanical point. The Fairy Lake Botanical Garden is a 546 ha botanical garden which compares favorably with the great gardens of the world. First stop was the shade garden and butterfly pavilion, followed by the Fairy Lake and the palm area. We also had the opportunity to visit the National Cycad Conservation Center, which includes a fabulous collection of cycads from around the world and also a fossil collection. The Fairy Lake Botanical Garden also has a spectacular petrified forest area, with huge amounts of petrified wood that have been "planted" to look like a forest. We also stopped in at the Shenzhen Paleontological Museum (some dinosaurs and nice trilobites, my favorite extinct invertebrate!).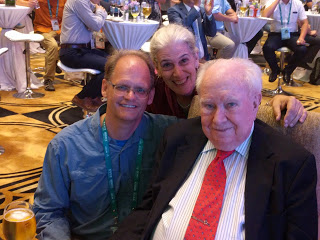 With Sandra Knapp and Peter Raven
The Congress featured a mid-week Gala that provided an opportunity to recognize the work of organizers and the program committee. The Gala also showcased a wide variety of Chinese entertainment that ranged from classical instrumentalists, to dancers and acrobats, to a Chinese doo-wop group. The accompanying buffet featured a number of tasty offerings.
IN SUMMARY 
The XIX International Botanical Congress was a unique opportunity for the Biodiversity Heritage Library to meet with colleagues from around the world (and from down the hall) to discuss important issues related to plant science and how we, as librarians, can work with plant scientists to accelerate their work and to achieve the aspirational goals as outlined in the Shenzhen Declaration.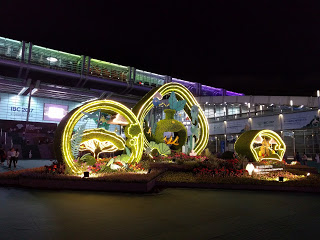 XIX IBC 2017 at Night