Notes accompanying collection of useful plants made by W. J. Fisher at [Kodiak] in 1899
In honor of Native American Heritage Month, we would like to highlight a field book that documents Native American knowledge of natural resources. The field book was created by William J. Fisher, who lived in southern Alaska from 1879 until his death in 1903.
Fisher's notebook documents his final years collecting and looks at the relationship between the Alutiiq (Aleut) and their plants by recording medicinal and food uses for 48 specimens. Only a handful of the specimen entries include the taxonomic names of plants; instead, entries focus on recording the Russian and Sugpiat/Alutiiq names of plants, how the plants were used, and plant distribution. Detail varies, as seen below in entries three and forty-seven.
Entry three describes Fritullaria kamschathensis [Fritillaria camschatcensis], also known as the Kamchatka Fritillary, and lists general use and preparation: "Used as an article of food by natives. The bulbs are boiled mashed and after a liberal supply of seal or whale oil has been thoroughly mixed therewith, it is put away for winter's use."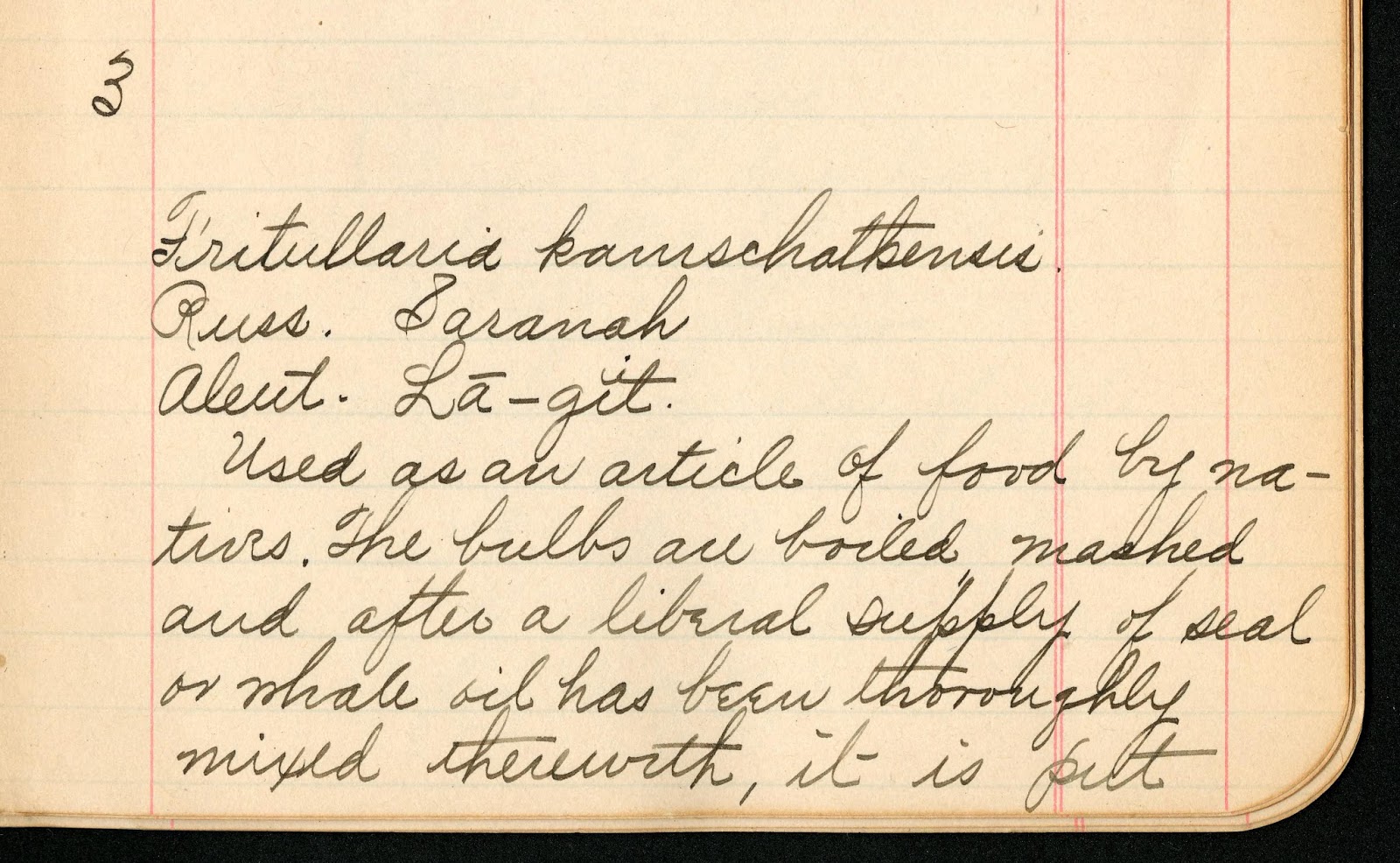 Specimen entry three from "Notes accompanying collection of useful plants made by W. J. Fisher at [Kodiak] in 1899," Smithsonian Institution Archives, SIA Acc. 12-038. http://www.biodiversitylibrary.org/page/46428854. Digitized by Smithsonian Institution Archives.
Entry forty-seven for Ledum palustre [Rhododendron tomentosum], also known as Northern Labrador Tea (also pictured below), takes up an entire page describing the plant's habitat, the appearance of its flowers, and multiple local medicinal applications: "(1) As a tea it is freely drunk in alleviating the hacking cough of consumptives. (2) As a gargle in sore throat. (3) Administered as tea it is efficacious in relieving asthmatic complaints."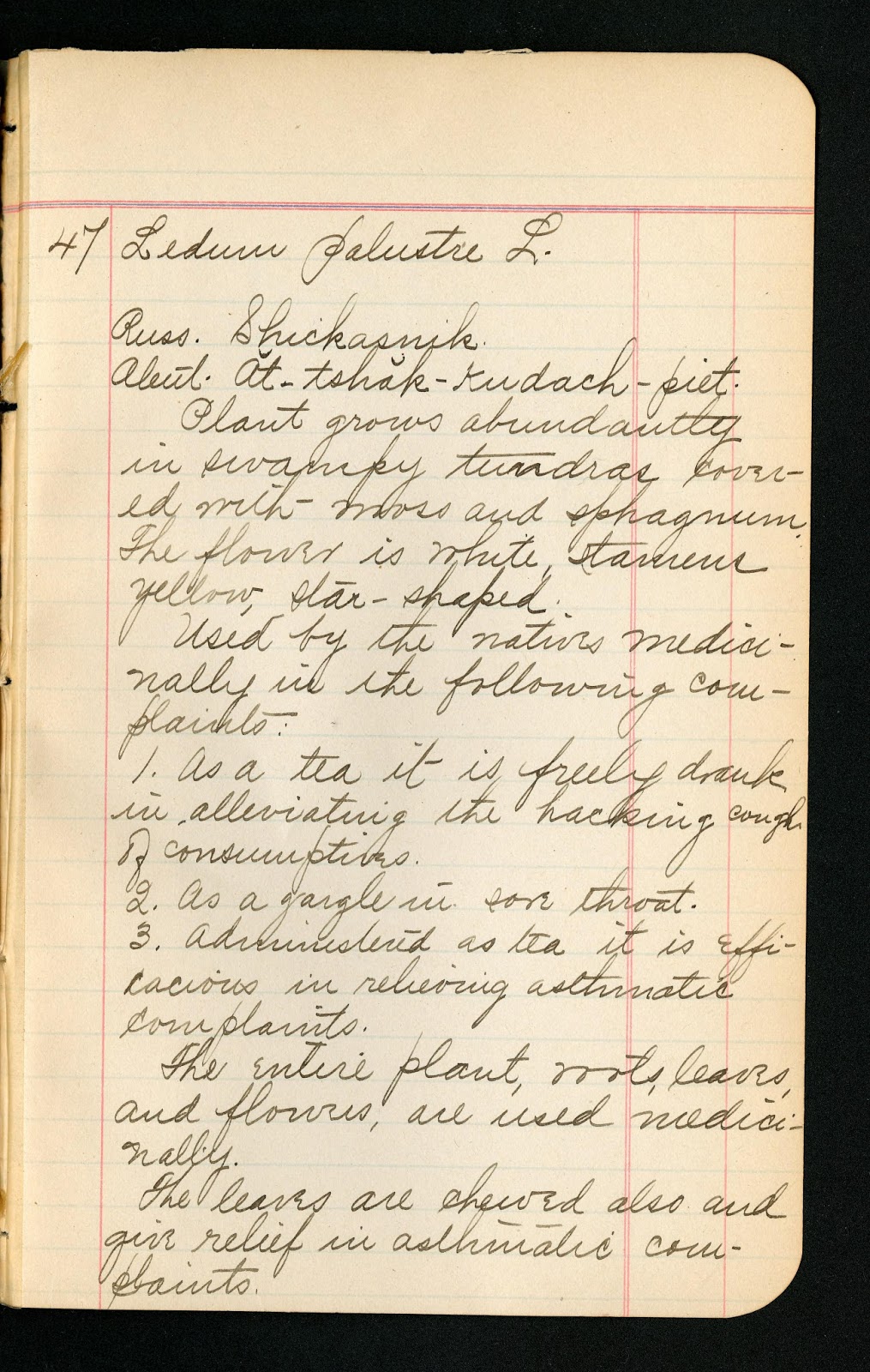 Specimen entry forty-seven, from "Notes accompanying collection of useful plants made by W. J. Fisher at [Kodiak] in 1899," Smithsonian Institution Archives, SIA Acc. 12-038. http://www.biodiversitylibrary.org/page/46428831. Digitized by Smithsonian Institution Archives.
Fisher's ethnographic focus while collecting plants is clear. The field book provides detailed information regarding local names and knowledge, but leaves out basic information often found in botany field books like date and detailed locality information. This lack of information may relate to a note Fisher wrote on the title page: "dried plants with Mr. Kearney, alcoholics in seed collection." "Mr. Kearney" was Thomas Henry Kearney (1874-1956), a botanist with the Bureau of Plant Industry at the US Department of Agriculture (USDA). Kearney was in Alaska to work with Frederick Coville from April 1898 – August 1899, and along the Northwest Coast from Puget Sound to the Bering Strait in 1899. He then served as a member of the Harriman Alaska Expedition of 1899.
It is unclear how the two men became acquainted. Fisher had a relationship with the Smithsonian Institution; Coville as a USDA employee worked with Smithsonian, and perhaps he introduced the two. Whatever the reason, Kearney's field notes for his work in Alaska are also available on BHL through the Smithsonian Field Book Project, and they provide a tantalizing overlap in content and geographical coverage.
A field book at the end of a collecting career
Fisher's field book is also interesting because it document's his collecting focus and interests as they evolved over a lifetime. Fisher's initial scientific interest was in marine biology. During the 1870's he was a curator of conchology at the California Academy of Sciences and served as a marine biologist for the U.S. Fish Commission on several cruises in the Pacific headed by William Healey Dall.
In 1879, Fisher accepted a position as tidal recorder in St. Paul, now known as the city of Kodiak, Alaska. After accepting the position, he wrote to Dall, who was affiliated with the Smithsonian Institution, and offered to collect natural history specimens. The offer was accepted, and Fisher was instructed that the museum was also interested in ethnographic artifacts from the region.
The town of St. Paul where Fisher settled was originally established by the Russians as a center for fur trading. By the time Fisher arrived, it was a town of approximately 500 residents, primarily of Russian and Native Alaskan heritage. According to an article in Arctic Anthropology (no. 1, 1992) the community was still significantly mixed regarding the adoption of European culture in terms of religion, language, and beliefs.
Fisher initially focused on collecting natural history specimens, but as he began to correspond with Smithsonian's Secretary Spencer Baird, his interest and collecting shifted to ethnography. He even began to commission works by Native Alaskans. Fisher's main source of income was his position as tidal recorder; Smithsonian was frequently unable to finance his work. This lack of funding apparently did not dim Fisher's enthusiasm, but it did lead to financial hardship. During an extended collecting trip to Bristol Bay in the summer of 1885, his assistant successfully petitioned for Fisher's job. Fisher's collecting came to an end by the 1890's; the ethnobotany field notes document the end of his work with the Smithsonian Institution.
Interested in learning more? We encourage you to learn about the William J. Fisher collection at the National Museum of Natural History, which was highlighted as part of a book Looking Both Ways: Heritage and Identity of the Alutiiq People, in the online exhibit featuring artifacts created by the Alutiiq people and collected by Fisher during his years in Alaska.
Other resources include:
Aron L. Crowell, 1992, Postcontact Koniag Ceremonialism on Kodiak Island and the Alaska Peninsula: Evidence from the Fisher Collection. Arctic Anthropology 29(1):18-37. Retrieved on November 16, 2016 from https://www.jstor.org/stable/40316240?seq=3#page_scan_tab_contents
Highlights of the William J. Fisher collection at the National Museum of Natural History: http://naturalhistory.si.edu/arctic/features/fisher/collect.html
The field books of William Healey Dall, available on Biodiversity Heritage Library: http://www.biodiversitylibrary.org/search?searchTerm=Dall+%22field+notes%22#/titles
Field Book Project blog post by Sonoe Nakasone: http://nmnh.typepad.com/fieldbooks/2012/02/sharing-culture-through-plants.html