#HerNaturalHistory: Campaign Report and Outcomes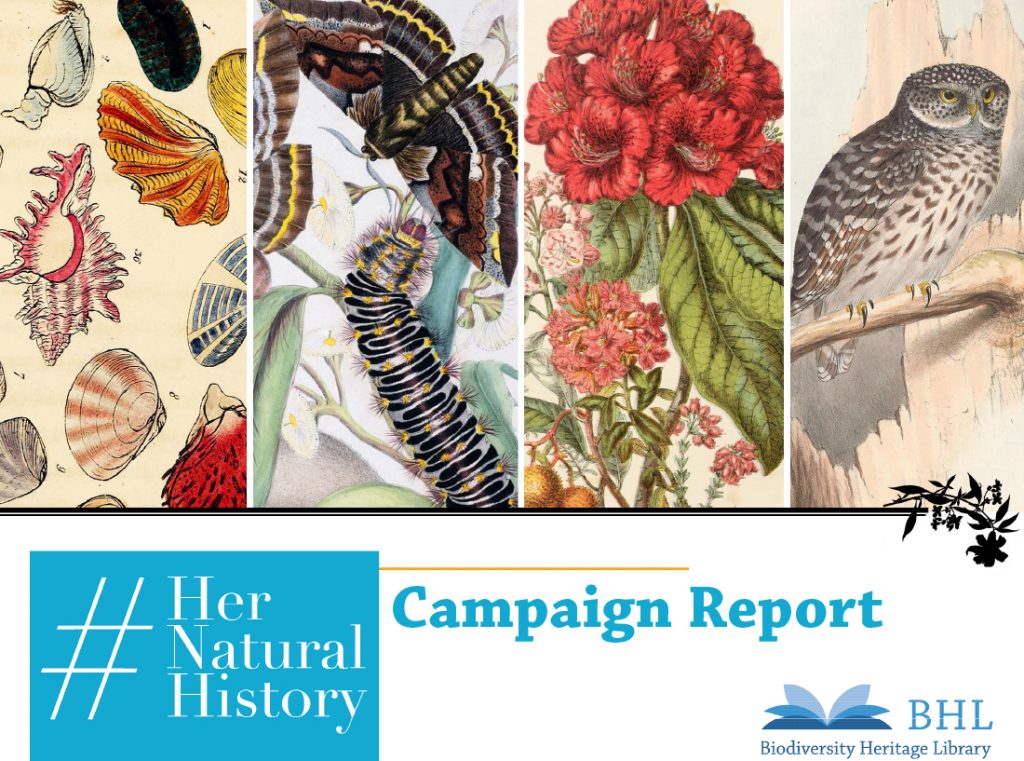 This year, the Biodiversity Heritage Library (BHL) and our global partners celebrated Women's History Month with an international social media campaign: Her Natural History: A Celebration of Women in Natural History.
Kicking-off with an all-day social media blitz on International Women's Day (8 March) and continuing throughout the month with social media and blog posts, Facebook Live events, and citizen science opportunities, Her Natural History aimed to increase awareness of and information about women in the biodiversity sciences. BHL partners also collaborated to curate the Women in Natural History Book and Female Illustrators in Natural History Flickr Collections for the campaign, featuring publications, archival materials, and illustrations by female naturalists and artists. Audiences could further engage with the work of female illustrators through the Her Natural History Coloring Book.
Extending beyond the BHL consortium, the wider community was invited to participate in the campaign by using #HerNaturalHistory to share stories, collections, publications, artworks, archival materials, exhibits, and other resources highlighting women and their contributions to natural history throughout the month. #HerNaturalHistory was also the #LibrariesOfInstagram challenge topic for March.
We were delighted with the outcomes and impact of the campaign. #HerNaturalHistory reached over 7.5 million people, with over 52 million impressions on content and over 3,100 accounts participating on social media. The campaign allowed BHL to expand its reach and engagement with existing and new audiences in notable ways, resulting in a 35% average increase in overall social reach and a 41% increase in overall social engagements compared to 2018 averages. #HerNaturalHistory also encouraged increased engagement with the works of women in BHL, fostering a 122% increase in views on books in the Women in Natural History Book Collection compared to 2018 monthly averages.
From engaging with worldwide audiences to tell the stories of so many remarkable women in science to working with our community to improve information online about the contributions of women to natural history, Her Natural History was a great example of how collaborative social media campaigns can be used to engage global audiences around important cultural and scientific topics while increasing engagement with library and archival collections.
We invite you to explore the results of the campaign in-depth within the Her Natural History campaign report.
Thank you to everyone who participated in and contributed to #HerNaturalHistory. And thank you to all of the women in science — past, present, and future — who have made such incredible contributions to biodiversity research. Thank you for giving us so many wonderful stories and accomplishments to celebrate!