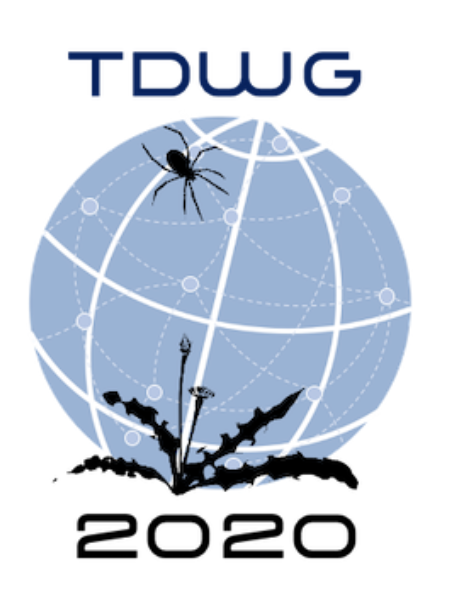 This year, as organizations around the world have done in response to the global COVID-19 pandemic, Biodiversity Information Standards (TDWG) held its annual conference virtually. With a mix of online working sessions, webinar-style symposia, presentations, panel discussions, and recorded presentations, this year's conference was held across two separate periods—the first dedicated to working sessions during the week of 21-25 September 2020 and the second to symposia and panel sessions the week of 19-23 October 2020.
As the TDWG 2020 Annual Conference website states, the conference "serve two purposes:
to provide a forum for developing, refining, and extending standards in response to new challenges and opportunities;
and to provide a showcase for biodiversity informatics – much of which relies on the standards created by TDWG and other organizations."
You can view the complete list of working session and symposia and discussion session descriptions on the TDWG website. Conference sessions were also recorded and are available for viewing on the TDWG YouTube channel.
BHL Symposium at TDWG 2020
On 20 October 2020 as part of the TDWG 2020 virtual conference, BHL hosted a symposium, "SYM03 Enhancing Connections With the Global Neighbourhood Through Expanding Partnerships", organized by Constance Rinaldo (Librarian of the Ernst Mayr Library, Harvard and Chair of the BHL Executive Committee) and Colleen Funkhouser (BHL Program Manager, Smithsonian Libraries).
The symposium consisted of four talks, covering topics including building BHL's technical strategy, digital object identifiers (DOIs), taxonomic name finding services, and BHL's response to the global COVID-19 pandemic. See more details about the symposium and each talk below.
SYM03 Enhancing Connections With the Global Neighbourhood Through Expanding Partnerships
Abstract: The Biodiversity Heritage Library (BHL) is more than a digital library, it is a key resource for data related to biodiversity. Data such as museum specimens, taxonomic names, environmental and geolocation variables is embedded in the published and unpublished literature found in BHL. Over the past year, BHL has developed a five year strategic plan designed to bring more focus on data, technology and partnerships. BHL is already well-established within the global bibliographical knowledge base. The plan for the symposium is to highlight some new directions and identify synergies and connections with current, new and potential partners in the biodiversity knowledge infrastructure.
The symposium was well-received, with approximately 100 people attending. The talks sparked interesting discussions, with questions around such topics as opportunities for Wikidata integration; supporting annotations as part of a future IIIF integration; strategies for improving optical character recognition (OCR); development of visualizations using BHL data; identification of additional useful data access points, such as collection and specimen codes and locality names; and potential strategies for supporting third-party application development using BHL data, such as through researcher prizes and challenges.
You can view a recording of the symposium on YouTube and all session presentation files in this Google folder.