Just a Click Away: BHL Promotes Biodiversity Research and Taxonomy
The Biodiversity Heritage Library is dedicated to providing open access to the biodiversity resources in its collection. Open access not only ensures that users the world over can freely locate the information they need online, but it also enables other biodiversity initiatives to make use of the wealth of knowledge represented in our 45 million+ pages to support research and taxonomy. We've highlighted several projects over the past few months that have incorporated BHL content into their own databases, including ITIS, AGRIS, Avibase, and JournalMap through BioStor.
Dr. Andreas Kroh (NHM Vienna) on field work in the Azores.
Dr. Andreas Kroh, Researcher and Publisher in the Department of Geology and Paleontology at the Natural History Museum Vienna, recently shared two more examples of BHL data reuse: WoRMS, the World Register of Marine Species, and FreshGEN, a FWF-funded research project to elucidate the evolution of European Lake systems by studying their gastropod faunas.
Dr. Kroh has been studying evolution, systematics, taxonomy (particularly of fossil and extant Echinoids (Sea urchins)), and biogeography (focusing on European Neogene faunas) for sixteen years. Several years ago, he discovered BHL.
"I was searching for a specific volume of an old journal that was missing in our library, and I was excited when I found that the BHL site did provide full access to the content of that volume, saving me the time to travel more than 200 km to the next library that held the series," recalls Dr. Kroh.
Since then, Dr. Kroh has used BHL extensively to inform his research and support his contributions to several biodiversity projects.
"BHL is an excellent research tool that has considerably sped up my work and those of many other scientists that rely on or need to refer to previously published data," lauds Dr. Kroh. "Many of the projects I am involved in, namely my contribution to WoRMS and FreshGEN, would need much more time and effort without BHL, where many research papers are just a click of a finger away. This view is shared by many fellow editors of the WoRMS database, most of which make heavy use of BHL for rapid access to species descriptions and historical biodiversity data."
The World Register of Marine Species (WoRMS) aims to "provide an authoritative and comprehensive list of names of marine organisms, including information on synonymy." Marinespecies.org serves as the web interface for the Flanders Marine Institute-developed "Aphia" database, which consolidates marine species registers from several projects. Information available through WoRMS, which is curated and maintained by taxonomic experts, includes valid species names, synonyms and vernacular names, higher classifications presenting scientific names within parent taxon contexts, biogeographical data, references to related external databases, and links to literature in BHL.
"In the World Register of Marine Species we are linking references on species pages directly to their respective title page in BHL, thereby making it easier for non-taxonomists to go back to the original sources of data, be it original descriptions, distribution data or other relevant information," explains Dr. Kroh.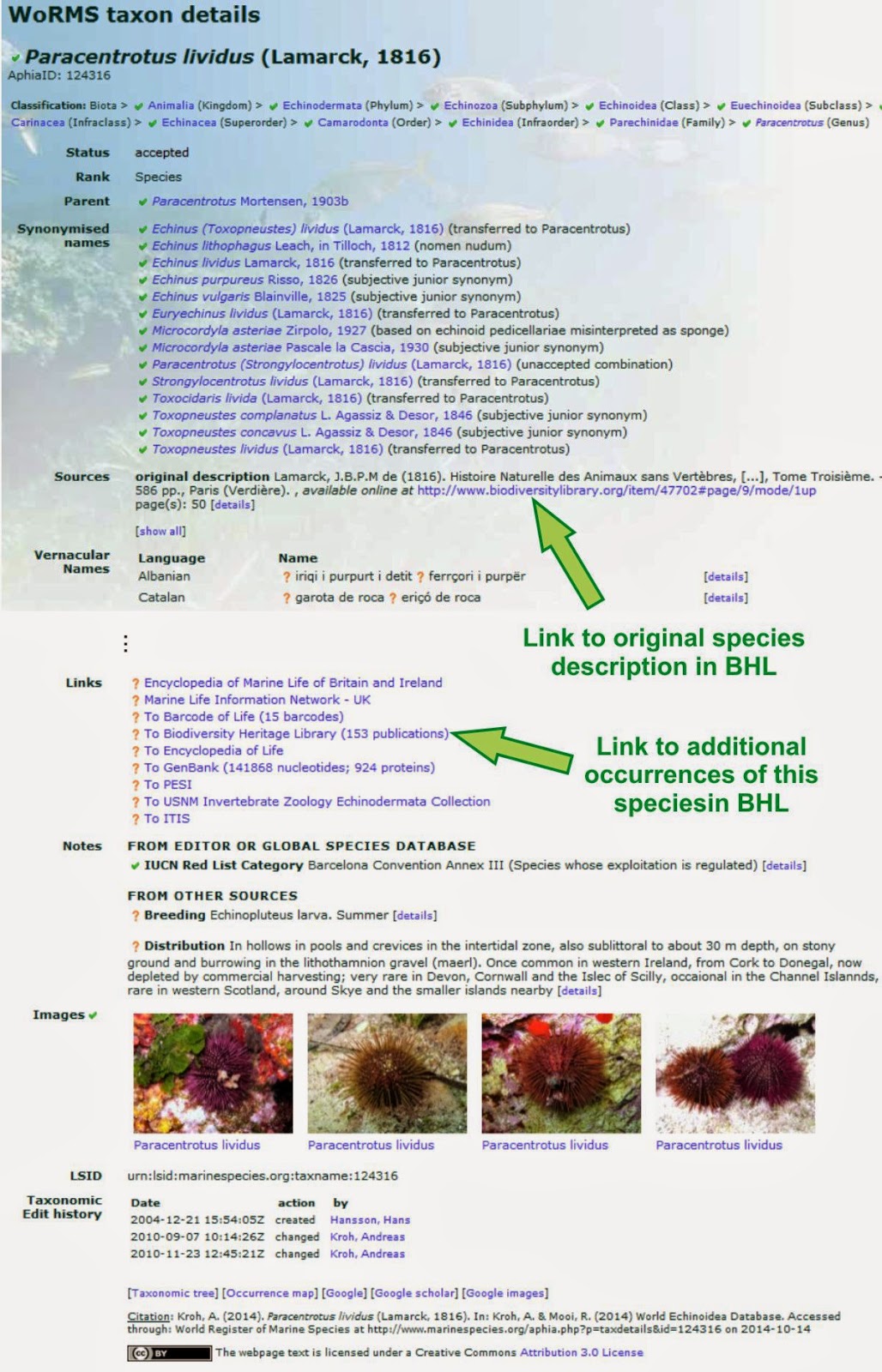 Species pages in the World Register of Marine Species (http://www.marinespecies.org) crosslink to BHL to ease access to the (often hidden) original species descriptions and additional published information.
Dr. Kroh's other current research focus, the FreshGEN project, will "provide the first detailed assessment of the composition of European freshwater gastropods during the Neogene and Quaternary at species, genus and family levels, with emphasis on lake faunas." By compiling and evaluating data, particularly relevant historic literature references like those at BHL, the project's international expert team of paleontologists and limnologists will create the FreshGEN-database (Freshwater Gastropods of the European Neogene), which will allow researchers to compare diversity and inter-lake data, identify geographic gradients in species richness, define biodiversity hotspots in present and past lake systems, shed light on the origin of modern lake faunas, and "estimate the (future) anthropogenic impact on Holocene lake faunas."
Dr. Kroh (and, he emphasizes, his colleagues) use BHL on almost a daily basis when working on these and similar taxonomic projects. For Dr. Kroh, that use is multi-faceted.
"When locating a title in BHL I mostly read the respective portion of paper that I am interested in online. Usually, however, I do also save the link to the respective title page in my literature database and download the whole volume as PDF for future reference – this has proven very useful for field work or research in museum collections which often are in the basements where web-access is not available."
As with all of our users, Dr. Kroh has favourite services in BHL and functionality he would like to see improved.
"One of the most useful features of BHL is that it has a drop-down interface to jump to other volumes within a journal – other portals that offer scanned books often lack such a connection between volumes of a series and it can be difficult to find a particular volume, specifically if it is a journal that has many different series and changing titles."
On the improvement side, Dr. Kroh identified missing volumes within journals runs, multiple listings of the same titles with disconnected volumes, and the compression used for whole-volume PDF downloads as areas for BHL to focus on.
BHL is actively working to identify and fill gaps in its collections (this is, in fact, a priority within our digitization efforts), and users are encouraged to notify us of missing volumes in serial runs. And while our systems try to automatically de-duplicate multiple records of the same title, varying cataloguing practices at our member institutions, who each submit their version of a title record for the volumes they scan, impedes perfect title merging. These merges are currently a manual process, and we again encourage our users to notify us of titles in need of this extra love. File size and storage limitations unfortunately necessitate PDF compression, but high resolution images can be downloaded through Internet Archive (linked from BHL) as an alternative.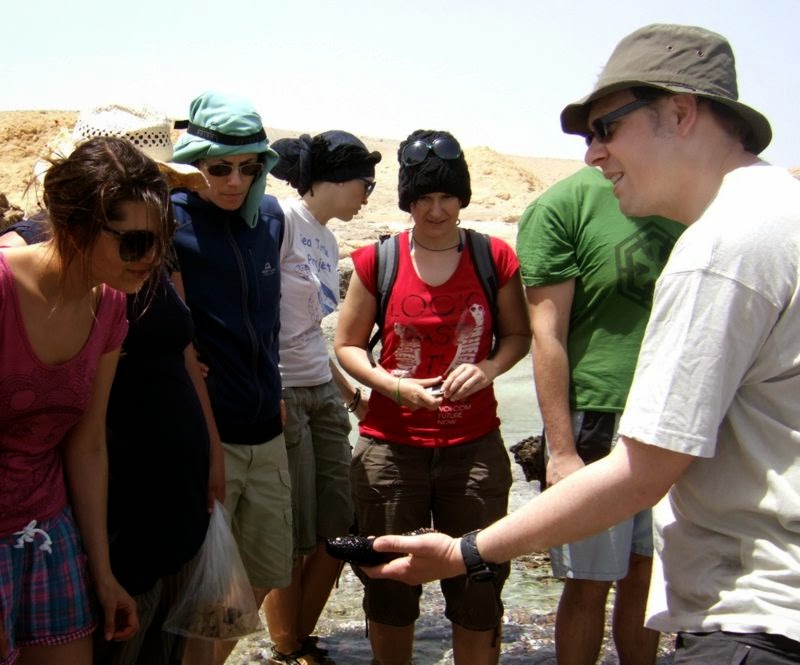 Dr. Andreas Kroh (NHM Vienna) on a field course on reef organisms, showing a sea cucumber to students.
While improvements are always possible and necessary, access to the historic biodiversity knowledge provided through BHL is critical to modern scientific work.
"It's really the sum of observations, present ones as well as past ones, that form our knowledge of nature," emphasizes Dr. Kroh. "In alpha-level taxonomy errors have been perpetuated in the past since few researchers had the possibility or time to go back to the original species descriptions. With BHL everybody has that possibility, regardless of her or his profession or place of living. BHL opens up scientific literature for the widest audience possible and repatriates scientific knowledge."
We extend a special thanks to Dr. Andreas Kroh for sharing his experiences with BHL for our blog. Do you use BHL to support your work? Want to tell us about it? Send us a message at feedback@biodiversitylibrary.org.