In November 2014, Museum Victoria started a project to digitize and transcribe the field diaries in our collection. These diaries, handwritten by Australia's early field naturalists long before the days of electronic notetaking, are rich in scientific data and historic detail. They provide insights into past species distribution and abundance, as well as the trials and wonders experienced on historic expeditions.
They are fascinating sources of information and yet very few people have ever read them. As handwritten documents, each was created as a single hard copy. They have been carefully stored in the museum's archives for decades, protected from dust and light but inaccessible to anyone but the few curators who knew of their existence. Until now.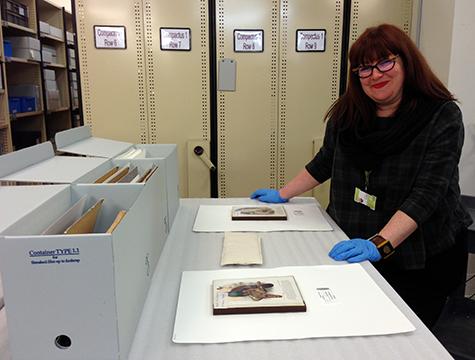 Rebecca Carland, Museum Victoria's History of Collections Curator, with Graham Brown's field diaries. Image: Nicole Kearney. Source: Museum Victoria.
Over the past nine months we have digitised 24 historic field diaries from our collection and have been steadily uploading them onto DigiVol, the online volunteer transcription portal developed by the Atlas of Living Australia and the Australian Museum. In DigiVol, the pages can be individually transcribed, with a verification process ensuring the quality of the result.
We are immensely grateful to the volunteers who have contributed their time and attention to transcribing our field diaries. Ten field diaries have been fully transcribed and the volunteers are now working on a diary written by notable ornithologist Frederick Lee Berney between 1898 and 1904.
The first collection of five field diaries to be run through the digitisation and transcription process was produced by Graham Brown between 1948 and 1958. Now that they have been transcribed, the contents of the diaries can be searched and the data extracted. When analysed, Brown's diaries contained 5611 bird sightings, complete with dates and locations. This historic data will now be made available to scientists and can be used to inform climate change studies and species management plans.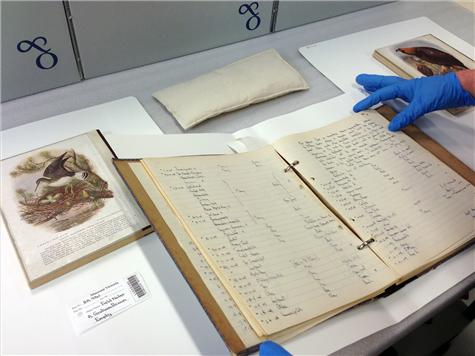 A small fraction of the 5611 bird observations Graham Brown recorded in his diaries. Image: Nicole Kearney. Source: Museum Victoria.
The next step is to make the images of the field diaries available through a publicly accessible website. We have just uploaded four volumes of the Graham Brown field diaries and their transcriptions onto the Biodiversity Heritage Library, and we will continue to add more over time. Museum Victoria has already contributed over 500 rare books and historic journals to this global repository of historic literature (through a project funded by the Atlas of Living Australia). We are thrilled that our field diaries are now joining these other significant volumes.
Help us unlock the observations in our historic field diaries
If you would like to become a transcription volunteer, sign up on the DigiVol website.