Holmes, Shells, and the Intersection of Art & Science
From November 28th through December 9th, BHL is joining the Smithsonian Libraries, Smithsonian Institution Archives, Smithsonian Field Book Project, and Smithsonian Transcription Center in hosting the #ManyHatsofHolmes transcription event. This event challenges volunteers around the world to help us transcribe William Henry Holmes' archival materials. Learn more on the Smithsonian Libraries' blog.
As the hashtag implies, William Henry Holmes (1846-1933) studied a variety of topics throughout his distinguished career, including anthropology, archaeology, art, and geology. He spent much of his career affiliated with the Smithsonian Institution. He studied art under Theodore Kauffman and went on to work as a scientific illustrator with Smithsonian staff. In 1872, he was appointed artist-topographer to the United States survey of the territories under Ferdinand V. Hayden and in 1874 was appointed assistant geologist. He went on to work with the United States Geological Survey (USGS) and the Bureau of American Ethnology (BAE) before returning to the Smithsonian's United States National Museum (USNM). Holmes eventually became head curator of the Smithsonian Institution's Department of Anthropology and Director of the National Gallery of Art.
Many of Holmes' field notes and personal records have been digitized by Smithsonian Libraries and Smithsonian Institution Archives as part of The Field Book Project. These are available in BHL. In addition to these archival materials, BHL also holds a number of publications by Holmes.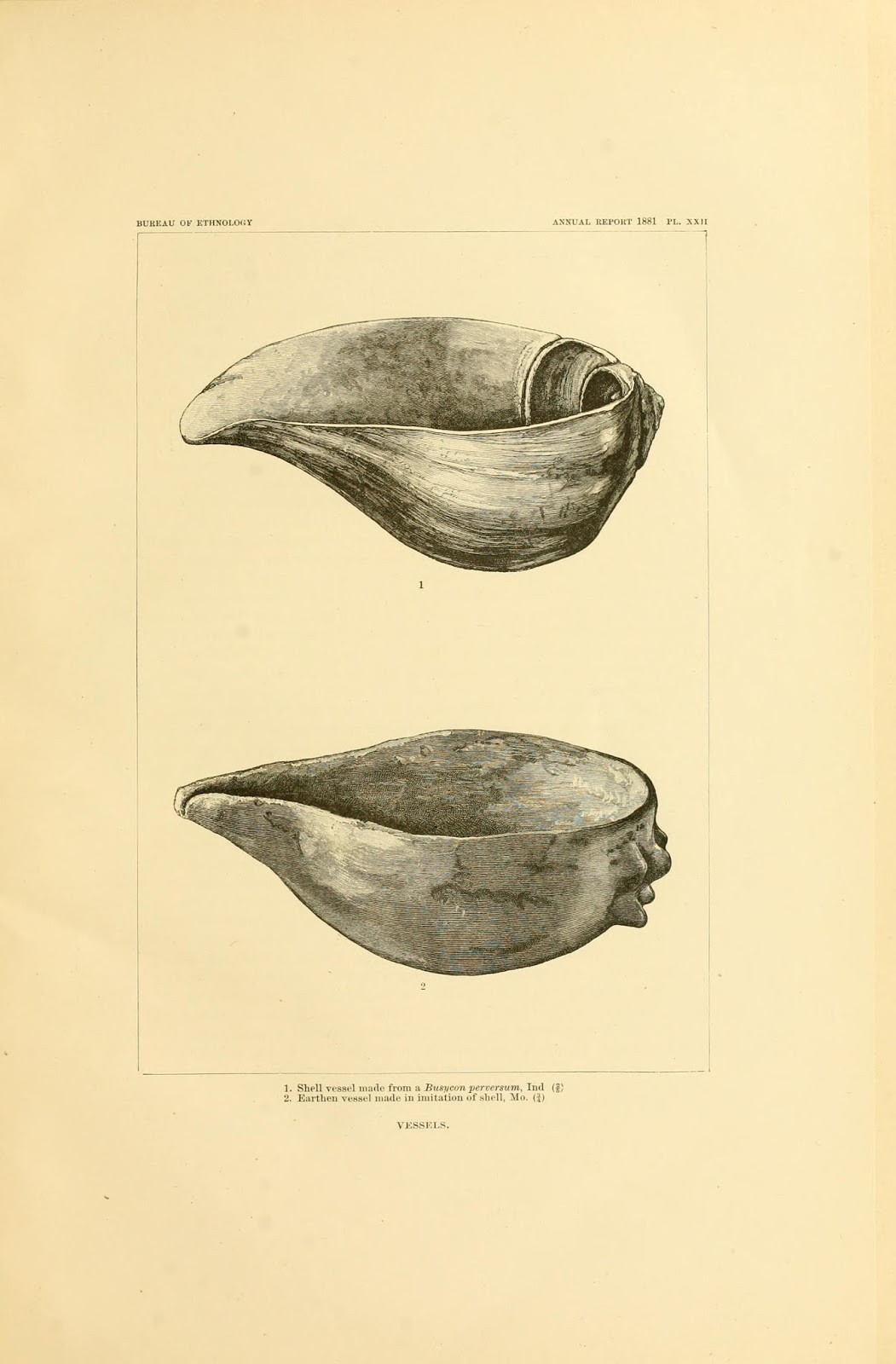 Top figure: Vessel made from a lightning whelk (Sinistrofulgur perversum) – synonym Busycon perversum – shell. Bottom figure: Earthen vessel made in imitation of a shell. Holmes, William Henry. Art in Shell of the Ancient Americans. 1883. http://biodiversitylibrary.org/page/11258636. Digitized by Smithsonian Libraries.
One of those publications is Art in Shell of the Ancient Americans, which was published in 1883 as part of the second annual report of the Bureau of Ethnology.
Holmes intended this publication to be a preliminary study of the ways in which Native Americans in the distant past used shells as a medium for artistic expression and how this artwork represents a phase in the evolution of human culture. It discusses the use of shells as implements, utensils, and objects of ornamentation (such as jewelry).
Most of the objects presented in the publication were obtained from graves and tumuli (ancient burial mounds), which explains how such delicate pieces survived throughout the centuries. But, while these pieces can be deemed ancient, Holmes did not have enough data to provide a reliable estimation of age.
At this point, you might be wondering why a book about shell art would be relevant for a biodiversity library and what bearing it might have on scientific research. The simple answer is that these shells are remnants of living creatures – mollusks that died long ago but still left behind a legacy in shell. However, Art in Shell has relevance for scientific research beyond this vague connection with the natural world.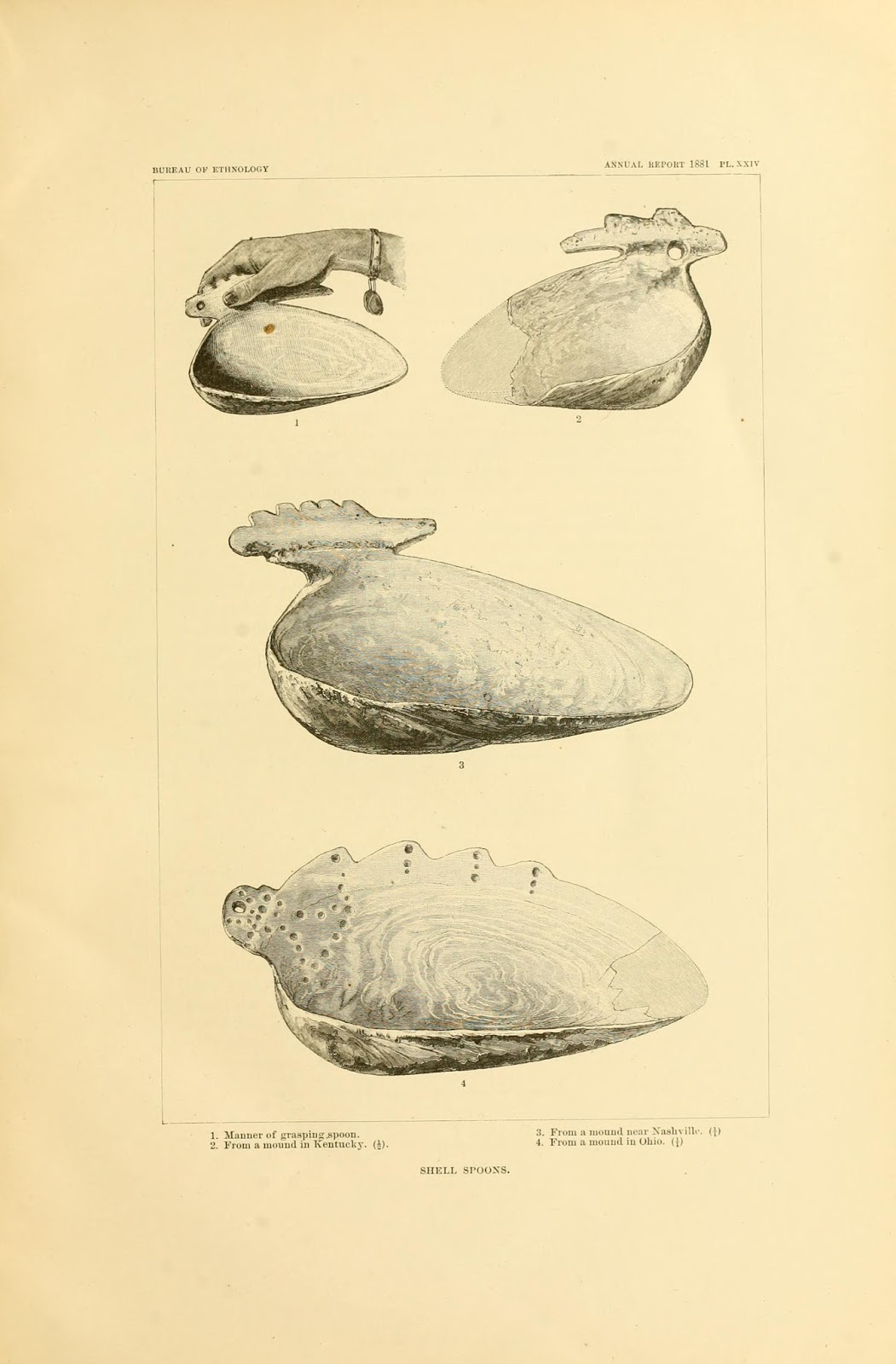 Shell spoons made from Lampsilis ovata (synonym Unio ovatus) – top and center – and Potamilus alatus (synonym Unio alatus) – bottom. Holmes, William Henry. Art in Shell of the Ancient Americans. 1883. http://www.biodiversitylibrary.org/page/11258608. Digitized by Smithsonian Libraries.
In the publication, Holmes attempts to identify the species (or most-specific taxa possible) to which the shell used for the object belongs. This information provides a valuable record of human interaction with various mollusk species and helps document the diversity of species present in ancient America. The presence of shells in various regions, when coupled with species distribution data that demonstrates the transport of these shells from their source, can also provide insight into historic Native American migration paths, tribal contacts, and trade.
Thus, this book is not just a book about art. It represents a beautiful union of art and science. And considering the many disciplinary hats that Holmes wore throughout his career, it's no surprise that his publication would bridge these two worlds. Art in Shell is therefore not only a very fitting book to highlight as a representation of the union of Holmes' many interests, but the insights it provides into Native American culture also make it particularly relevant this month as we celebrate Native American Heritage Month.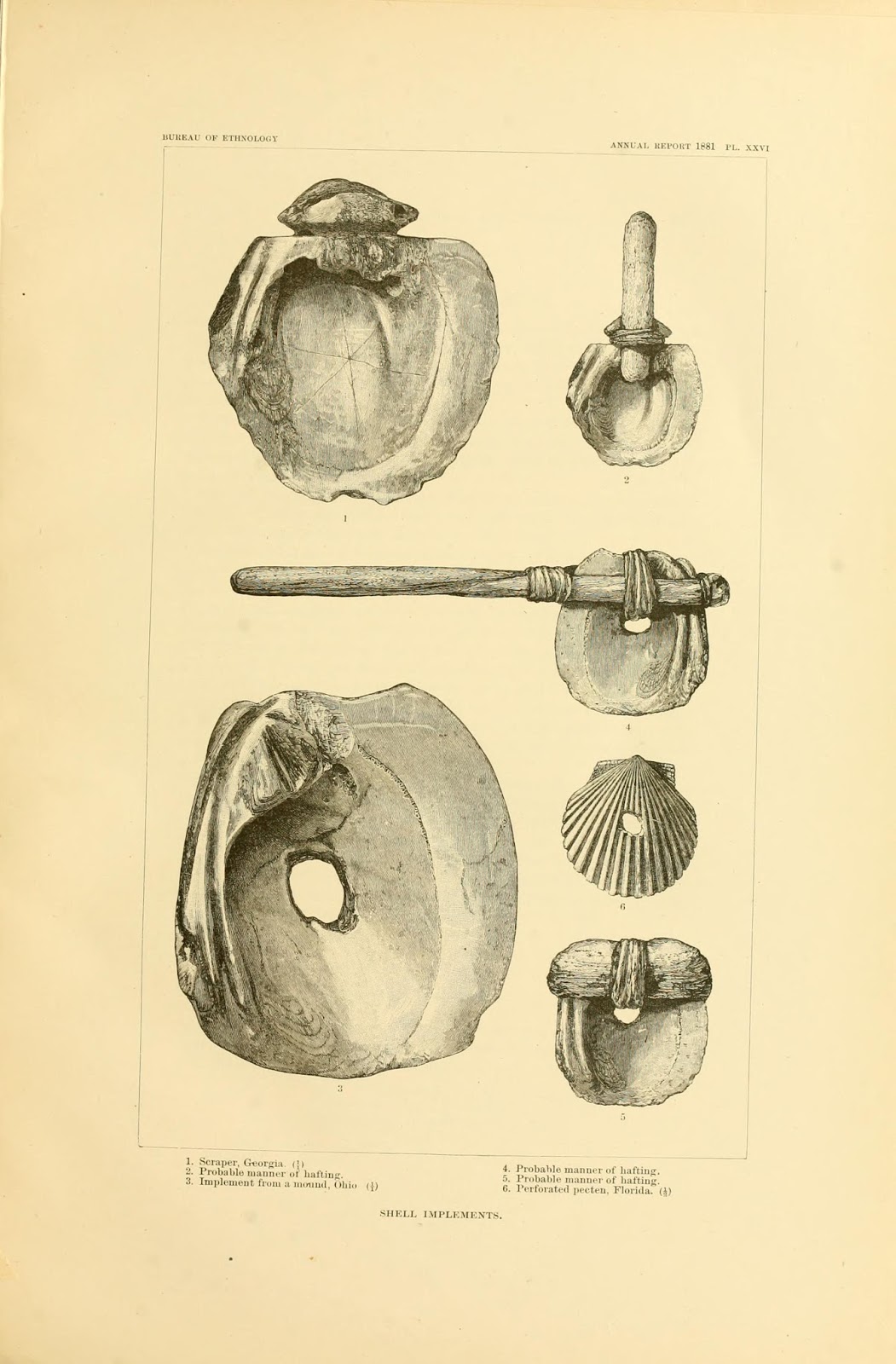 Implements made from Unio vericosus (figs. 1 and 2), Cyclonaias tuberculata (synonym Unio tuberculosus, figs. 3-5) and Pecten (fig. 6). Holmes, William Henry. Art in Shell of the Ancient Americans. 1883. http://www.biodiversitylibrary.org/page/11258618. Digitized by Smithsonian Libraries.
So, can we tie this publication back to the Random Records of a Lifetime series that is the subject of our #ManyHatsofHolmes transcription event? Holmes' discussion about his work with shell art in these records seems to be fairly limited, but in his biographical sketch in volume I, Holmes does report that, "The years 1882-3-4 and 5 were devoted largely to Museum work and the study of primitive art in its various branches." As Art in Shell was published in 1883, this account is likely a reference in part to his work on this publication (as well as the many others on ancient American art that he produced during this time period).
As you participate in the challenge, can you find additional references in the Random Records that can be linked back to Art in Shell? If you do, share them on social media with #ManyHatsofHolmes.
Additionally, if you need a break from transcription or want another challenge, try taxon tagging the illustrations from Holmes' Art in Shell on Flickr. By tagging the shell art with the taxonomic name of the species to which the shell belongs, you can help researchers more easily discover which species ancient Americans were using to create these objects. Learn more about taxon tagging in this article and see our detailed instructions here. Find the Art in Shell images in Flickr here.
See this video for basic instructions on how to tag the illustrations in Art in Shell:
Holmes was truly a man of many trades and talents. As you dig deeper into his work during the #ManyHatsofHolmes event, be sure to share your findings on social media with the hashtag. Thanks so much for participating in our Holmes extravaganza!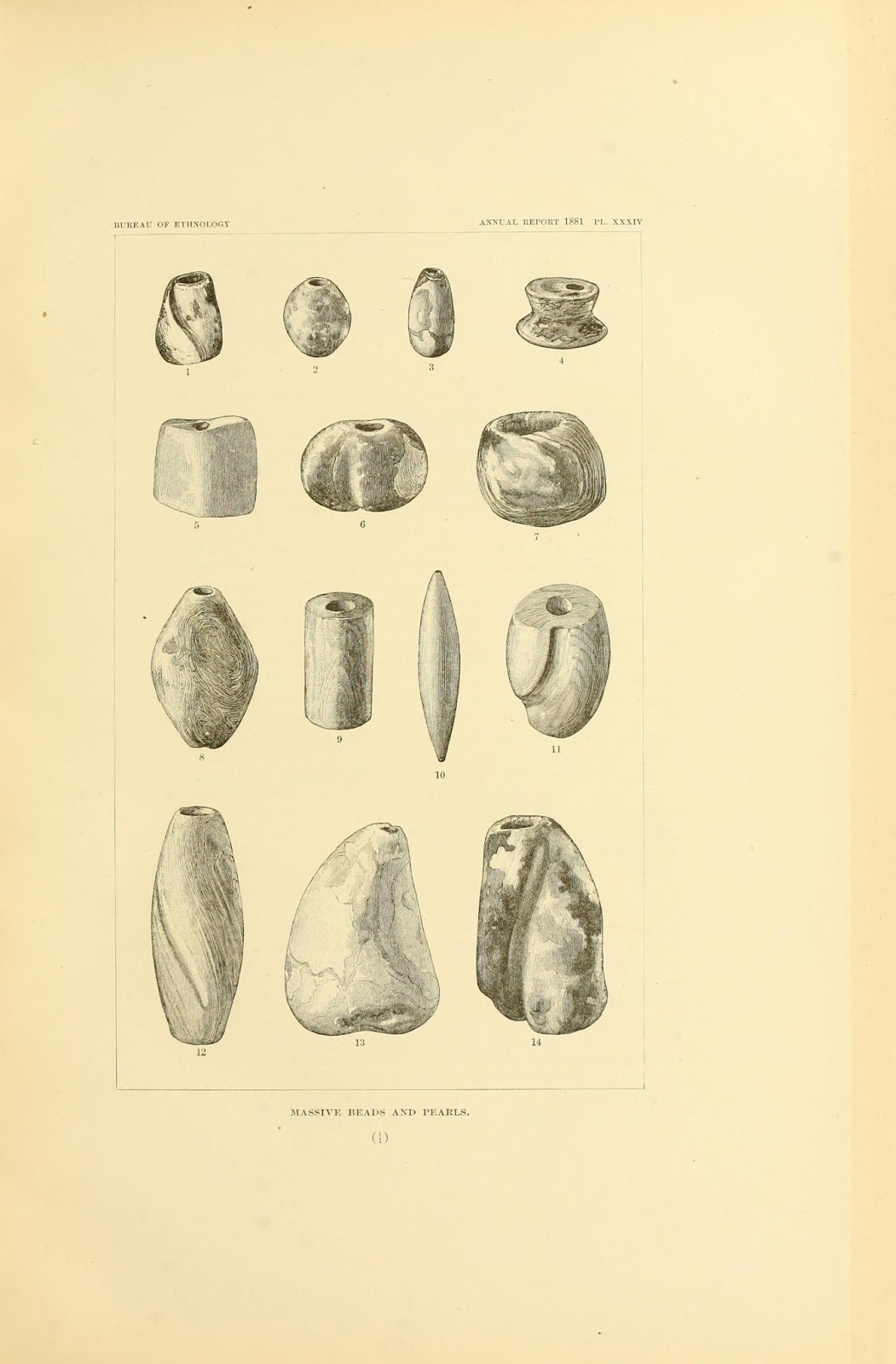 Beads and pearls. Figs. 1, 7, 12, and 9: Sinistrofulgur perversum (synonym Busycon perversum); Fig. 2: Crassadoma gigantea (synonym Hinnites giganteus); Fig. 3 and 13: pearls, latter from Haliotis californianus; Fig. 4: unknown univalve; Fig. 5: ivory?; Figs. 6 and 11: unknown dextral whorled shell; Fig. 14: Strombus or Busycon. Holmes, William Henry. Art in Shell of the Ancient Americans. 1883. http://www.biodiversitylibrary.org/page/11258675. Digitized by Smithsonian Libraries.