Transcribing the Field Notes of William Brewster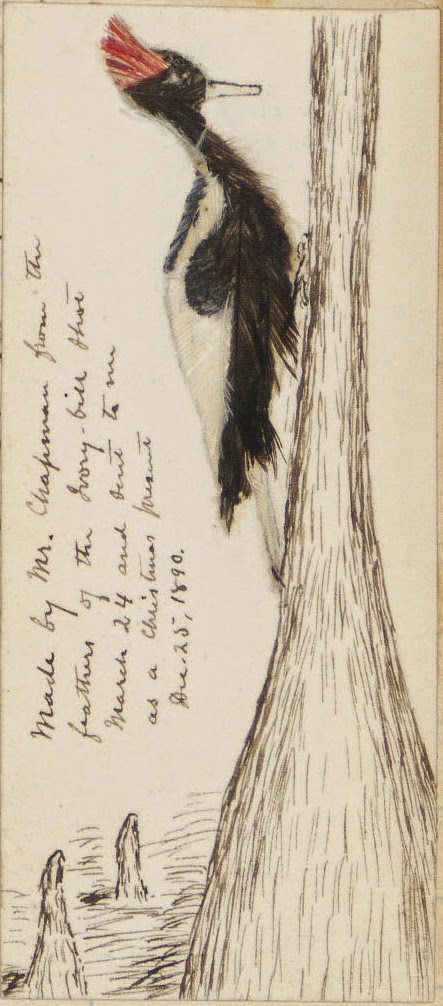 Ivory-billed woodpecker from
Brewster's journal of 1890
William Brewster (1851-1919) was a renowned American amateur ornithologist, first president of the Massachusetts Audubon Society, and a president of the American Ornithologists' Union. He was an avid collector of birds and their nests and eggs, and collected over forty thousand specimens from 1861 until his death in 1919. His collection, bequeathed to the Museum of Comparative Zoology at Harvard University, is considered one of the finest private collections of North American birds ever assembled. Though Brewster collected throughout North America, his collection is especially comprehensive in its coverage of the birds of New England. Brewster thoroughly documented his collecting trips. His journals and diaries are a gold mine of scientific observations and a delightful account of years spent exploring the woods, fields, lakes, and rivers of New England.
The Ernst Mary Library of the Museum of Comparative Zoology is in the process of digitizing its collection of Brewster's field notes and observations, and making these available worldwide via the Biodiversity Heritage Library (BHL). As part of the Purposeful Gaming project led by the Missouri Botanical Garden, and funded by the Institute of Museum and Library Services, we have begun efforts to transcribe Brewster's voluminous field notes, with the ultimate goal of making the full text of his observations searchable and available for any number of uses.
As an initial trial project, we have placed ten digitized volumes of field notes on two crowdsourcing websites, and we invite anyone interested to help us accomplish our goal of transcribing at least 2000 pages of Brewster's journals. The crowdsourcing websites chosen for this project are the Biodiversity Volunteer Portal (BVP), a collaboration between the Australian Museum and the Atlas of Living Australia; and a BHL installation of FromThePage, a transcription tool developed by Ben Brumfield.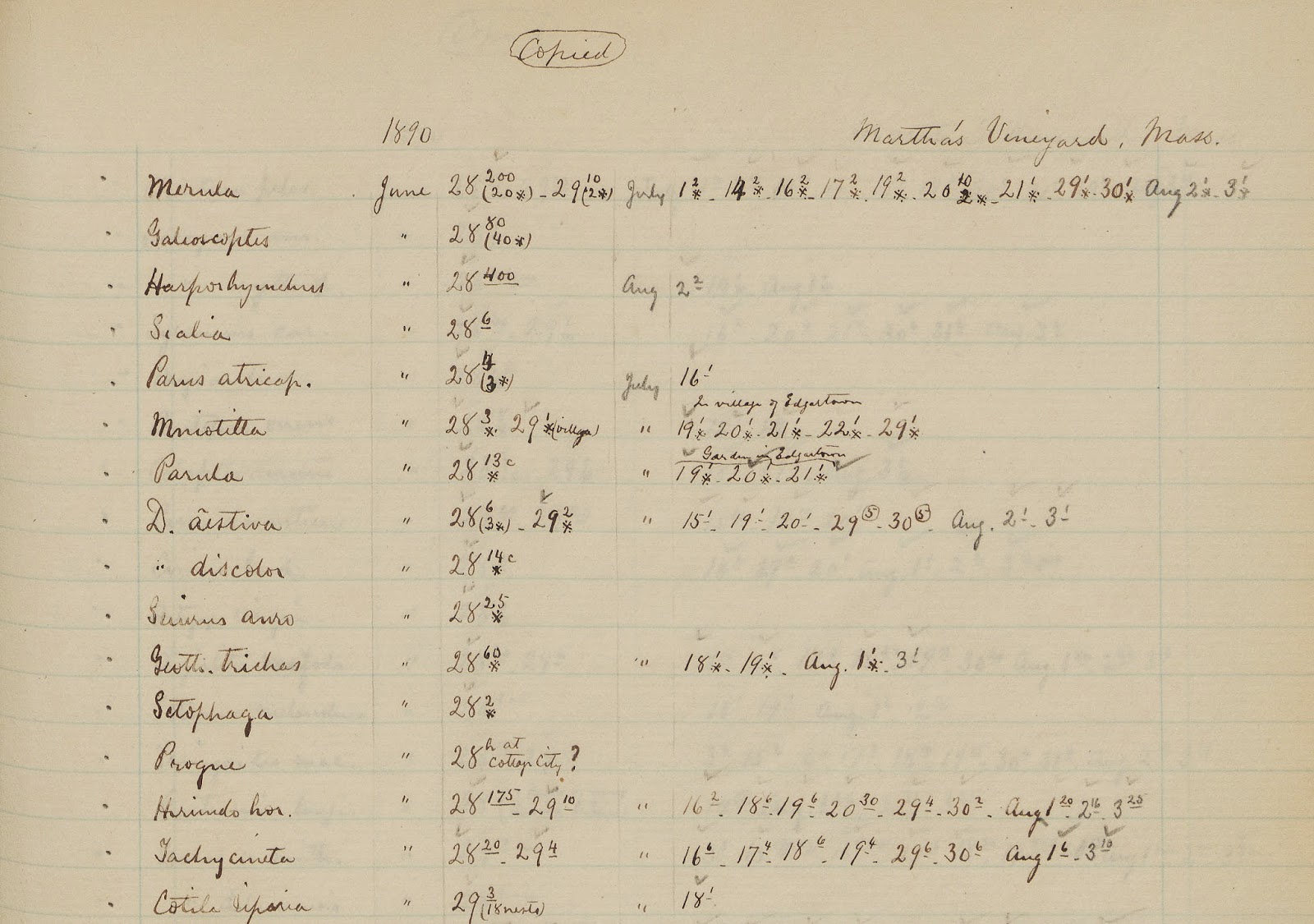 Birds observed by Brewster on Martha's Vineyard in 1890
Please feel free to visit one or both of these sites, create an account, and enjoy Brewster's idyllic writing style while helping to unlock his valuable observations for the benefit of all. We also invite you to browse Brewster's diaries and journals on the BHL portal.